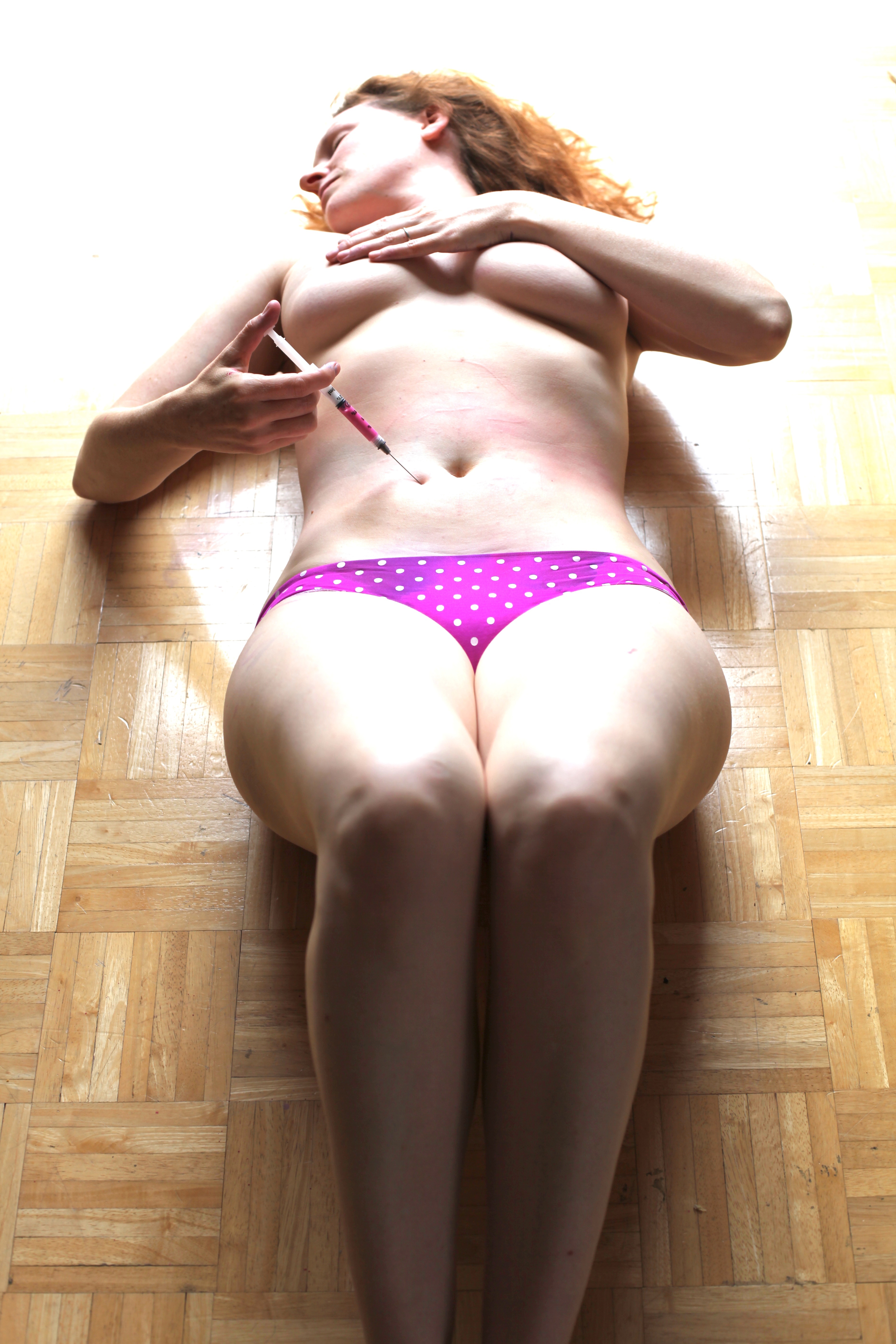 Marilee Talkington wants to make a baby. But she found out it's not going to be simple. Or romantic. Or sexy.
It's going to involve doctors. And injections. It might be painful. And it might not work. So she's decided to tackle this complex, emotional roller-coaster of a scientific process by turning it into performance art, livestreaming it so that those who can't make it to the Exploratorium, or the SF MOMA, or the Golden Gate Bridge to watch her inject herself with hormones will still be able to keep up.
To kick off her treatment this Thursday, Marilee will stage her first hormone injection at SOMArts in downtown San Francisco, for which she's designed and hand-painted a costume that would make any ballerina jealous, and roped in a cellist. She's also created an epic art installation out of hospital equipment resurrected from the 1920's, set against aluminum panels spray-painted with repeating images of the baseline ultrasound of her uterus, in a style reminiscent of Andy Warhol's photo-silkscreening of celebrity portraits.
As her treatment progresses, she plans to introduce vibrant elements into the art installation - a metaphor for the changes going on in her body, the attempt to create new life in a barren, clinical space.
In vitro fertilization is new material for this experienced actor, writer, director and performance artist. The decision to turn her personal experience into a public art piece will inevitably strike some as a political statement, as feminist grandstanding, a catalyst for a heated debate over the difficult ethical issues around assisted reproduction.
But Marilee was initially motivated by a need to get herself out of "a bad place," after months of painful exploratory procedures led to the discovery that she would not be able to conceive by the usual method. "I'm a creator," she reminds us, "This is my identity." She understands the risks she faces, including the possibility that she will fail to get pregnant, but no matter what happens at the end of her journey through IVF, she will have created a work of art.
She chose the museums and the Golden Gate Bridge as the sites for her "guerilla shooting," not simply to be provocative, but because she wants to be surrounded by the art and the natural beauty that inspires her, that fuels her creativity. She knows she needs to keep her stress hormones down during treatment, particularly her cortisol level, as this can adversely affect fertility. One challenge will be her vision impairment - Talkington suffers from a rare form of macular degeneration known as rod-cone dystrophy - so preparing the hormone cocktail and handling the syringe will be no trivial exercise.
She hopes other women who are going through IVF will feel inspired to join her in staging their injections at her public events. If no one takes up her invitation, will it be because, as Caitlin Moran trenchantly declares:
When the subject turns to abortion, cosmetic intervention, birth, motherhood, sex, love, work, misogyny, fear, or just how you feel in your own skin, women still won't often tell the truth to each other unless they are very, very drunk. - Caitlin Moran, How To Be A Woman
Or will some be emboldened to speak up about how we are making babies in the 21st century?
See Marilee Talkington's website for details on where and when she will be injecting herself around San Francisco, and also for the livestream link.
Don't miss her gala opening and first injection at SOMArts in San Francisco on Thursday 30th May at 7:30 p.m. and her closing extravaganza at PUSH Athletics on Saturday 8th June at 8:00 p.m., featuring aerial dance, clowning, drag, slam poetry, and Marilee doing a tour de force stream of consciousness character montage of best practices to getting knocked up. AND a bar offering "Fertility Shots."