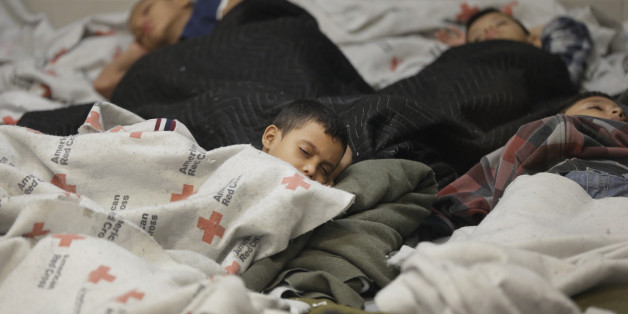 Last weekend, I had the honor of being recognized with the Leadership on Immigration Award at the National Creating Change Conference hosted by the National LGBTQ Task Force. Living at the intersection of two socially and systemically oppressed identities holds its own particular set of obstacles that are individually unique.
I am queer and I am undocumented. For 20 years, I lived in fear of family separation, whether it be from deportation or family rejection. Now, I help lead United We Dream, the first and largest immigrant youth-led network, as the National Coordinator for the Queer Undocumented Immigrant Project (QUIP). I help their efforts to bring justice to the more than 267,000 undocumented LGBTQ people living in the United States. I am helping build the foundation of the liberation movement that we are creating with our intersectional efforts.

Growing up in Los Angeles, the unique experience of being undocumented was something I was reminded of every day when my mother would spend the entire day working at a sweatshop, and when, during her morning routine, she would prep my siblings and I to say that we were born at the city's Children's Hospital, to avoid having our family torn apart.
Many of these experiences are also particularly poignant when it comes to my queer identity. I remember valuing the little time I had with my mother during Sunday mass, and feeling conflicted as the priest, again, decided to condemn homosexuality as a sin. I remember growing up in a Latino neighborhood and hearing the word "joto," or queer, thrown around as a word meaning weakness or shame, and I did not want to show weakness or bring shame to my mother, because I knew how tired she was from providing for my siblings and I.

This kept me in the shadows for a long time, but I wouldn't remain there much longer.

In 2008, my mother returned to Mexico with no idea if she would see us again. Her brother had passed away. Undocumented families always have to make the difficult decision of going back to spend time with loved ones at the risk of leaving life in the U.S. behind.
This moment was the catalyst that led me to come out as undocumented. The pain of losing her was too big, and I knew I had to do more for our community.
As young immigrants, we are determined to change the world. We fight against family separation, deportations and unjust detention, just some of the harsh realities undocumented immigrants face everyday.

Once in the movement, I saw women and queer youth leading efforts that empowered both my undocumented and queer identities, and gave me the strength to come out to my mother -- having to hear her process of acceptance in tears over a phone.

It was the undocumented youth movement that helped me organize Operation Butterfly, where I reunited with my mother in Nogales, Arizona and was able to hug her for the first time through a 12-foot-high border fence after five painful years without her. It was at this moment when she finally was able to fully understand and embrace my queer identity.

On November 20, 2014, the immigrant youth movement encouraged President Obama to take executive action and protect nearly five million people from deportation. I put myself in the line and was arrested; I galvanized our communities to make this our victory.

But that same executive action left so many out, particularly many of my LGBTQ brothers and sisters, leaving them vulnerable to the detention and deportation machine.

It's in these moments when the LGBTQ and immigrant movement must become one to protect our communities. Currently, many of the 34,000 people found daily in immigration detention continue to face abuse and trauma. The most vulnerable amongst these people are LGBTQ individuals, pregnant women and HIV-positive individuals.

These detention centers, many of which are privatized, often operate in isolation and a lack of oversight. They are for-profit institutions that have proven time and again that they are incapable of keeping LGBTQ detainees safe from sexual assault, and against other human rights violations. They put transgender women with the male population, and fail to provide consistent access to life-saving medications. Currently the U.S. Commission on Civil Rights has launched an investigation on these particular claims.
Immigration detention centers have proven themselves to be rogue agencies that operate with little accountability. Their arbitrary demand to deport 400,000 people per year has systematized deportations that purposely criminalize our LGBTQ communities.

The release of one or two detainees out of detention is not enough. We must challenge the system itself. We need solidarity for those in our community, as well as for those who are not undocumented or LGBTQ.
With the Leadership on Immigration Reform Award, the organizers of Creating Change embrace that we are not single-issue people, and that our strength is rooted in the complexity of our identities.

We hope for a day when a border fence or law will no longer separate any of us from our loved ones. I hope for a day when our LGBTQ community is no longer exposed to the tortures of immigration detention. I am undocumented and unafraid, queer and unashamed, and this is our liberation journey.