Ah, March. My favorite time of year. I've been to the Super Bowl and the NBA Finals, but no sporting event compares to the NCAA basketball playoffs (better known as "March Madness"). The buzzer-beaters, the storylines, the way one game can change a young college player's life forever -- the drama comes in a frenzy these first four days, steadily building to the Monday night championship game a few weeks from now. And I'll be glued to every minute of it.
When I'm not gorging on national politics, that is.
March poses a serious challenge -- how do I balance all of my reading and writing and thinking about politics with incessantly following the NCAAs? Right now, for example, I've got Syracuse's free-throw percentage (64) floating around in my head alongside AIG's bonuses ($165 million) -- two totally disgraceful numbers. Imagine how hard it must be for Obama's famously basketball-crazed inner circle to manage the pressures of the White House during what must be their favorite three weeks on the sports calendar. The president has already announced his Final Four, but who do you think his cabinet members and advisers picked to win the championship? I assume that, like most of us, they'll decide with their hearts:

1. Barack Obama's Winner: Louisville Cardinals
They both flew under the radar for a while, only to pick up steam as their campaigns progressed. They've each got a unique style--Obama would rather work with Republicans than punish them for being in the minority, while Louisville's star point-forward Terrence Williams would rather get an assist than score himself. The Cardinals just won the Big East regular season and tournament titles--the primary and general election, if you will. Now it's time for the real work. Obama's approval ratings are high, and so are Louisville's chances of winning the Big Dance. But to be successful, both will have to pass some serious tests. [Watch Obama fill out his bracket.] [UPDATE: This post was written before the President picked North Carolina.]
2. Hillary Clinton: Pittsburgh Panthers
Both were tantalizingly close to the top spot. Both are tough as nails. Both have turned their losses into motivation for future success, and both expect to end up on top down the line. For Pitt, that could come during the first week of April. Clinton may have to wait a little while longer.
3. Tim Geithner: University of North Carolina Tar Heels
UNC was expected to dominate this season. Geithner was hailed as the savior for our ailing economy. Neither happened. Carolina enters the tournament with star point guard Ty Lawson hurt, while Geithner has struggled mightily to combat the worst economic crisis in 80 years with a skeleton staff. People are placing bets on when both will make their exits. Unfortunately for the treasury secretary, the odds are shifting toward his coming soon.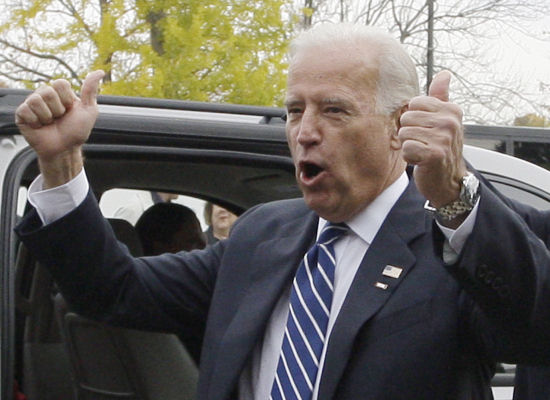 4. Joe Biden: Morehead State Eagles
OK, so the economy is in shambles. And Louisville will probably stomp Morehead by 50. But you know what? Joe Biden and the Eagles are punch drunk just to be in the game. Look at that enthusiasm!
5. Reggie Love: Duke Blue Devils
This one isn't much of a stretch: Love, Obama's "body man" and HuffPo's Hottest White House Employee, was the Duke captain in 2005.
6/7. Tom Daschle and Bill Richardson: Virginia Tech Hoakies and San Diego State Aztecs
Daschle and Richardson were each one bonehead move away from playing a huge role in this administration. VT and San Diego State, because of their own failings down the stretch, had their bubbles popped on Selection Sunday and lost the chance to make a run in the tourney. Regrets all around.
8. Robert Gates: Memphis Tigers
One of the few holdovers from the previous administration, Secretary of Defense Gates has been here before. So has Memphis. The runner-up in last year's tournament, the Tigers have a trio of seniors that have won more college games together than any tandem in history. In the Final Four will be played, or in the war room, that experience could be the difference.
9. Eric Shinseki: Syracuse Orangemen
In one of the great games in college basketball history, Syracuse beat UConn last week in six overtimes. Amazingly, the Orange didn't lead in any of the first five extra periods--they just kept finding a way to come back when it counted. Remind you of anyone? Shinseki feuded publicly with then-Secretary of Defense Donald Rumsfeld on the Iraq war -- Shinseki believed we needed more troops--and refused to back down, even as his stature at the Pentagon diminished and it became clear that he would retire in 2003 at the end of his term as Army Chief of Staff. Now he's back, leading a department tasked with revolutionizing the support network for the thousands of veterans returning from Iraq and Afghanistan.
10. Hilda Solis: Utah State
As I wrote this week on MSNBC.com, Hilda Solis is my pick for the breakout star from the Obama administration. Now is a particularly important moment for the department of labor, with green jobs at the top of the President's agenda and the fight over unionization about to rumble. Solis, the first Latina cabinet member in U.S. history, should provide leadership on issues beyond her department as well. Utah State, meanwhile, is my Cinderella pick in the tourney. Led by an unconventional star--26-year-old high school dropout Gary Wilkinson -- 11-seed Utah could easily make the Sweet 16.
Which team tugs at your heart? Without my beloved Stanford Cardinal, I'm lost. Let me know your picks: twitter.com/carloswatson.