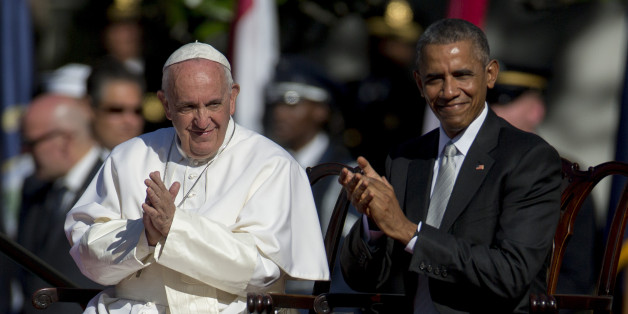 When Pope Francis met with President Obama, they charted a path forward on climate change based on shared values. They both made the powerful moral argument that, to address climate change, it is essential to fight poverty in the developing world.
Pope Francis and the president are right for reasons that go beyond ethics: as a practical matter, spurring action in the developing world is key to climate success.
This December, in Paris, France, all nations are expected to commit for the first time to concrete plans to reduce climate pollution within their borders. This will represent a major departure from the past and a significant step forward, for which the President and Sectary of State Kerry deserve praise. But the purely domestic pledges in the new Paris climate agreement won't be enough--they will amount to only half of what's needed to avoid the worst impacts of global warming. If each country just works alone and at home, this "emissions gap" risks making the climate crisis still more unmanageable.
Inspired by Pope Francis, President Obama has an opportunity in Paris to show the world how rich and poor nations can work together to narrow the emissions gap. The developing world is where climate pollution is growing fastest and where the bulk of low cost climate solutions exist. Yet, many developing nations lack the resources or capacity to go beyond the unilateral pledges they will make in Paris, and it would be unfair and politically unrealistic to expect them to do so alone.
The solution is clear. In Paris, developed and developing nations need to commit to launching new international climate partnerships that supplement (not replace) the self-financed, purely domestic climate targets in the Paris agreement. Poor countries should agree to create ambitious low carbon development strategies. In return, developed countries should agree to provide new economic incentives and financing, including through the new Green Climate Fund. Forest conservation and restoration partnerships, for example, hold great promise. Brazil's success in reducing deforestation by 70% in the Amazon over the past decade is perhaps the single greatest climate victory so far. With our help Brazil could do much more as could Indonesia and other U.S. allies. Other solutions matter too, including phasing out super-pollutants known as "HFCs," and reducing the "black carbon" (traditional air pollution) that--as President Obama highlighted during his recent trip to Alaska--is a major trigger of respiratory disease in poor nations and icepack melting in the Arctic. Here's how the United States should move this idea forward. America should pledge in Paris to negotiate bilateral partnerships with developing countries to reduce 1 billion tons of emissions outside of our borders per year by 2020. Other developed nations would follow our lead and this would ensure that Paris produces the ambitious outcome the world needs.
These opportunities for international pollution reduction partnerships are not theoretical: pilot projects are already happening today. Over the last five years the United States has dedicated a total of nearly $13 billion to climate-related international development assistance. A new Climate Advisers analysis shows that U.S. government funding for international pollution reduction programs can be very cost-effective. The support provided over the past five years will help reduce 290-420 million metric tons of carbon pollution per year, the same as taking 61-88.4 million cars off the road. The cost? As low as $5 a ton. That is small fraction of the cost of reducing climate pollution in the United States. Most compellingly in today's polarized political landscape, these results were achieved through programs and budgets approved by Congress.
To be sure, the current Congress is not likely to consider it a priority to take these pilot programs to scale, no matter how cost-effective or impactful they are. But just as President Obama has demonstrated his willingness to use executive authority to reduce climate pollution at home, now he and his successor should continue to extend that strategy to the international realm as well. The Presidency has several tools to forge large-scale international climate partnerships without having to secure increased Congressional appropriations, including these four.
Optimize Existing Foreign Aid. Congress may not agree to a major increase in U.S. international climate funding, but it should be open to reforms that ensure already-successful programs are even more impactful. The United States should allocate a larger share of its climate foreign aid to results-based partnerships, where developing countries receive a payment if and only if they reduce climate pollution. At the same time, the United States should beef up efforts to measure and monitor the results of U.S. climate assistance.
Promote Green Investment and Exports. The Obama administration has increased government incentives to help U.S. companies export clean energy products to developing nations. But there is much more to do, and affordable loans and political risk insurance could help American companies create good jobs exporting clean energy solutions to the developing world. These programs are self-financed by fees paid by participating companies, and could be expanded by executive action ten-fold from today's levels without new funding from Congress.
Link Climate and Trade. Most developing countries desire trade more than aid. They want to grow their way out of poverty by gaining more access to U.S. and global markets. The President should reward strategic allies in the developing world that lead on climate change with new trade and investment agreements. This would create a race to the top by giving developing nations economic incentives to meet ambitious pollution reduction goals. Congress should approve these trade agreements on the basis of strengthening the U.S. economy and enhancing our security, even if they object to the climate rationale.
Use the Clean Air Act. The President deserves enormous credit for reducing domestic climate pollution using the authority he has under the Clean Air Act, a law approved and expanded with bipartisan support over several decades. Now the President and his successor should harness the power of the Clean Air Act's little-used international provisions to create economic incentives for U.S. companies to help reduce climate pollution outside the United States. These extra-territorial emission reductions by the private sector should supplement, not offset, the pollution cuts they must achieve under the President's new climate regulations on U.S. power plants.
A major U.S. commitment to international climate partnerships would spur other nations to action and put the world on a path to closing the dangerous emissions gap. As it becomes clear that the answer to climate change lies in the developed and the developing world partnering together, perhaps the Pope's simplest advice is the best: love thy neighbor.