I planned on speed cycling through South Dakota to get to the over 400 barrel pump station spill in North Dakota, but an elderly couple in a red car stopped, lowered their window and asked me where I was cycling from and to.
I was in Clark, South Dakota, when Eileen and Wayne Heilman shared their Keystone Pipeline experience with me and directed me to property owners near Carpenter, SD and Britton, SD. As usual, I found that the locals tend to have very little to say about the pipeline, aren't concerned about greenhouse gases and don't know what oil sands are. They tend to only be concerned when something affects them, like rent, roads, reclamation, etc.
The Heilmans said they rented out a house in Clark, SD to workers of the Keystone pipeline for three-four months. Other people in Clark had done the same because their local government alerted them about it, Mrs. Heilman said. "All the workers that stayed in town rented apartments, rooms, houses and brought diesel fuel, food, gas," she said, "It was a positive for the area."
But Keystone also came with negatives, Mr. Heilman said. "They tore up the roads because they had so much weight on the trucks," he said, "But they've addressed that." Some people, particularly in Britton, SD, weren't happy about the pipeline on their land, he said, but the Schlagels in Carpenter, SD, were fine with it.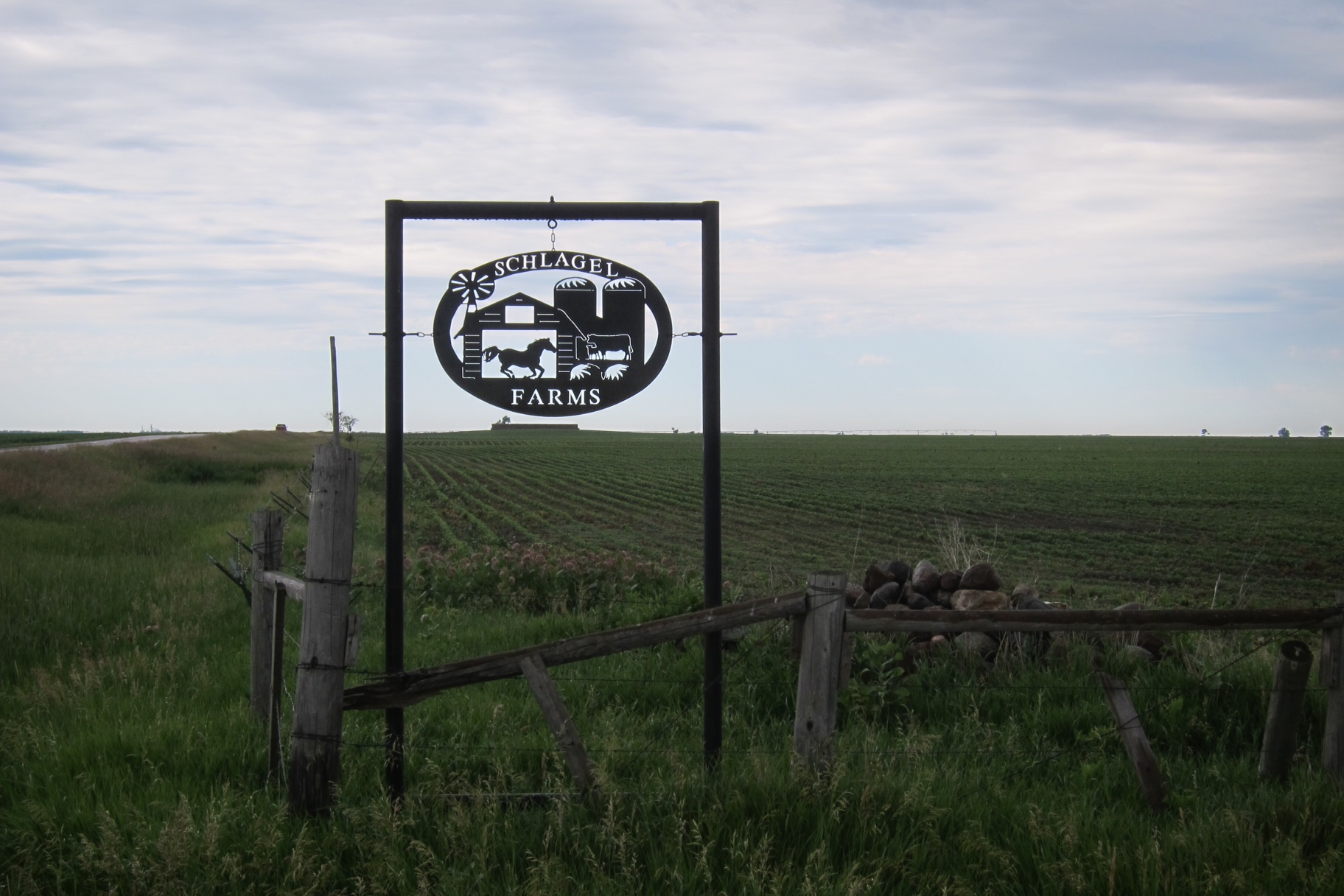 The Schlagels' sign. Photo credit: Carol Hsin
The next day, I cycled about 15 miles to the Schlagel Farm to speak with Wayne and Jackie Schlagel. Mrs. Schlagel said they're growing corn and alfalfa on land over the Keystone pipeline. "So far, it's just there -- just a half mile west from our house," she said, "The roads took a beating when [Keystone] came through, but that's it."
While landowners had been protesting XL over property rights, Mr. Schlagel said he had no objections with the pipeline or company. "I felt what they offered was very fair," he said, "You have complete control of the land in terms of farming it -- They just paid for easements on it." After TransCanada's contractors put in the pipeline, Mr. Schlagel said they cleaned up the area and were going to re-seed it with alfalfa, but Mr. Schlagel wanted to do it himself and got paid for doing it. Mr. Schlagel added that the contractors came back saying they might have left a piece of timber and wanted to clean it up.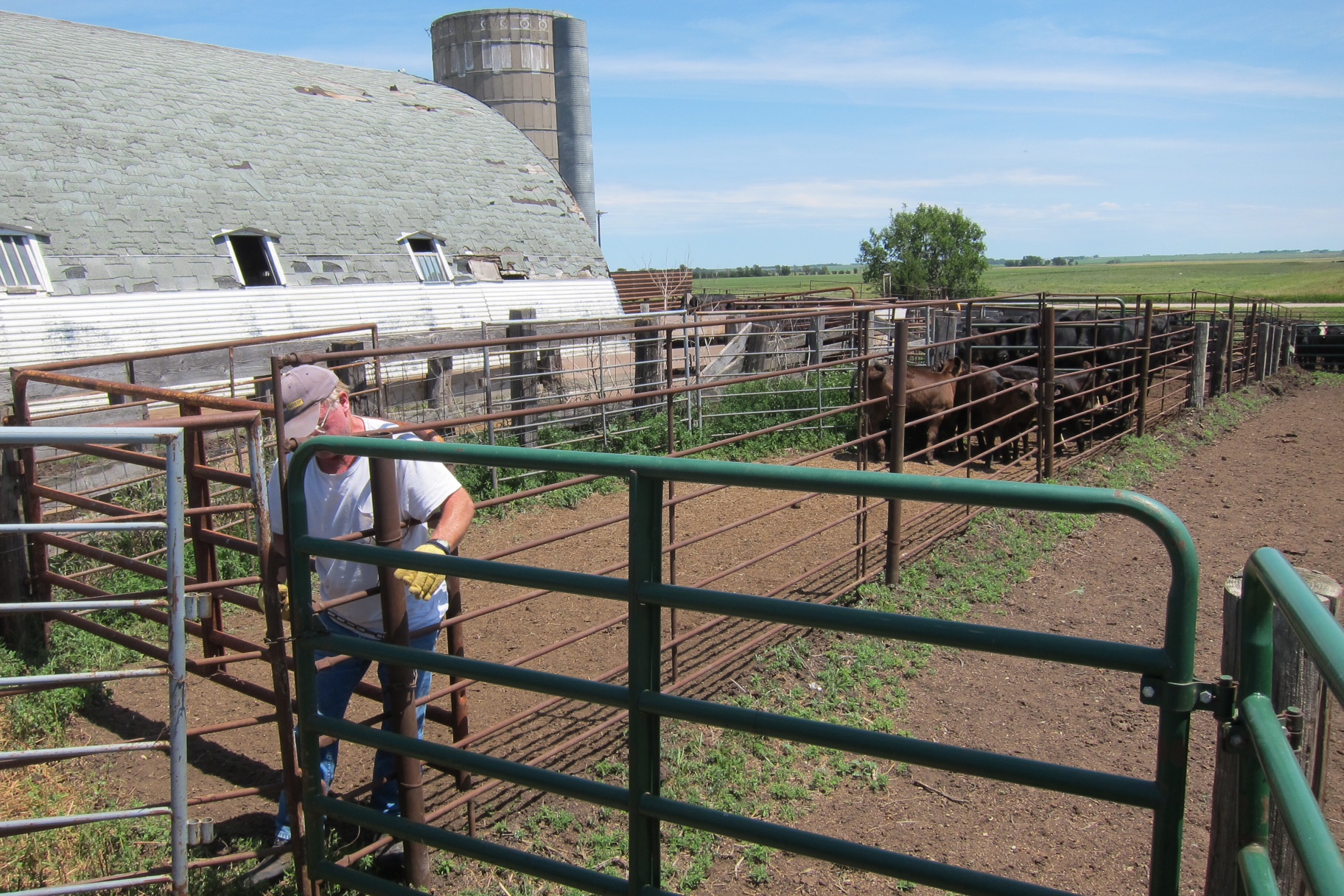 Francis Hass working cattle. Photo credit: Carol Hsin
About five miles north, third generation farmer and cattle rancher Francis Hass, who has a pump station on his land, said he had a pretty negative experience. "I didn't really want the thing on my land," he said, " I guess they ended up doing it anyway." Since TransCanada had eminent domain rights and would take the issue to court, Hass said he gave in, but wasn't satisfied with the $4,000 lump sum he received for the about 40x50 feet of farmland. "Four thousand dollars to take somebody's land forever? It wasn't fair," he said. With help from the Public Utilities Commission, Hass got about $1,600 more for "damages," but he said it was really for the pump station. He added that the pipeline also crosses his land and the crops aren't as good as they used to be. "The land's very rough," he said.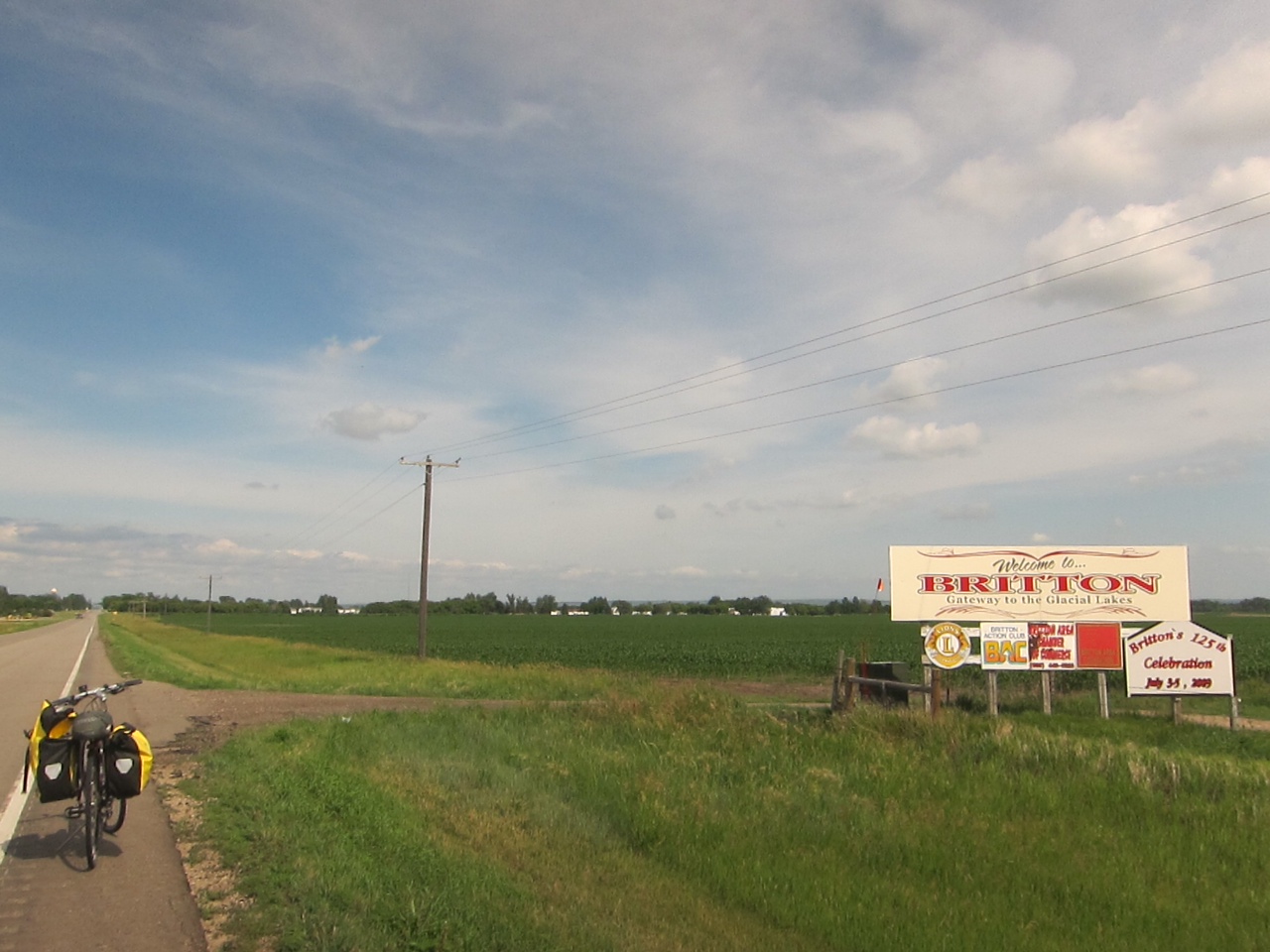 Reached Britton, SD. Photo credit: Carol Hsin
About 100 miles north, landowners in Britton, SD, also said they had negative experiences, mostly because of the wet soil. The groundwater in the area is close to the surface, making flooding a common problem, particularly in wet seasons, which TransCanada representative Grady Semmens acknowledges. "Keystone Pipeline construction in northern South Dakota and southern North Dakota took place in very wet weather -- the wettest on record," Semmens said.
TransCanada already planned for wet weather in their Construction, Mitigation and Reclamation Plan that was reviewed at the state and federal level, Semmens said. Following that plan, the pipeline workers used wooden mats to keep heavy equipment from getting stuck in mud and cement saddles to keep the finished but empty pipeline from floating up.
Steve Vietor who has Keystone running through farmland he rents said the wet land and construction caused a mess. "I'm in favor of the pipeline in general, but we had two wet years in a row and the infrastructure just went to hell," he said. He added he was fairly compensated for crop damage, but the clean up could be better. "After two years, we're still cleaning up chunks of wood from the construction," he said.
As for roads in South Dakota, the state required TransCanada to post a bond for infrastructure, Semmens said. "All repairs were made without any entity seeking to call bond money," Semmens said. He added that South Dakota released the bond money in April.