The largest Keystone pipeline spill -- about 400 barrels -- came from the Ludden pump station in Brampton, N.D., a remote rural town of about 60 people.
Spills are one of the biggest concerns over the proposed extension, Keystone XL -- with the Ludden spill heightening fears that were already sparked by unrelated oil spills, including the over 840,000 gallon Enbridge pipeline spill in Michigan.
When I arrived in the sparsely-populated Brampton, I knocked on the doors of empty houses for over half an hour before I decided to cycle north to Cogswell. On the road, I met Gerry Bosse, a farmer who directed me to Paul Mathews and Bob Banderet. Both have the Keystone pipeline running through their land and described themselves as accidental activists against the first Keystone and the proposed XL. But while Mr. Mathews began protesting ever since a TransCanada representative came to him about easements, Mr. Banderet only became one on May 7, 2011.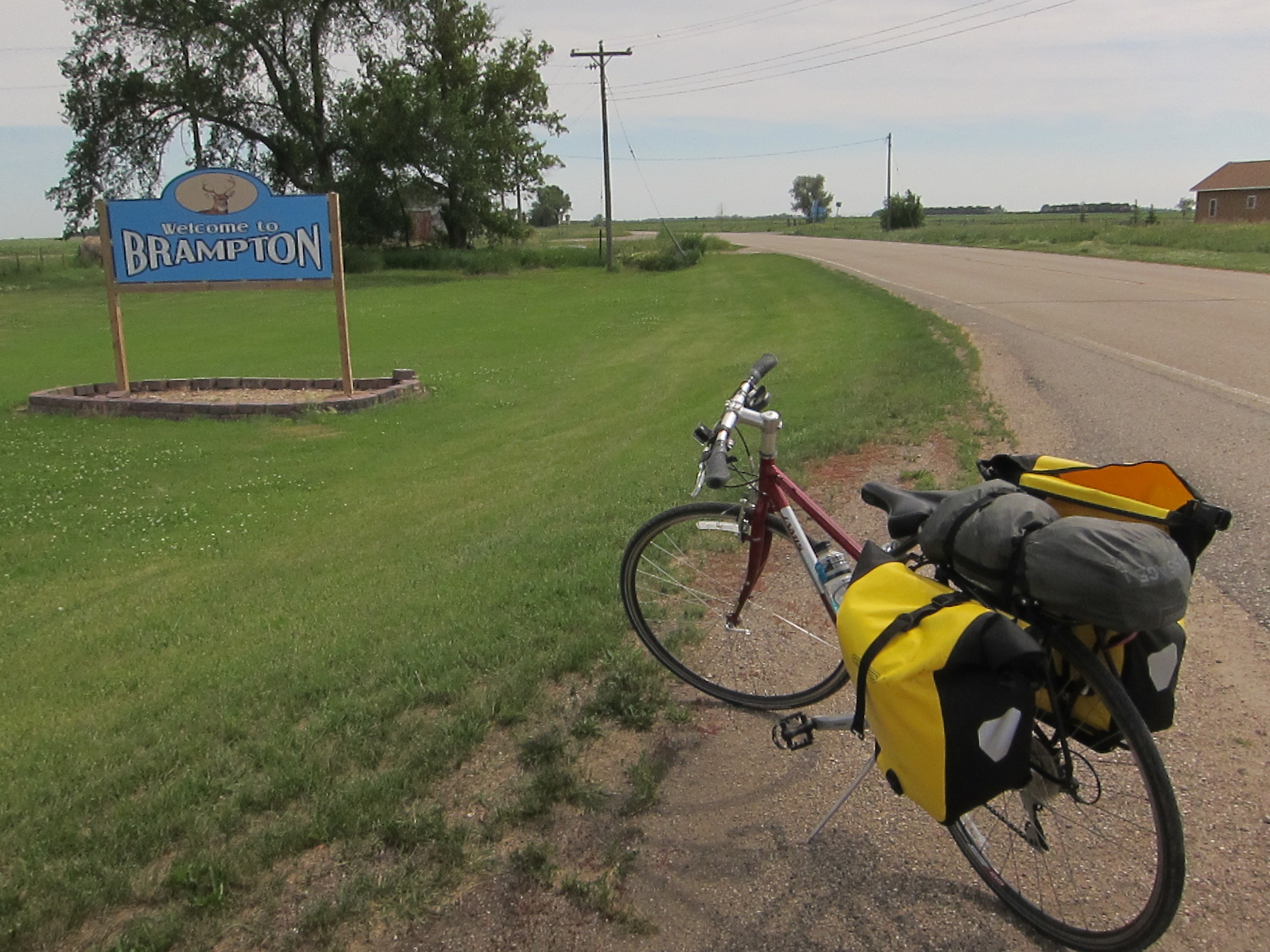 Photo credit: Carol Hsin
Mr. Banderet's daughter Megan said she got up around dawn that day to do chores when she saw an "oil geyser" taller than the trees and transmission pole. "I ran in and called 'Daddy, Daddy, there's oil shooting up in the air at the pumping station,'" Megan said.
"I didn't believe it at first, but didn't think she can make something like that up," Mr. Banderet said. Once he saw the oil, Mr. Banderet said he phoned TransCanada and spoke with a surprised dispatcher. "She asked me, 'Is this a joke or a drill,'" Mr. Banderet said. His call was transferred to the control center and TransCanada shut down the pipeline.
Mr. Banderet said the usually windy area was "lucky" because the morning of May 7, 2011, was perfectly still. While some oil mist got off-site, most of the oil fell back on the pump station and flowed to a tub-like containment area, which "luckily" didn't overflow, Mr. Banderet said. "It could have been a disaster -- if there was a strong wind, if [TransCanada] didn't shut it off before the tub ran over," he said.
TransCanada representative Grady Semmens said TransCanada's operations control center in Calgary, Canada, identified the leak with with their monitoring system. According to documents sent to the North Dakota Public Service Commission, detection graphs and data show a pressure drop of 200 kPag, which "would not initiate an alarm in SCADA" (their leak detection system), but "was observed as anomalous by the Controller."
TransCanada traced the spill to a fractured 1x3/4-inch swaged nipple. The analysis concluded that the nipple was manufactured correctly, but over-torque (too much force) during installation probably produced cracks, which grew due to the station's vibrations. Since pump stations inject energy into the line to propel the fluid forward, vibrations are normal and expected, said Don Wishart, TransCanada's Executive Vice President of Operations and Major Projects. "Most of our gas pipelines have the same vibrations, but not as much as the liquid lines," he said.
The Ludden spill and a 10-barrel pump station spill in Kansas prompted the Pipeline and Hazardous Materials Safety Administration to issue TransCanada a corrective action order (CAO). The first Keystone was shut down until the CAO conditions were met about three weeks later.
While the Ludden spill has been resolved, Mr. Banderet said he is still concerned. He said he doesn't believe the leak would have been detected without him and sent TransCanada unanswered questions. As a farmer-rancher who burns "all types of fuels," Mr. Banderet said he knows the necessity of oil, but safety has become a main concern.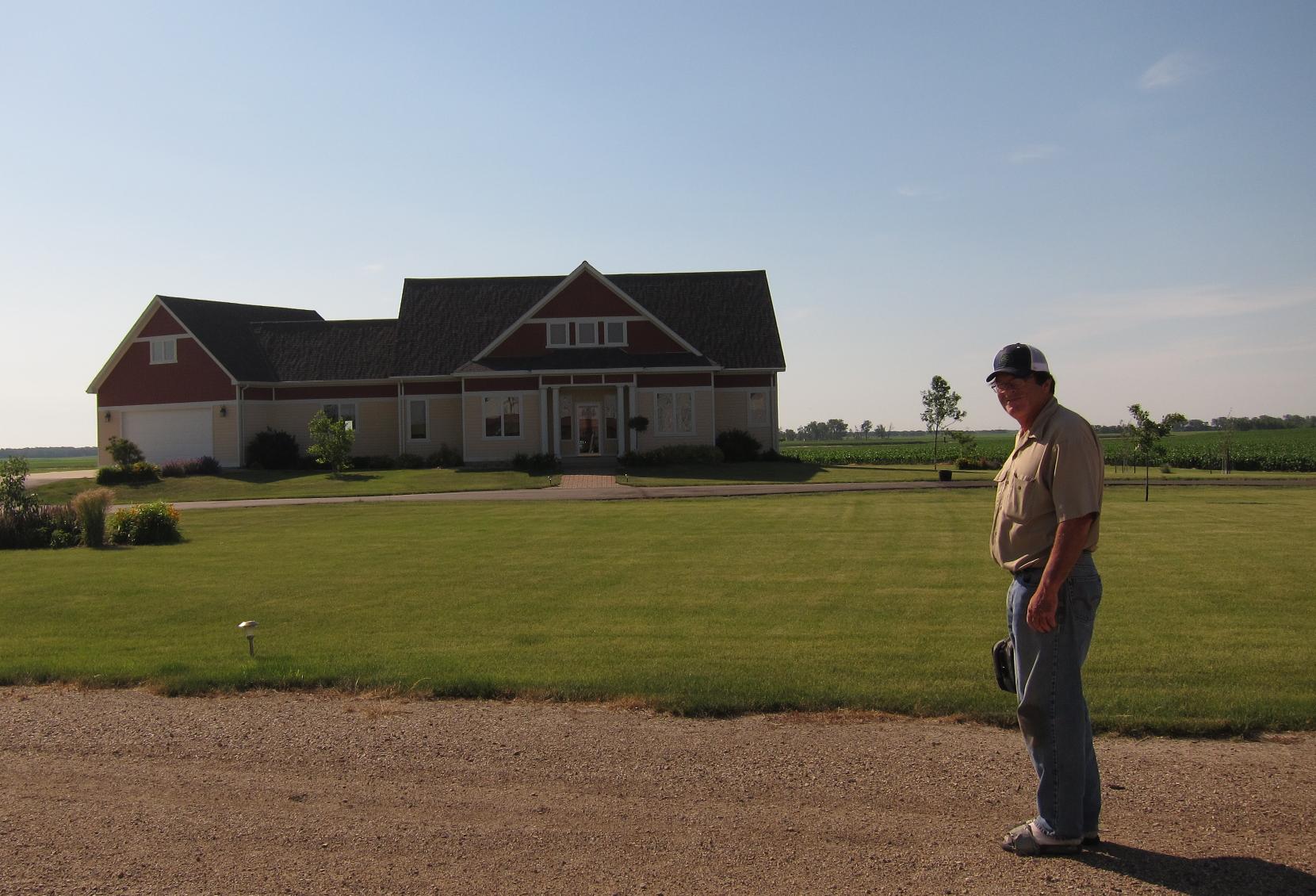 Paul Mathews and his house. Photo credit: Carol Hsin.
While the spill pulled Mr. Banderet into activism, Mr. Mathews said he joined the opposition at the beginning because the house Mr. Mathews and his wife Tammy designed and built in 2004 was not on the maps TransCanada used for routing. "The Keystone pipeline targeted a route essentially under my house," Mr. Mathews said. TransCanada offered to shift it at least 500 feet as required by North Dakota, but Mr. Mathews said he wanted a mile (5,280 feet), so he refused to sign.
While North Dakota passed laws curbing eminent domain after the U.S. Supreme Court's infamous decision in Kelo v. City of New London, the state laws allow the use of eminent domain for oil and gas pipelines. TransCanada took the issue to court, but a decision would take about nine months, Mr. Mathews said. Since TransCanada already began building pipeline, the company would have to skip him, move the workers and equipment south, and then come back. Mr. Mathews said TransCanada re-negotiated with him and both settled for 1,200 feet away.
Mr. Mathews, who joined thousands of Keystone XL protesters in D.C. with his wife and son, said he probably wouldn't have noticed if the pipeline was a mile away. Mr. Banderet said without the spill, he wouldn't have either. "Before all this happened, I was kind of like Gerry, but a bit more worried," Mr. Banderet said.
Gerry Bosse, who doesn't have the pipeline through his land, said what he knows about the pipelines is due to Mr. Mathews and Mr. Banderet. "When it doesn't affect you, you don't pay attention. If it's not on your land, you don't care about it," Mr. Bosse said.