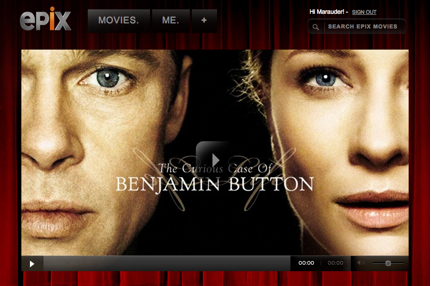 Epix, the new premium TV channel from Paramount, MGM, and Lionsgate, launched on TV and online at the end of October. The launch opened up movie catalogues from each of the three studios to be watched on three separate platforms; the content triple threat if you will.
I worked at HBO for the past 4 years and hence was a little more eager than most to try out the product. When I initially heard about the new pay service, I was generally mystified. In a world of disaggregation, with content scattered on premium networks like HBO, online through services like Netflix and Hulu, download-to-own/rent on iTunes, and on demand, I hardly saw the need for additional options. That said, as audiences trend online to watch content, I was most interested in taking a look at the online product. Here's a break down:

Availability
If you are a Verizon FIOS subscriber, you have access to the product. In addition, Epix is offering (150) 30-day invitation codes to Huffington Post readers who are the first to follow @epixHD on twitter and tweet "@epixhd Experience Epix #huffingtonpost".
Content
Emil Rensing, Chief Digital Officer of Epix, tells me that as of today, there are 183 movies on the service. By the second quarter of next year, the goal is 3,000 movies. I asked Emil about Epix's competition, eager to find out whether the channel views traditional pay networks like HBO and Showtime as competition vs. online movie providers like Netflix.
"I'm personally a subscriber to both HBO and Netflix. I love the DVD service that Netflix provides but we'll have more content online than Netflix. HBO doesn't yet have the licenses to put all of their movie content online."
Being that Netflix claims 12,000 streaming titles online, I pushed Emil on his answer. Within those 12,000 titles, Emil claims 2,000 are movies,
"The preponderance of those titles is either public domain or bottom tier selections. They don't have a lot of titles that will drive the subscription nut...We don't buy content. We buy hits."
User Experience
Hulu-Like Video Player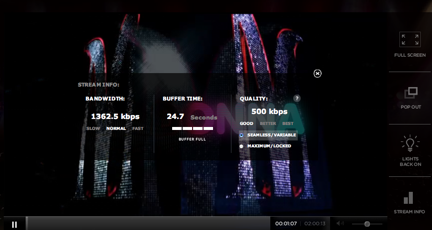 The online video itself looks and feels very similar to the Hulu experience. It rocks the same full screen, pop out, and light dimming options. Epix, however, features 720P HD quality for all of its movies.
Watching Movies Online with Friends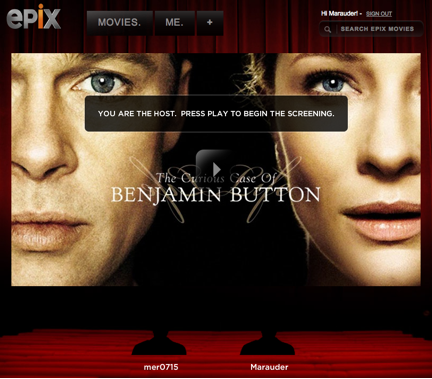 Here's my favorite feature. Viewers can watch a movie with up to 4 of their friends, even if that friend is not an Epix subscriber. Here, mer0715 and I, watch The Curious Case of Benjamin Button from each of our houses in NYC and LA.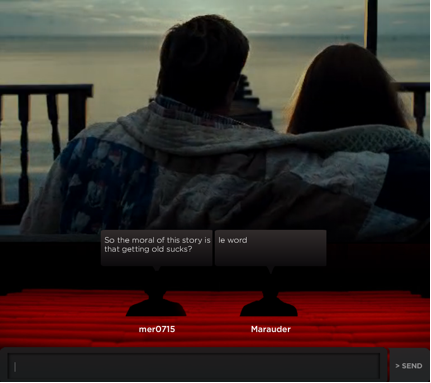 Movie watchers can type messages to each other while watching allowing an almost couch-like experience.
Distribution
Currently, Epix only has one distributor with Verizon FIOS giving them access to a pool of only 2.5 million subscribers. The two most attractive cable operators in the US according to audience size are Comcast (25M subs) and Time Warner Cable (15M subs). In July, Comcast publically responded that they were not interested in the service and think that it is in fact, "a bad idea." So that leaves, Time Warner Cable as the most attractive girl in the room. Rumors have been floating around about a DISH distribution deal, which would pick up just over 13M subscribers and give Epix a bit more to talk about.
Price
$10 per month.
The Low Down
Epix most reminds me of Hulu at least in the reason for its creation. Hearken back to the days in which Hulu was "New Site" and everyone laughed at its imminent failure. Mr. Techcrunch himself, Michael Arrington, liked to call New Site Clown Co. before it was dubbed Hulu.
Hulu was created as a joint venture between two broadcast television networks (Fox and NBC) which wanted more control (and hence revenue potential) over the distribution of their content in an iTunes world. Similarly, Epix was built by three movie studios, who in a world of Hulu, Netflix, and Showtime, wanted more control over their content. Both decisions were risky for the companies in question. Just ask Jeff Zucker from NBC how those digital pennies, dimes, or whatever currency he's using these days are doing.
Here's the main difference between Epix and Hulu: Hulu acts as a central location for all content even if its not featured in its super slick video player. Epix only offers content from these three studios.
In a world of Movies on Demand, pay TV networks, Hulu, Netflix, and those things we used to call DVD's, do we really need one more TV channel? In short, no. No we don't.
The cable operators realize this. They have enough to sell you when you call to set up service. HBO and Showtime used to be the cash cow for the cable companies. With the advent of online and digital phone services, this is no longer the case. The revenue potential on these two services far outweighs the opportunity upside on a pay TV network. So, why would I, Mrs. Cable Company, choose to carry another pay TV network that I will have to relegate marketing budget to? Hmmm...
In short, Epix is interesting to me purely for its online subscription-model offering. They can't compete with the movie quality of other pay TV networks like HBO. Yes, Netflix is doing online streaming but Epix claims that they will have more and better quality movies online soon. Both Netflix and Epix cost about the same but one gives you additional access to 100,000 DVD rentals and the other to a TV channel and on demand network.
Epix needs more distribution to make some noise but if they find some, things will start to get a bit more interesting. Game on.