All it took was a photograph of a smiling young man to be passed around and within minutes the family I've been meeting are in tears. Saeed was just 23 years-old and had been the sole breadwinner in his family. He was a Yazidi Kurd -- a religious minority group. He was killed trying to return to his village in Iraq's north-west region to help others who weren't able to flee soon after it had come under attack by troops from the militant group, ISIL (the Islamic State in Iraq and Levant).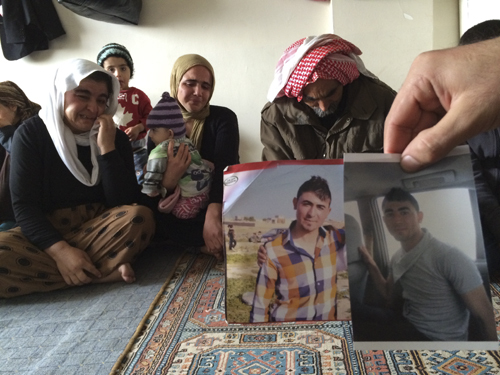 A family grieves
His widow, Khalil, is struggling to look after her three young children, the youngest just four months old, and shares one room with 16 members from her extended family in a bare, unheated building that once served as a military barracks in a desolate coal mining area in Şırnak province, south-eastern Turkey. Signs of the buildings' former inhabitants are still visible. Slogans etched onto hallway mirrors served as reminders to soldiers, urging them to "Straighten your uniform".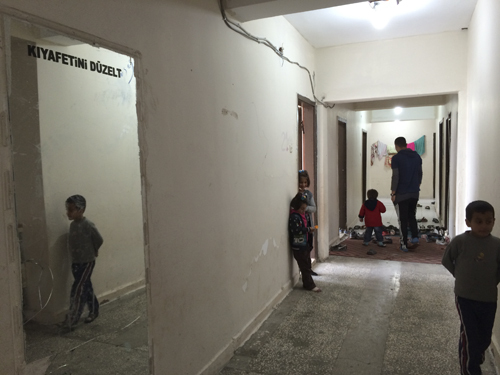 Iraqi children walk past a mirror with the slogan: "Straighten your Uniform"
"We can't go back to Iraq", widow, Khalil, told me. "They destroyed our houses and looted our things. They killed many of our men and took many women."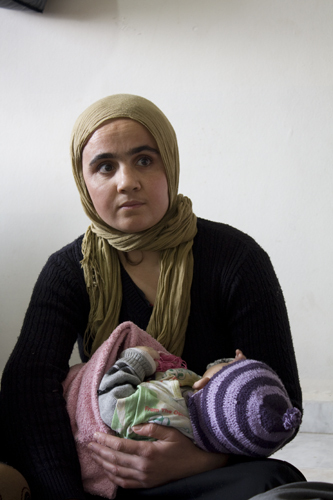 Khalil and her four-month-old
In August, tens of thousands of Yazidis fled for their lives after being attacked by ISIL troops in Iraq. Many were stranded on the barren slopes of Mount Sinjar and their plight captured the news headlines.
Today, around 30,000 Yazidis are living in makeshift shelters and camps in Turkey and Kurdish areas of northern Iraq struggling for help, mostly out of the news headlines. Many Yazidi women and children are said to still remain in captivity under ISIL control in Iraq.
In south-eastern Turkey, around 1200 people are staying in abandoned military buildings in Şırnak province. The site had, until recently, been packed with more than 4,000 people but many families have moved on, in search of somewhere better to stay ahead of the bitter winter.
In the meantime, the municipality and local people here have been coming to their aid, providing three hot meals a day, blankets and clothes, doing basic improvements to the empty buildings, including ensuring there is hot water, even installing some washing machines. But support for the new arrivals is straining local resources.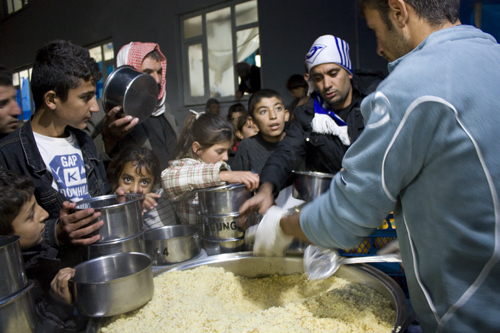 Three hot meals are prepared every day
Partners supported by the European Union's Humanitarian Aid and Civil Protection department (ECHO) are also working here - providing waterproof tents, improving existing shelter conditions, providing hygiene kits, non-food items and cash assistance. A medical partner has set up a primary health care centre, managed by a local Turkish partner, Doctors Worldwide, since the nearest hospital is 10 kilometres away, There will soon be youth and child-friendly spaces for youngsters.
Iraqi doctor, Ahmed Saad Saeed, who works with Doctors Worldwide, sees around 60 patients each day. He says most of the health problems are a result of psychological trauma - including severe anxiety and depression in adults, and bed wetting among the children, since many Yazidis witnessed killings and extreme violence.
"I didn't expect my work to be so valuable, but when I came, people were so happy to see me", he said. "My work here is as much about providing psychological support as it is giving medical help", he added.
For now, the plan is to improve shelter facilities and install other amenities here as quickly as possible, before the worst of the winter sets in. Despite the difficult conditions, many families here are adamant they will not return to Iraq, where they fear they could once again face attack because of their minority status. Instead, many want to be resettled in Europe, where many Yazidis have moved in the past.
At the shelter in Sirnak, there is little for families to do. Children gather in the chilly morning temperatures around tins that are lit up with small fires to stay warm. Families try to stay positive, but many feel frustrated and haunted by recent events. Many tell stories about men being killed and women still held captive in Iraq by ISIL troops.
Kine Haji, 37, ran with her children from her village near Sinjar city, carrying her youngest daughter on her shoulders. Her other children ran with her, barefoot. She fled after witnessing her husband killed by ISIL troops. "My hope for my family and me is to go to Europe", she told me. "There is nothing for us in Sinjar. We do not feel safe and we don't want to be attacked again."
"Right now, there is no good place to live. I have no milk to give to my children; I don't have my husband any more and there is no-one to take care of us. We have no money. This place is not good, but at least its safe", she added.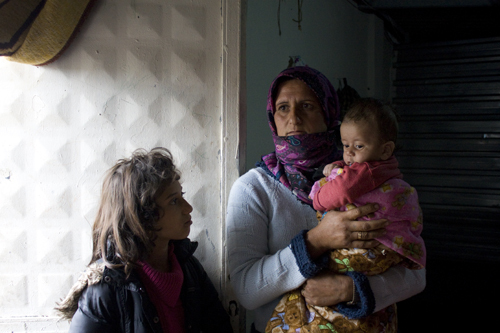 Kine Haji