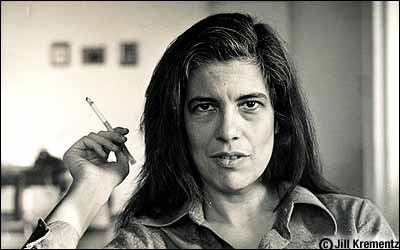 Do you frequently wake up fully dressed, reeking of coffee, with Post-it notes stuck to your face? Are you an information junkie, a detail fiend, or a wisdom addict? If so, you're probably suffering from being a writer. But don't feel bad, I have it, too. It hit me that my affinity for stories might be a little over-the-top when a childhood curiosity about Noah's Ark resulted in a bathtub full of all manner of creatures that came in twos; or maybe it dawned on me even earlier, when learning to read caused me to mentally drool over all the tales I would eventually tell.
I think I am so taken with the movie Adaptation because it addresses the unwieldy topic of the writer's longing to know and to tell. This hunger is at work in Charlie Kaufman's struggle to translate his own writing process, and Susan Orlean's book (The Orchid Thief), into the language of cinema. This desire is equally present in the gap-toothed John Laroche's encyclopedic erudition on all things orchid; and, of course, in Susan Orlean's willingness to follow Laroche to the ends of the earth for a glimpse of the Ghost Orchid. In fact, with its promise to electrify us, catalyze our own inventions and make us whole, writerly yearning is at the core of this elusive flower
Word junkies are seldom without their trusty accessory, the psychic map of creative journeys yet to be had. For me, this has always been my computer. Since I could reach the dusty keys of my parents' PC, it was almost as if I believed the machine held the blueprint of my undiscovered opus. I would sometimes just sit and stare at the stubborn contraption, which had not yet offered up my masterpiece, as though it were purposefully withholding it. I'm pretty sure that I even spoke to it at times, resisting the urge to feed and cuddle it. To me, it was the place where I would one day read beautiful words and find that they were mine.
I also trace a good deal of my writerly inspiration in adulthood to reading Susan Sontag's On Photography. She changed the way I thought, and all I wanted was to one day do the same for others. Sometimes Sontag was my intellectual soul mate; sometimes she infuriated me; but she always changed me. I realized that all I needed to know at the end of my life was that I had read and written the hell out of it. I found a particularly intimidating picture of Sontag and put it up over my desk. Whenever I feel like stopping for the night, I look up at those dark eyes, that cigarette, and I think: Sontag would keep going, and so do I. What can I say, word junkies of the world, I feel your painful pleasure.