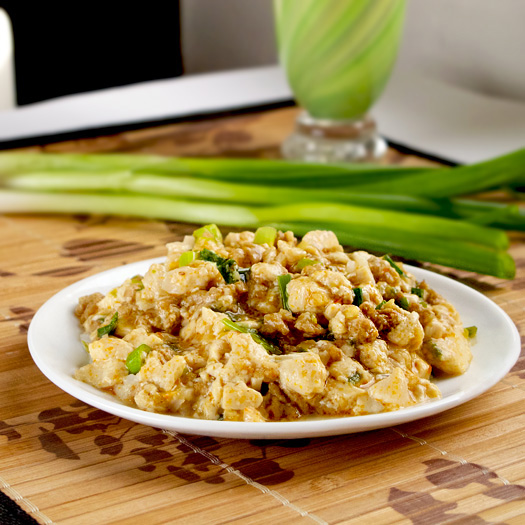 This is a healthier version of the classic mapo tofu, using lean ground chicken instead of ground pork and making tofu, the star of the dish.
Serves 2
Ingredients:
2 tbsp neutral oil (grapeseed, vegetable)
1/4 lbs ground chicken
2 garlic cloves, finely chopped
1 thumb size ginger, finely chopped
1 jalapeno, finely chopped
1 lb silken tofu (16 oz or 1 block)
1 tbsp sake
2 tbsp soy sauce
2 tbsp light soy sauce
8 tbsp chicken broth
1 tsp tobanjan (Korean chili paste)
4 tbsp water
8 scallions stalks, chopped
1 tsp sesame oil
1/2 tbsp potato starch mixed with 1 tbsp water
salt and pepper to taste
Directions:
In a large pan over high heat add two tablespoons oil, garlic, ginger and jalapeno, and cook for a minute, until garlic is fragrant. Add ground chicken and cook for a couple of minutes, until chicken has cooked through. Add tofu and incorporate it by gently breaking it up. Add sake, soy sauce, light soy sauce, chicken broth and tobanjan, and cook for two minutes. Add scallions, mix well and add the water. Add the potato starch mix (this is what makes the texture glutinous), stir well and finish up by adding sesame oil and seasoning with salt and pepper to taste. Serve with Japanese rice.
You can serve mapo tofu with a side of miso soup, some gyoza, and a light spicy apple and orange salad for dessert, for a healthy and delicious meal.
For more Asian inspired recipes, visit www.pickledplum.net