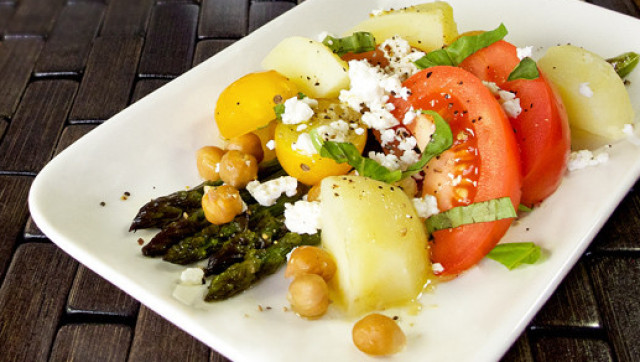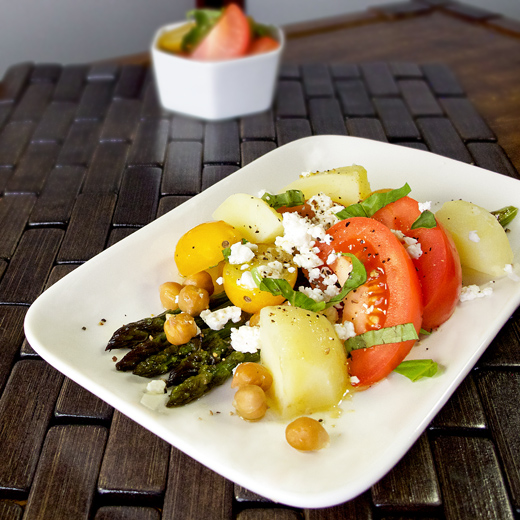 Roasted Asparagus Market Salad
Serves 2
Ingredients:
1/2 cup chickpeas (cooked)
12 asparagus stalks, ends trimmed
3 tbsp extra-virgin olive oil
2 small potatoes (Yukon Gold preferably), cut in half then quartered
1/2 cup feta cheese, crumbled
1 1/2 cup, sliced mixed tomatoes (heirloom or your own mix)
6 basil leaves, chopped
1 tbsp champagne vinegar (red wine vinegar is also good)
1/2 tsp dijon or grain mustard
1/2 tsp kosher salt
freshly ground black pepper
Directions:
Preheat oven to 425 degrees.
Boil potatoes until cooked, drain and set aside. In a sheet tray, lay aluminum foil and drizzle one tablespoon olive oil. Add asparagus, quickly mix olive oil and sprinkle a little salt on top. Push the asparagus to one side and add chickpeas to the other. Put in the oven and cook for eight minutes, until asparagus are sizzling. Take out of the oven and leave to cool.
For the dressing, in a bowl, mix two tablespoons olive oil, one tablespoon champagne vinegar, salt, and 1/2 tsp dijon or grain mustard.
Place six asparagus on each plate, add the chickpeas and top with the rest of the vegetables, basil and feta cheese. Finish with a drizzle of dressing and some freshly ground black pepper. Serve.
Serve this roasted asparagus market salad with a ginger soy salmon, bacon and sun dried tomato quiche, or with a simple ginger and parsnip soup.