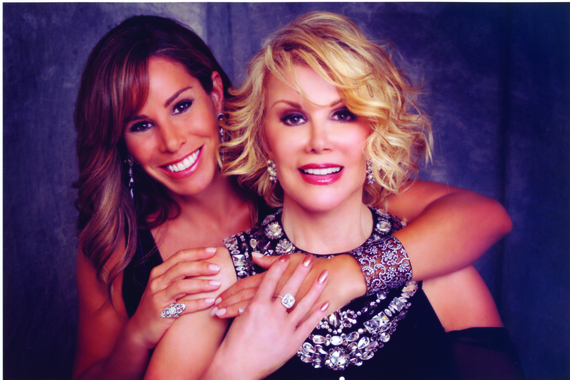 Photo Credit: Charles Bush
In The Book of Joan: Tales of Mirth, Mischief, and Manipulation (Crown Archetype), Joan Rivers' daughter Melissa Rivers delivers a tribute to her mom with a lot of life and a lot of laughs. Their epic mother/daughter relationship was such a part of popular culture that the world grieved with Melissa when her mother passed away 8 months ago.
At this point, Melissa says she is just coming out of the denial stage of grief, but that writing the book gave her "permission to laugh." As a producer, TV personality, author and single mom to son Cooper, 14, there have been many overwhelming feelings, particularly since the realization hit that she also has to "manage this legacy."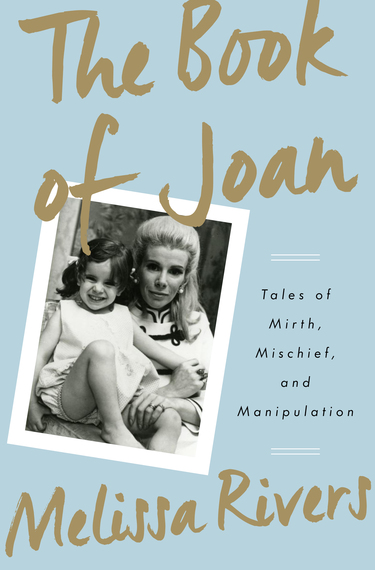 Photo Courtesy of Crown Archetype
During Tough Times, A Friend Turns Into More
Fortunately, she has support and one very important shoulder to lean on -- her boyfriend, talent agent Mark Rousso. "I'm dating someone, which is terribly ironic, not necessarily in a good ironic way. My mom always wanted me to be in a happy relationship with someone who was good and kind, and everything that a partner should be, and of course I didn't find that until after my mother passed. The funny thing is, it's someone I was friends with for the last two or three years and it shifted and changed after my mother passed. We saw each other very differently after that... He never saw me as a person who was vulnerable or someone who would accept help... I reached out and he was there."
In terms of support, she does find herself having to deal with the only-child dynamic. Melissa feels the void of not having a sibling to share, "common memories" with. However, an important part of being an only child, as well as having an only child, for her is an "incredibly deep bond because it's such a small, immediate family unit."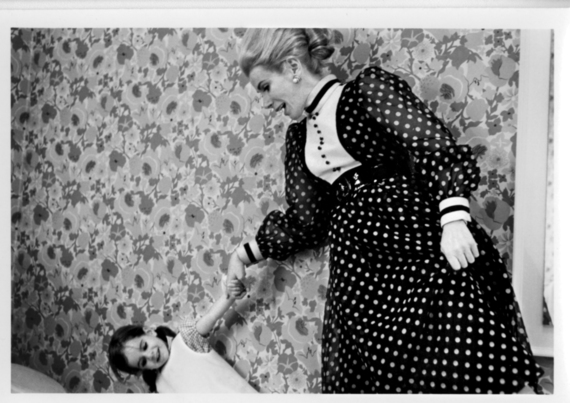 Photo Courtesy of Melissa Rivers
"Now We Call It Advice Rather Than Criticism?" -- Melissa
So what was the best parenting advice Joan gave Melissa? Apparently, one of Joan's favorites was that while everyone is espousing quality time, quantity time shouldn't be ignored.
Joan was that way with Melissa, and now Melissa is that way with her son. "Quantity time matters -- there's something about being in the same space together... and now especially with my son being 14, I definitely push for quantity, cause I ain't gonna get that much quality," Melissa quips. "Quantity matters even if it means you drive carpool once a week or sit and be bored at practices. And trust me, for a single, working parent, it's not so easy."
Melissa describes her parenting style and her mother's as "involved, but not a helicopter." Melissa also emulates a certain amount of strictness that was a part of her childhood. "There were expectations, and certain things were to be done properly and correctly with a certain level of respect. I'm raising Cooper the same way," she emphasizes.
Mirror, Mirror
In The Book of Joan, Melissa points to Joan's often anxiety-laced humor about body image. Classic Joan: "If you're George Clooney or Angelina Jolie, then by all means, 'look like yourself,' but if you're anyone else, take a shower, put on some blush, and demand backlighting, even if you're going to the supermarket!"
I wondered about Melissa's body image. "I have a terrible body image," she explains. "We all have it. We live in this crazy world with unattainable expectations. Men have it too... How do you deal? We're always dieting, waxing, plucking, tweezing. You do the best with what you have and that's got to be your watermark... Do I dwell on it? Anyone who says they don't is full of shit," she laughs and goes on to say that her mother, "never understood people who didn't want to be their best self."
Horrible Little Teenage Creatures
I asked Melissa about two revealing letters she includes in The Book of Joan -- one from her mother and one from her father after some rebellion during her teenage years. I commented that in the letter Joan builds Melissa up instead of tearing her down. Melissa laughs, "If she [Joan] had been compelled to write the letter, it had been a pretty bad fight. I was torn down and ripped apart earlier and am sure I was doing the same thing. My father had gone to bed during it -- he was a very smart man and didn't want to get between two strong women!"
Whenever Melissa cracks a joke or says something sardonic like, "Teenagers are horrible little creatures in general" echoes of her mother are all over the place. Yet it's also clear that Melissa is no shadow. There's a strong sense of self in every comment she makes.