Urban farming is sweeping the country as individuals and families seek ways to eat more healthily while also whittling down the grocery bills. Monticello, Thomas Jefferson's legendary estate in Charlottesville, Va. recently offered two-days of gardening, farming, and do it yourself (DIY) classes and demonstrations during its annual Heritage Harvest Festival, Sept. 12-13, 2014. The event, co-sponsored with Southern Exposure Seed Exchange, featured such free and fee-based events as mushroom cultivation, home canning, edible landscaping, backyard poultry farming and dozens more.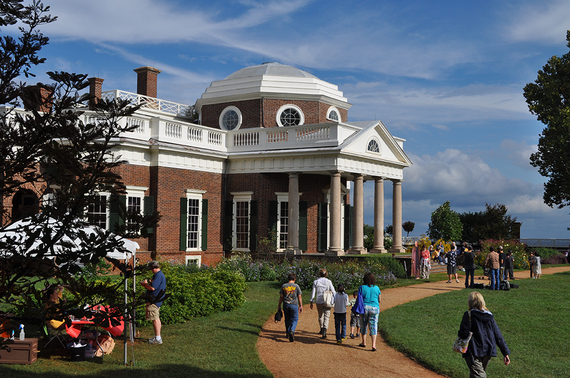 Thomas Jefferson's Monticello estate sits atop a mountain overlooking Charlottesville and the valley that stretches east from the Blue Ridge to the sea.
Jefferson inherited a large swath of land from his father, then designed and oversaw building of the mansion and the development of the plantation when he was only 26-years-old. A leader in the enlightenment era, the future president was fascinated with architecture and agriculture, as well as law and politics. He was renowned as a connoisseur of vegetable cuisine and endorsed plant experimentation and sustainable agriculture on his plantations. The Heritage Harvest Festival, now in its eighth year, seeks to educate, inform and entertain visitors with Jefferson's insights and futuristic vision.
The festival began on Friday with classes throughout the day. At 5 p.m. keynote speaker, Aaron Keefer, culinary gardener and provider of specialty produce for chef Thomas Keller's Napa Valley restaurants, spoke about how soil, seeds and cultivation affects produce quality in terms of yield, nutrition and flavor.

Over on Monticello's twin peak called Montalto, a giant marquee was raised to host the festival's Chef's Dinner on Friday evening.
At the Friday night chef's dinner, more than a dozen local restaurants, wineries and breweries served small plates in a roving feast of culinary exploration. Starters began with a lavish display of artisan cheeses and charcuterie curated by chef Gay Beery from APimento. Fossett's Restaurant presented small plates of smoked Monrovia Farm beef brisket with mushroom katsup paired with Wild Wolf Brewing Company's Area 151 and Rosemont Vineyards' Kilvarock 2010 blend of red wine. You could find grilled Rag Mountain Trout from APimento, while Orzo Kitchen & Wine Bar offered chilled corn soup and Down Branch Farm salad paired with a Viognier Reserve 2013 from Barboursville Vineyards. Musicians played live in the background, while the lights of Charlottesville twinkled on in the distance, making for a magical evening.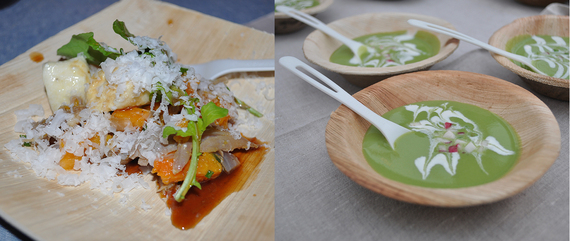 While all of the small plates were satisfying, the duck confit with ricotta gnocchi from C&O Restaurant, plus the cold pea soup from Petit Pois were hands-down crowd favorites.
More demos and classes began on Saturday morning, with bluegrass bands, a circle of food trucks, market tents and tasting tents. New this year, and quite popular judging by how quickly the supply vanished, was the old-time seed swap.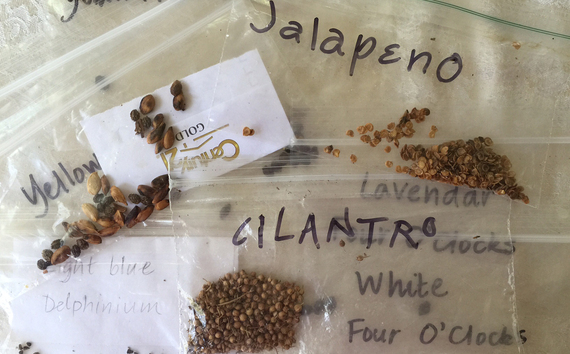 In the tradition of old-time seed swaps, visitors to Monticello's Heritage Harvest Festival were encouraged to bring seeds from their gardens to swap with other visitors.
Jefferson was an avowed seed saver and swapper, attempting to grow exotic seeds he received from all over the world. Legendary explorers Lewis and Clark frequently sent Jefferson seeds from their explorations of the west, which Jefferson used for experimentation in the soil and climate of Virginia.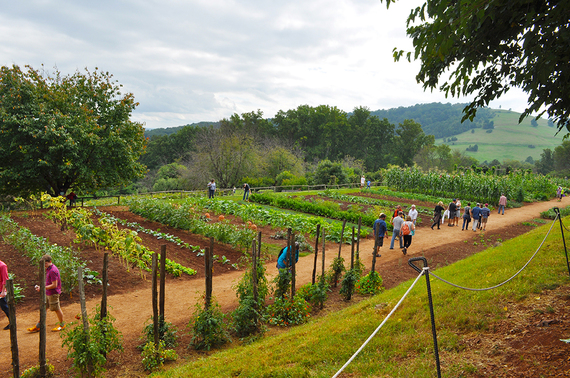 Jefferson took advantage of the terrain with terraced gardens sweeping down the hillside. The terraced gardens are currently under renovation, but offer keen views of what they may have looked like in Jefferson's day.
Jefferson was a forward thinker and one wonders how he would have taken to genetically modified fruits and vegetables. Would he have been on the GMO train, or would he have persevered with heirloom varieties?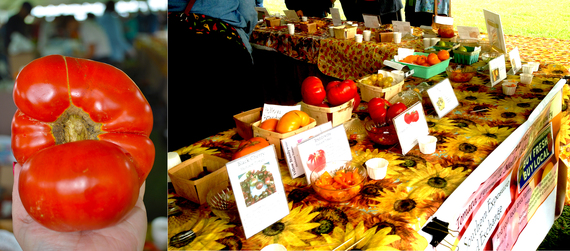 Sampling of heirloom tomatoes proved how different each variety can taste.
There is no small preponderance of writings where Jefferson praises wine and much evidence that he was as passionate for growing grapes as he was in drinking the fruit of the vine. He built two vineyards at Monticello. Both were situated in the south orchard, below the garden wall. Each of the vineyards have been restored with grape varieties Jefferson might have grown for the wines he preferred. Several wine tasting sessions were held throughout the festival days.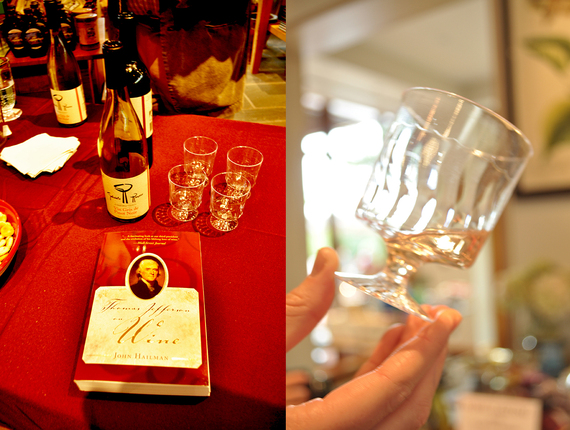 Jefferson has been called America's "first distinguished viticulturist." Ever so pink, ever so soft on the tongue the Gabriele Rausse Vin Gris de Pinot Noir.
Monticello's Heritage Harvest Festival is family friendly, boasting a budget-friendly $10 per person admission. This includes entry to all of the tasting tents, the demos, the marketplace, the Backyard Revolution and the first annual Young Pioneers' Parade led by Maryland Line Fife and Drum Corps. Music such as folk songs, fiddle and banjo picking, and bluegrass made festive sounds throughout the grounds. Additional classes for a modest fee were offered in the areas of ornamental gardening, culinary gardening, do it yourself (DIY) and the art of living.
Tours of the interior of Monticello were not included in the festival admission, yet were available throughout the day for a separate admission price.
All Around Monticello's Heritage Harvest Festival
Thomas Jefferson himself, or rather, a Thomas Jefferson actor, thrilled children with tales of old times at Monticello.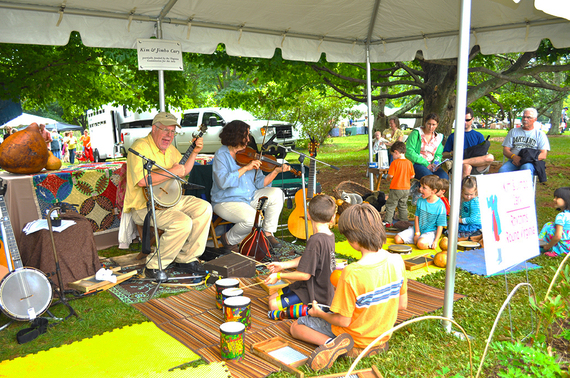 Kim and Jimbo Cary, also known as Rhythms Round Virginia, picked and fiddled most of the day.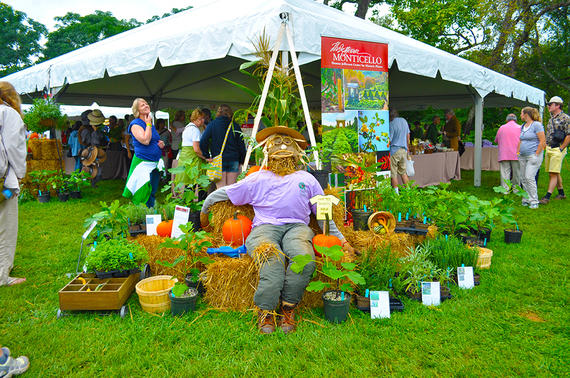 Scarecrows to hedgerows, pumpkins to plants made for festive sights around Monticello.
Spinning wheels and hand-weaving looms are not a lost art.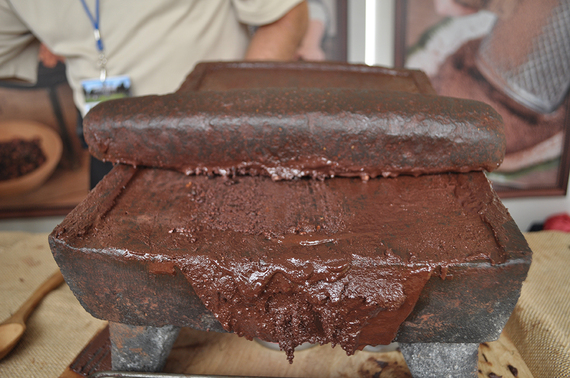 Over at the chocolate tent you could find cocoa from bean to bite. This is what cocoa beans look like after they are roasted and ground.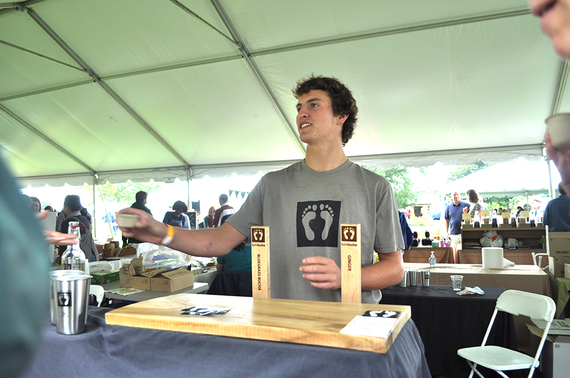 Discovering a new taste treat like Kombucha, fermented sweet tea, was a delightful surprise.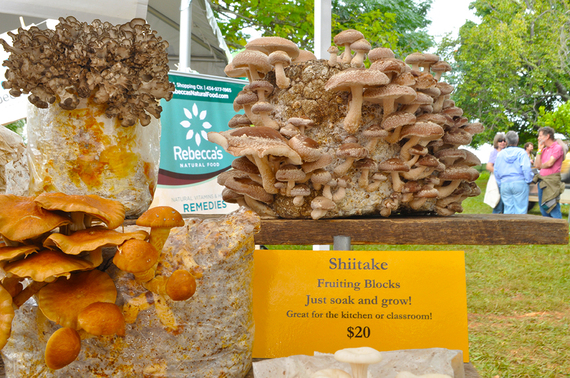 Growing your own mushrooms can be simple when using pre-fruited mushroom blocks such as these.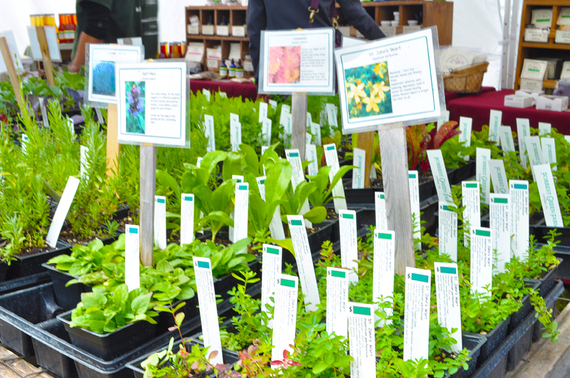 Heirloom herbs, along with essential oils and herb infusions were available from several vendors.
All photos ©2014 by Carolyn Burns Bass.