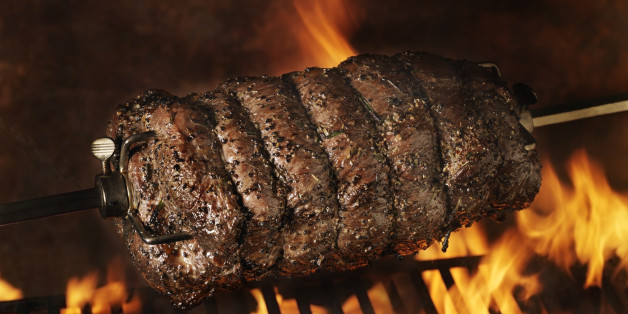 Few things bring such a sense of happiness and excitement as good food, fine beverages and great music served up among friends. You could say it's euphoric. Greenville, S.C. knows this well, having named its annual food, beverage and music festival, Euphoria. Now in its eighth year, Euphoria draws people from all over the country to experience four days of Southern hospitality and entertainment. This year Euphoria happened September 18-21 and it was fabulous.
The brainchild of platinum-selling singer and songwriter Edwin McCain and restaurateur Carl Sobocinski, Euphoria is organized by a non-profit group called Local Boys Do Good (LBDG). In addition to its mission to put Greenville on the map of great foodie cities, LBDG turns proceeds from Euphoria into grant moneys for food, hunger and health organizations in the upstate South Carolina area.
Nestled in the foothills of the Blue Ridge Mountains, Greenville is a small town with a big city vibe. Not terribly long ago, it was just another Southern textile town suffering from polluted rivers, over-farming, and main street blight. In the 1970s Max Heller, a Jewish immigrant who escaped the Nazis in 1938, became mayor of Greenville and inspired the revitalization of Greenville with big money investors such as BMW and Michelin. Heller further shaped the town with European ideals for outdoor meeting and eating spaces, walkable streets, and community parks. Next came the foodies.
Carl Sobocinski, who originally came to Greenville to study architecture at nearby Clemson University, was dazzled by food and food service when he took a job as a busboy during his third year at Clemson. He staked his claim in the mid-1990s and built a restaurant empire called Table 301 that now includes seven restaurants that dish out everything from street tacos to haute cuisine.
Festival co-founder, Edwin McCain, who brought music to Euphoria stages, stepped down from his involvement with the festival in 2013, citing touring schedule conflicts and the opportunity to work with a new charity close to his heart. McCain's absence was noted by longtime Euphoria guests, but newbies like me found good times with the Piedmont Boys, Sixwire, Seven Handle Circus, Rivers Rutherford, Bob DiPiero, Tim Nichols, the Greenville Jazz Collective and other performers who filled in throughout the days.
Euphoria is an active festival. You're eating, drinking, walking, dancing, talking, and learning. In addition to all of the tasting events, Euphoria featured demos and classes covering everything from chocolate making, wine seminars, baking, and distilling of spirits. Vendors on hand discussed methods of preparation, sources of ingredients, training and offered tastings.
I arrived in Greenville on Thursday and was not hungry again until Monday morning. Euphoria opened on Thursday night with a hard choice: Swine and Dine with the Piedmont Boys, or Songwriter's Recipe with Bob DiPiero, Rivers Rutherford and Tim Nichols. I chose Swine and Dine, which featured a whole hog BBQ right on Greenville's NOMA Square. Roost restaurant executive chef Trevor Higgins and his pitmaster Sam Jones put on a show of roasting the pig all day in front of the Hyatt, then chopping it in front of your eyes, then letting you dose it with a wild selection of sauces, from mild and savory to hot and zesty. Scattered throughout the adjacent Roost restaurant were marvelous food stations overflowing with all of the fixings for a creative Southern barbeque, including such stand-outs as sweet and sour collard greens, Carolina gold rice with smoked paprika pesto, jalapeno and Havarti cheese macaroni, butternut squash soup and a dessert table to make your granny jealous. Can you say "pig out"?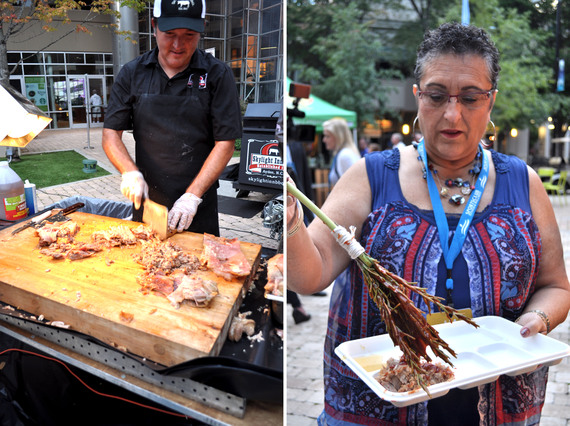 That's chopped hog on the left. At right, Robin Richardson, Apex, N.C. doses her chopped pork with Memphis BBQ sauce from a basting brush made of rosemary sprigs.
Friday night's dining extravaganza, Taste of the South, began just before sunset at Greenville's Peace Center TD amphitheater and Wyche Pavilion set alongside the Reedy River. The weather fairies were on Euphoria's side with clear skies and Indian Summer warmth. The state-of-the-art Peace Center is built on land reclaimed from old textile mills and river shipping warehouses. The Wyche Pavilion, however, remains as a classic brick skeleton reimagined for entertainment. Dozens of South Carolina restaurants set up prep stations to serve such culinary creations as Soby's New South Cuisine's duck with Carolina gold rice so smooth and creamy you might think it was risotto. Other guest favorites were the short ribs and baked macaroni from Larkin's on the River; High Cotton's chicken ballotine; and Nose Dive's heirloom tomato pie. A separate VIP area offered additional fare and seating for those who purchased an all-event pass. Under the amphitheater, Sixwire, the house band for the TV show Nashville performed impressive covers of rock hits from the '60s forward.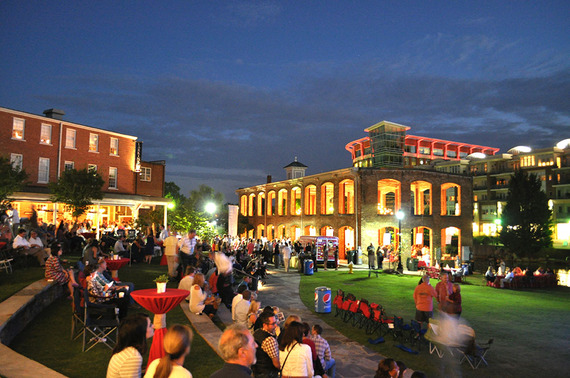 Greenville's Wyche Pavilion gleams under the evening sky during Euphoria's Taste of the South.
An after party rolled out by Van Gogh Vodka and Palmetto Brewery turned an area inside Clemson University's downtown Greenville annex into a chic club scene with live music by the Tim Riehm Band and DJ Apollo.
Saturday began big with the Tasting Showcase at 11 a.m. Under a double marquee on the corner of Main and Broad Street, the showcase featured demos and samples of food and drink until 4 p.m. Here's where the smaller vendors set up shop with such samples as baked decadence from Upcountry Provisions, or Pomo pomegranate liqueur, or cold brew coffee concentrate from Due South Coffee Roasters. Dozens of handcrafted spirits gave those of drinking age a bit of a buzz and introduced some new breeds of bourbon. Several bands and singers rotated on and off stage providing a musical soundtrack to the roving feast.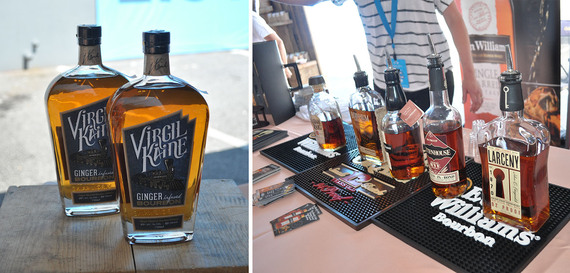 Bourbons, bourbons, bourbons. Among the plentiful handcrafted bourbons, I liked Virgil Kane's Ginger-infused bourbon.
On the heels of the Tasting Showcase came Traffic Jam. Imagine a corral circled with food trucks and you have a good idea what Traffic Jam offered. Being in the South, of course there were a couple of BBQ trucks, while others included chicken wings from 2 Fat 2 Fly (Unclucking Believable), Next Level Street food, several frozen treat vendors, the nomadic food caravan called Gypsy Kitchen, and Papi's Tacos. Crowd favorites here were the street tacos from Papi's and the "taco in a bag," along with the different BBQ meats.
A dine-around of guest chef dinners happened Saturday night in five of Greenville's finest restaurants. After pacing myself at the tasting showcase, I dropped into the food truck fiesta just to get a vibe before heading to Passerelle Bistro. Set on a bluff overlooking the beautiful Reedy river falls, footbridge and park, Passerelle fuses French provincial with a modern flair. On this night the guest chef was Nico Romo who spoiled guests with potato gnocchi, peas, bacon and escargots smothered in emmantal cheese set beside a croquet madame layered with succulent duck confit topped with a fried quail egg. Dessert followed with a chocolate soufflé with bananas and peanuts, along with mixed berry crepes flambé with Grand Marnier.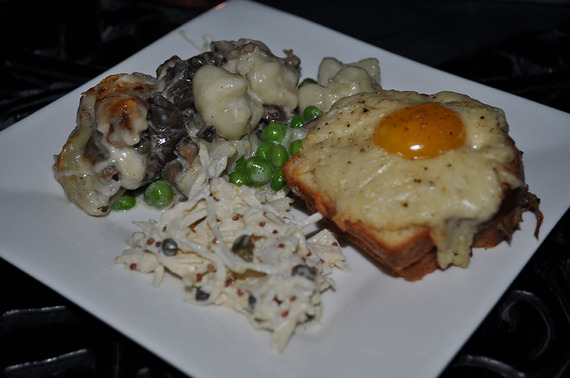 Creative French cuisine at Passerelle Bistro during Saturday night's guest chef series.
Over at the Lazy Goat, Ford Fry was guest chef, with Gregory Gutierrez and Crimson Wine Group pairing the beverages. High Cotton opened its kitchen to Kevin Gillespie, with Davis Hyde and J Lohr Vineyards pairing. Guest chefs Frank Lee, David Guas and Kevin Johnson joined beverage pros Pamela Ford and Silverado Vineyards at Rick's Deli and Market. Cucina Italiana at the Loft brought guest chef Ken Vedrinsky and Ruffino wines.
Those who hadn't dined or drank enough could head over to Lambs and Clams, another after party event held in the 500 Club at Fluor Field. This walkable feast included selections of fresh oysters, baked, grilled and other assorted treatments of clams, as well as lamb dishes in creative concoctions. Food, drinks and music flowed here until 2 a.m.
Sunday morning came as it usually does, but at Euphoria that meant more food, drink and music. The Jazz Brunch opened at 10 a.m. under the main street marquee with the Greenville Jazz Collective offering tunes throughout the four-hour event. Nearly 20 local restaurants set up stations under the tent offering such Southern favorites as shrimp and grits, plus fried green tomatoes from the Whistle Stop Café. Judging by the line throughout the day, the crowd favorite was the sweet or savory crepes from Passerelle Bistro.
By Sunday night I was tired of waiting in lines for small plates of food -- no matter how delicious, creative, or comforting. Lining up outside the Wyche Pavilion for the Sunday Supper, I told my sister who attended Euphoria with me, "Wouldn't it be incredible if we were seated at dining tables and they brought big platters of food for everyone to share family style?" My hopes sprang to life as we entered the pavilion set with dozens of white draped tables. We were seated with a group of eight other people and soon we were swapping stories about life and work and family and food. A huge exhibition kitchen was set upon a dais at the side of the pavilion, where numerous chefs and cooks moved as if choreographed for efficiency.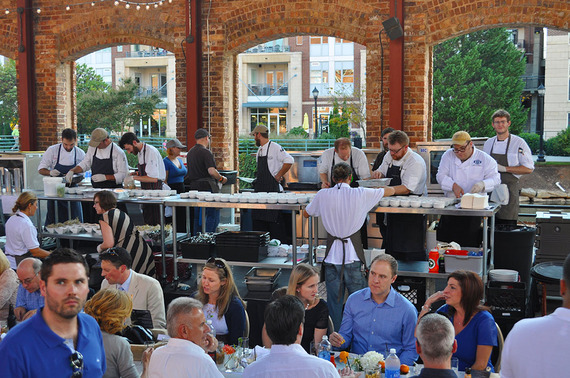 The exhibition kitchen with a team of top chefs served up more than 200 dinners at Euphoria's Sunday Supper.
Soon the first course presented by Bacon Bros Public House chef Anthony Gray arrived: a basket of buttermilk-thyme biscuits with a plate of 14-month aged guinea hog ham and a ball of that perennial Southern favorite, pimento cheese. The second course, prepared by City Grocery Restaurant Group's executive chef John Currence, consisted of Vietnamese-style hot and sour soup, with chicken confit. Mike Davis, chef of Terra, devised the third course of smoked trout with apple and celeriac Remy and horseradish crème fraiche. A second fish course of catfish coubion served with Charleston gold dirty rice followed from City Grocery's chef Currence. The fifth course, also forged by City Grocery's Currence, had everyone's mouth watering long before its presentation. While guests enjoyed the catfish coubion, flame-masters were at work outside the pavilion grilling two-inch hunks of ribeye steaks on huge, round grills. They basted and blackened the beef, then pulled them off just over medium rare and cut them into strips. Each table was given platters of the ribeye strips and they went fast.

Crusty, seasoned edges gave way to succulent, juicy mouthfuls of ribeye bliss.
The final course prepared by Soby's pastry chef Lindsay Beck, included a trio of decadent desserts that few had room enough in the stomach to fully enjoy. Still, I took bites of each, relishing the coconut cream pie, red velvet cake and chocolate chess pie with bourbon whipped cream.
And then it was over. Four days of feasting and drinking, of bliss in a glass and paradise on a plate. That sense of swell, that feeling of fulfillment. That's Euphoria.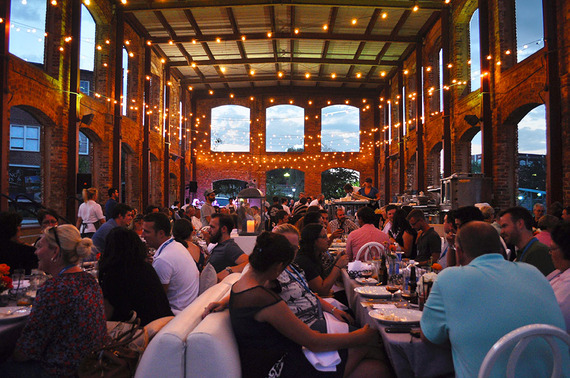 Superb food, plentiful drinks and good music made for a magical evening at Euphoria's capstone event, the Sunday Supper inside Wyche Pavilion.
All photos copyright Ⓒ 2014 by Carolyn Burns Bass.