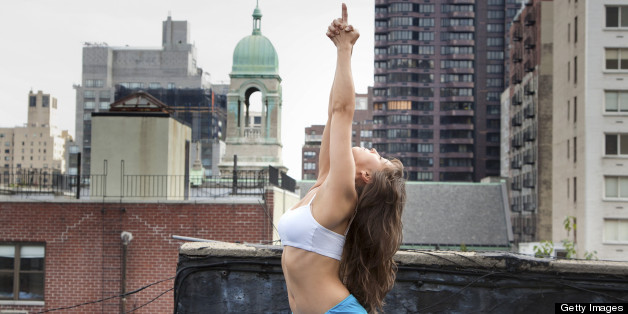 What We Tried: Rooftop Yoga for Women
Where: The James New York, SoHo
What We Did: Designer yoga certainly isn't new to Manhattan -- celeb instructors like Tara Stiles and Hilaria Baldwin have been catering to the Lululemon-wearing, Juice Press-drinking elite for the past few years -- but The James Hotel takes it to the next level by setting up mats poolside at Jimmy, the five-star hotel's swanky rooftop bar. By night, the space is the setting of the velvet-roped 18th-floor bar and lounge with panoramic views of the lower Manhattan skyline. But by morning, the poolside rooftop deck is host to an intimate and energizing Vinyasa flow class, with instructor Sophia Nagornaya leading a small group of female practitioners through sun salutations, seating and standing postures, and breathing exercises.
The class is a basic beginner practice but geared toward a high-end clientele: The exclusive, invite-only rooftop sessions (reserved for "active, dynamic and influential women") are pretty much as luxurious as yoga gets, between the luxe hotel setting, complimentary mats and spa water, and lavender essential oil treatment during the final savasana.
What It Felt Like: I went on a particularly foggy and cool Wednesday morning at 8 a.m. and found it incredibly refreshing to be out meditating and stretching in the early-morning air. I was initially distracted by the traffic and city noise below us but quickly was able to tune out the distractions and enjoy the hour-long practice.
What It Helps With: Relaxation and stress relief are the focus of this beginner flow class. Nagornaya led students through a combination of energizing and relaxing poses, following a "class intention" to find balance between water and fire elements; the fluidity and flexibility we need to adapt to change, and the fire provides our ambition and drive to achieve. The lineup of poses reflected this balance of calming and energizing -- a perfect mix for an early mid-week morning.
What Fitness Level Is Required: None. The class is a great introduction to yoga (there were a couple first-timers present, and Nagoraya demonstrated several of the basic poses for those who were unfamiliar). With a small, female-only group, hosted by women's wellness network Serene Social, it's also a welcoming environment for new students who may feel uncomfortable in larger classes full of advanced practitioners.
What's It Cost: Contact Serene Social for information on pricing and reservations.
Would We Go Back: I love taking my yoga practice outdoors in the summertime, and I'm hoping to make morning sessions at The James a weekly ritual -- particularly if they expanded their offerings to intermediate and advanced classes.
Ultimately, it's all about the location. It's hard to imagine a better setting for a yoga class: You're in the middle of the downtown bustle, but high up enough that the city sounds are reduced to a murmur. For stressed-out urban dwellers looking to find their calm center within the noise and distractions of New York, early-morning yoga above Manhattan is a great way to do it. The practice is a reminder of what yoga is really about: Rather than trying to escape the hustle and bustle of our busy lives, it's a way to reconnect with our peaceful inner space in the very midst of that chaos.
For more by Carolyn Gregoire, click here.
For more on yoga, click here.
LOOK:
PHOTO GALLERY
Rooftop Yoga At The James New York