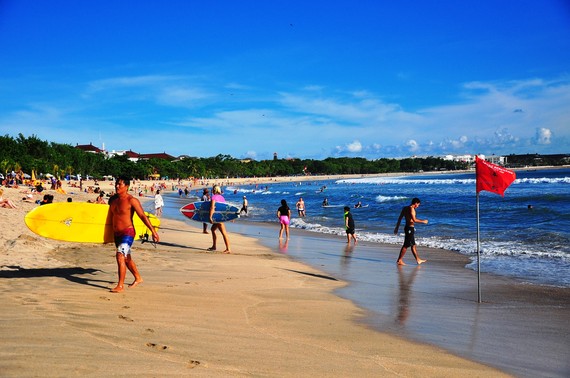 Kuta Beach: Sun, surfing and red flags that are just for decoration
Talk to Bali regulars -- and some go back, year after year -- and they'll describe how they went North, or West, or East, but they always end up coming back to the South of this tropical, Indonesian island.
Southern Bali has big, wide beaches and tourists love them. Even though Bali is relatively small and no part of it is more than a few hours away (depending on the state of the roads), tourists cluster in the southern areas. As they show no sign of dispersing, Bali's first toll road opened in September to funnel visitors more efficiently from airport to resort. Bali may be the island of the gods, but it is also the island of very congested thoroughfares.
Jalan Tol Bali Mandara will be a hard-working road, not only carrying tens of thousands of vehicles a day, but acting as a "tourism icon", symbolizing a modern, dynamic Bali of peace, prosperity and social harmony. However I suspect most people traveling on it will be thinking about how quickly they can get off it and reach the hotel/beach/bar.
Kuta and Jimbaran are both blessed with massive sandy arcs and waves that please swimmers and surfers, and so it is no surprise to find they are still two of the most popular destinations on Bali, with an ever-growing selection of places to stay.
Kuta is one of Bali's best-known beaches and often the initial stop for Bali first-timers. A former fishing village, it was one of the first towns on Bali where substantial tourist development took place. Some find the place a bit brash and commercial, others reassuringly stocked with Western comforts in an unfamiliar Asia.
Some might suggest Kuta is a bit crowded, but it has a great range of nightlife, plenty of activities and if you can't find what you're looking for here, it probably doesn't exist on Bali. It's a good place for new arrivals to get their bearings. Visitors should be careful of side-street moneychangers though -- it's best to stick to banks or hotels as small operators are known for cheating customers. They let you count the money, then deftly move it, skim it and of course you don't notice till days later when you seem to have gone through your cash rather quickly.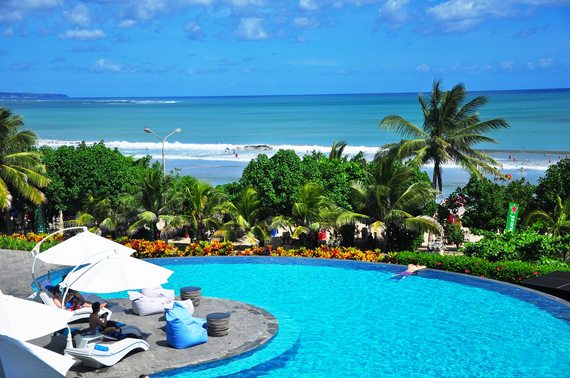 High on the beach: The Kuta Sheraton has sea views, a spa and Italian food
Some have criticized the beach wall constructed in 2010 to keep the sand where it belongs for blocking views, but conveniently perched atop Bali's latest shopping destination Beachwalk, the recently constructed Sheraton Bali Kuta Resort rises above all that.
Only three miles from the Ngurah Rai Airport, the Kuta Sheraton is a soothing place to retreat to after too much Kuta Krazyness, or when the Kuta Kowboys are getting too persistent. As I walked along the street, a young man tried to sell me an island tour, and when I declined he offered to come back to my hotel room instead. Neither option appealed, but him and his pals were very friendly.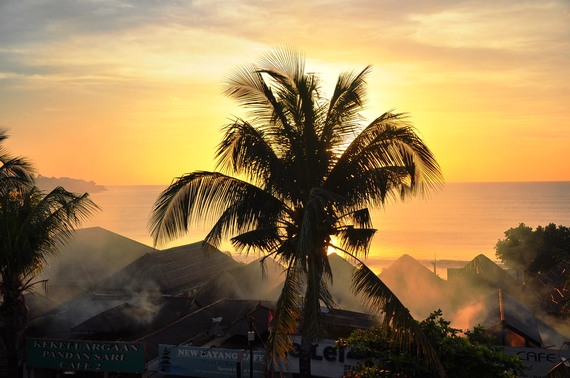 Jimbaran sunset, from the rooftop bar at Le Meridien
About 30 minutes south by road on the "neck" of the southern peninsula is another former fishing village, the quieter Jimbaran, where apart from an 18th-century temple -- Pura Ulun Siwi --there are few demands on the visitor in addition to eating at one of the many seafood restaurants, surfing and watching the sunsets, or lazing around at a resort.
Some drivers receive commission from the more expensive seafood places, so ask around locally to see which ones offer good value. It is often possible to choose the seafood from live tanks, then watch it being cooked over smouldering coconut husks.
Le Méridien Bali Jimbaran opened there a few months ago, just behind the beach and a row of Jimbaran's famous seafood restaurants.
With breezily contemporary style and some of the Paris-born chain's je ne sais quoi, the hotel bounces along to a funky soundtrack featuring Grace Jones and Gallic pop. Rather than a pool, it has a salt-water lagoon, with direct access from small verandahs attached to rooms on the lowest level.

The inviting panorama of Jimbaran beach
For a change from seafood, Le Meridien's Bamboo Chic restaurant offers a Pan-Asian menu, and its signature main course of marinated, deep-fried pork hock serves up a mighty slab of rich meat.
Unlike India, where Hinduism is largely accompanied by vegetarianism and shunning of alcohol, Balinese Hinduism is much more relaxed when it comes to eating and drinking, and has an inclusive attitude towards bacon. Hindusim came to Indonesia in the 5th century, and while the country went on to become the world's most populous Muslim-majority nation, on the small island of Bali Hinduism flourished in its own unique way.
It's part of the attraction of this humid isle, where some come to party, some to relax, some to go on a spiritual search in the wake of Elizabeth Gilbert. But at some point nearly everyone wants to spend time at the beach.