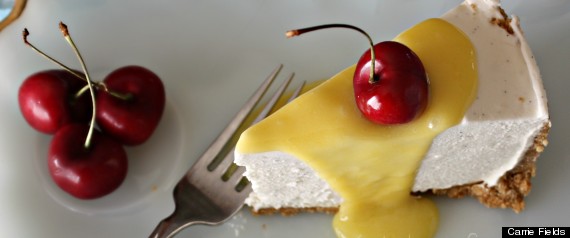 I have a confession ... rather my husband has a confession to make. He doesn't like my baked cheesecakes. I know. I can hear your gasps of horror. The sweet man waited almost 20 years to tell me this. He suffered through all of my attempts and smiled and cleaned his plate. All the way up until I mentioned making him a cheesecake for when he came home FINALLY for good (no more deployments! He's retiring from the Navy, baby!). He was silent for a bit on the phone, then quietly and timidly said ... "Um, Carrie? I don't really like baked cheesecakes. Well, your baked cheesecakes" ACK! Don't worry; I got that worked out. I made a cheesecake he loves! Plus, it's perfect for summer. It's a no-bake.
I really feel like I have perfected the no-bake cheesecake; especially if you like just a little less tang of cream cheese and more creaminess. This cheesecake is super light, creamy and just sweet enough. It goes with a thousand different toppings ... really anything. We personally had cherry pie filling and homemade lemon curd. It would have been amazing with fresh bananas and hot fudge too. Uhm ... excuse me while I go dig out the leftovers from the fridge and find my bananas and hot fudge. Yay!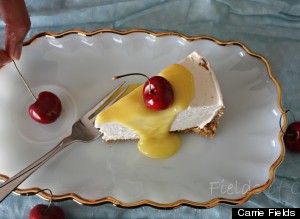 Light as Air No-Bake Cheesecake
Recipe Type: Dessert, No-Bake

Author: Carrie Fields

Prep time: 10 mins

Total time: 10 mins

Serves: 12
Ingredients
3 cups graham cracker crumbs
1 stick butter, browned and cooled
1/2 cup sugar
2-8 ounce blocks of cream cheese, softened
1 cup granulated sugar
3/4 cup powdered sugar
2 cups very cold whipping cream
1 vanilla bean, scraped (save the pod for your sugar)
1 1/4 tsp. powdered gelatin
3 Tbsp. your favorite liqueur (I used raspberry)
1 Tbsp. vanilla extract
Instructions
1. In a 9 inch springform pan, combine crumbs, butter and sugar until it resembles wet sand. Press into the bottom and up the sides of the pan as much as possible so that it is pressed nice and tight. I used the flat bottom of a smooth glass to make sure that it was all pretty and flat. Refrigerate until ready to use to allow it to firm up nicely.
2. In a small bowl, sprinkle gelatin over the liqueur and vanilla extract. Allow to stand 5 minutes to bloom the gelatin. Microwave for 5-10 seconds just to liquefy. Stir to ensure it is completely dissolved. Set aside.
3. In stand mixer, beat the cream cheese, sugar and vanilla bean until VERY smooth and creamy.
4. Meanwhile whip the cream until medium peaks form.
5. Slowly add the gelatin to the beating cream cheese.
6. Add about 1/3 of the whipped cream to the cream cheese mixture to loosen up the batter.
7. Fold the rest of the whipped cream into the batter and pour into the graham cracker crust.
8. Smooth the top and refrigerate at least two hours.
9. Serve with your favorite topping or get really wild and go naked!
Enjoy! And be good, sweet readers. But not too good! That's boring. ;)