True statement: I do a lot of media. As a result, every year at this time, I get asked to do a feature on extending the outdoor season through the use of heaters or fireplaces. Whether it's an article on the newest stand-alone propane heaters that are on every restaurant patio or a TV piece depicting the outdoor living room complete with the wood-burning fireplace, it feels like it's been done over and over. This year I vowed to tell a different story. The real questions that I want to answer are: "Why should homeowners try to extend the use of their backyards?" and: "Do we even have a reason to be in the backyard in the wintertime?"
The truth is, winter is a great season for being outdoors. We can all picture our favorite outdoor activities, but did you notice that all of these activities are mostly physical? Makes sense, because if it's cold outside, you want to stay active to stay warm. What about after the exercise? What about the Après Ski?
This year, I want to have an "Après Ski party" in my backyard, even if I don't get to the slopes!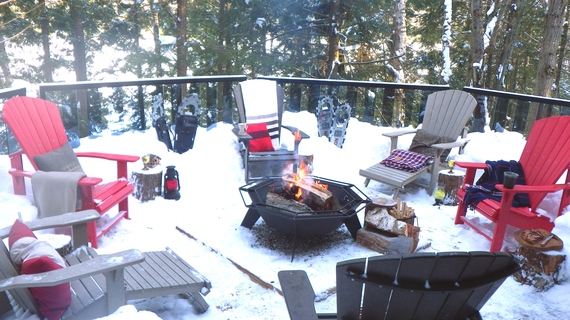 Having a winter party is simple, as the snow handles most of the decorating! It's funny how a blanket of white covers all of the sins in the backyard! Here's what else you need to do to make your event a success:
1. Heat! Standing around in the cold doesn't seem so appealing, but standing outside around a warm fire is another story altogether! If you have a fire pit, dig it out and load it up! My personal favourite will always be wood burning, because of the smell and the irregularity of crackling wood. Even if you have a propane option or natural gas, having flame sets the mood. If you don't have a fire pit, not to worry! Once the ground has frozen, having an outdoor fire is pretty easy by adding four, square 24 inch patio stones underneath the wood. The stones will protect the grass from scorching, and stop the roots from thawing out. Just make sure you check you local by-laws regarding outdoor fires.
2. Seats! Use what you have with one big exception. Beware the plastic chairs! Thin plastic chairs are not the best choice for cold weather entertaining. The drop in temperatures makes the plastic brittle. I've had the legs snap out from under me, and I'm totally blaming the cold... not the extra helping of turkey. I'm using my brightly colored, recycled-resin Muskoka chairs to set the stage. Just remember to have lots of blankets available for the people who want to sit, because their backs will get cold being away from the fire
3. Sweets! DON'T forget the libations! Here is my holiday beverage of choice... complete with a candied bacon garnish.
Mexican Hot Chocolate (makes one cup):
• 3 tbsp instant hot chocolate mix (any work as this is just the base)
• 1 tsp instant coffee
• ¼ tsp ground cinnamon (or one single cinnamon stick)
• ¼ tsp ground nutmeg
• 1 pinch ancho chili powder
• ½ cup of whole milk
• ½ cup of water
In a saucepan, add the cinnamon, nutmeg, instant coffee, chili powder and water. Heat to boiling. In a large mug add the hot chocolate mix. Slowly add the milk to the powder hot chocolate stirring until smooth. Add the boiling spiced water to the mug and mix thoroughly (for your adult guests, consider adding a shot of Bailey's).

Candied Bacon Garnish:
• ¼ cup Brown Sugar
• 2 tbsp Rice Vinegar
• 2 tbsp Maple Syrup
• 1 pd Thick cut bacon

Preheat oven to 350.
Mix ingredients and set aside. Place bacon on a cooling rack over top of a baking sheet and bake in oven for 10 minutes. Turn slices and bake for another five minutes. Remove bacon from oven and coat with mixed ingredients. Return to the oven for another 20 minutes, or until crunchy.
Add one crispy strip of bacon to each mug of chili hot chocolate!
YUM!
One more thing to remember: Make sure when you invite your guests, let them know its an outdoor event so they will come dressed for the Après Ski event of the season!