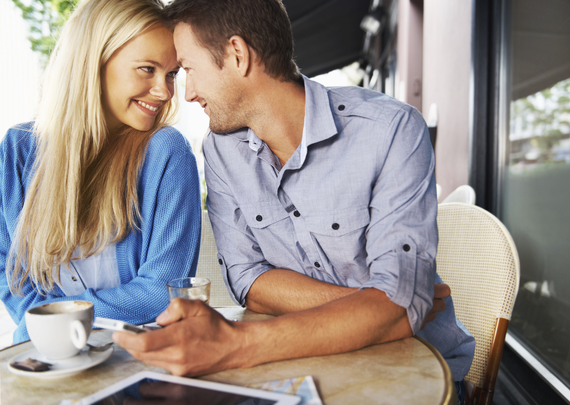 Makes you wonder, doesn't it? With the endless talk about the law of attraction, even some stoics are becoming hopeless romantics. The power of this most-talked-about "law" comes from our very human curiosity about how it unfolds in a familiar situation. The more we learn about this law and its effect on friendships, business and -- yes -- love, the more magical it seems. I've thought quite a bit about it, without yet conversing with the universe about romantic love. To that end, I guide my clients to the expert jurisdiction of my friend Lisa Velasquez, M.A., a/k/a "The Lovestyle Coach," of Lisa Talks Love, whom I believe subscribes to a more practical approach to attracting the right partner.
With the flurry of 30-somethings' weddings, let's spend a few minutes talking about romantic love -- the kind that matches rings to rings, and lyrics to music. It paints picket fences white, squeezes tears from distant memories, and reduces men and women to mush. It sets hearts aflutter at the mere thought of happily-ever-afters.
I still smile thinking of a gentleman encountered recently at a friend's office. He was obviously spoken for -- a dear, sweet man in his 90's, happily escorting his wheelchair-bound sweetheart to the ladies' room and tenderly opening doors for her. Both are working realtors -- a professional team. It warmed even my idle heart!
Romantic love can sometimes snare celebrities in its seductive net.
Several well-known couples' marriages have outlasted their careers: Paul Newman and Joanne Woodward, Michael J. Fox and Tracey Pollan, Channing and Jenna, the Beckhams... Which naturally leads us to my occasionally guilty pleasure, "The Bachelor" reality TV show -- the setting for Sean Lowe's and Catherine Giudici's evolving love story. As every search engine keeps reminding us, there are some upcoming televised nuptials to look forward to.
A very selective television viewer, I even depend on the law of attraction to help decide what to watch! Having seen Sean Lowe -- who seems to be the "'real deal," "there-for-the-right-reason" kind of guy -- get dumped on The Bachelorette, I was ready to root for his continued search for (dare I murmur it) true love! What I didn't expect was for someone else to catch my eye, and that my attraction antenna would guess his fate (and his bride) by episode three.
If my previous blog is any indication, Catherine Giudici might be considered the world's happiest young woman. The road to AWE (abundance, wisdom, enlightenment) seems to be opening up for her. Her posts, blogs and bachelor profiles give a strong impression that she has her ACT (awareness, clarity, transformation) together, making you wonder what catalyst could be prompt a modest, easy going graphics designer to leave her dream job at Amazon for a shot at love, fame and fortune -- in that order -- in LaLa TV Land.
And what law of attraction or openness could have led show producers (encouraged by their Bachelor's desire to meet more women of color, no doubt) to assemble such an historically diverse group of lovelies to vie for Sean's heart? Could it have been something more than a canny strategy to increase ratings? Seems like everybody concerned with the Bachelor last year was in on the ACT!
Is there more here than meets the eye, or is it really the law attraction at play... and in love? Stay tuned for ABC's special broadcast of the couple's wedding on January 26, 2014. See you there!