A major part of the dialogue on the 2012 presidential election has centered on which candidate will win the hearts and minds of the ever-growing Latino electorate. New survey data collected by Latino Decisions give us a glimpse into how this competition is playing out in the "swing state" of Florida. These data were collected from Latino registered voters. As such, the findings I discuss below are representative of Latinos in Florida who, because they are already registered to vote, are likely to be more politically engaged, and thus more likely to vote.
Which candidate is winning the Latino vote in Florida? Figure 1 shows that at this point in the race, Latinos in Florida are much more likely to support President Obama than Governor Romney. This said, it is worth noting that supporters of both Obama and Romney are certain of their vote at this point in the campaign.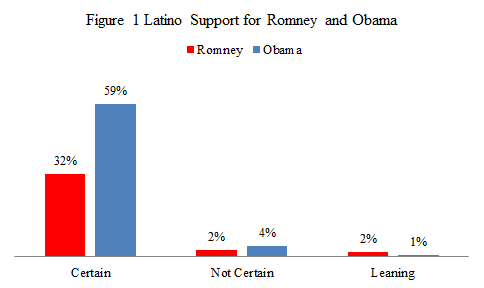 To see why Obama has more support among Latinos in Florida, it is useful to look at what issues the Latino electorate are most concerned about in this election. Respondents to the recent Latino Decisions poll were were asked, "What are the most important issues facing the [Hispanic/Latino] community that you think Congress and the President should address?" Figure 2 shows that immigration and a general response of "fix the economy" are perceived equally to be the most important issues facing the Latino community in Florida this election. However, if you also consider the additional response category "create more jobs / unemployment," economic issues are more salient than immigration among Latinos in Florida. One note, however: immigration is more salient among Latinos in other states surveyed by Latino Decisions. For example, in the border state of Arizona, where debate continues over SB 1070, the so-called "show your papers" policy where anyone on the street can be asked for identification to prove their immigration status, immigration ranks higher (43 percent) than the combination of the two economic issues (39 percent) asked about in the survey.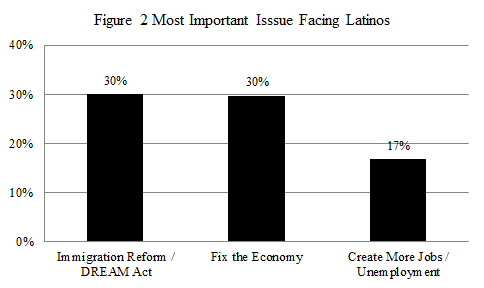 While immigration policy is not as salient an issue as the economy is among Florida Latinos, this issue still has the potential to influence the election there. As an example, Latino Decisions randomly assigned survey respondents to answer one of two questions about a hypothetical candidate for the presidency. Both questions stated that the candidate had a plan to fix the economy that the respondent agreed with. However, one of the questions described the candidate as having a tough stance on illegal immigration (i.e. "illegal immigrants are a threat to America who have committed a crime, we can never support amnesty for illegals"), while the other question stated that the candidate was supportive of immigrants (i.e. "America is a nation of immigrants, we need to treat immigrants with respect and dignity and help them become part of America instead of attacking them").
Figure 3 shows that Florida Latinos would be far more likely to support the candidate espousing positive views of immigrants. While these questions likely exaggerate the stances on immigration that Romney and Obama will take during the race, in general this finding bodes well for Obama who is more liberal on immigration than Romney, especially given his recent directive to the Department of Homeland Security to stop deportation of undocumented immigrants who are in college or the military. In total, 55 percent of Latino Decisions respondents in Florida stated that they were more enthusiastic about the president after he initiated the directive. In contrast, in response to Governor Romney calling Arizona's strict immigration policies a "model" for the rest of the country to follow, 59 percent of Latino Decisions respondents in Florida described themselves as less enthusiastic about the Romney campaign.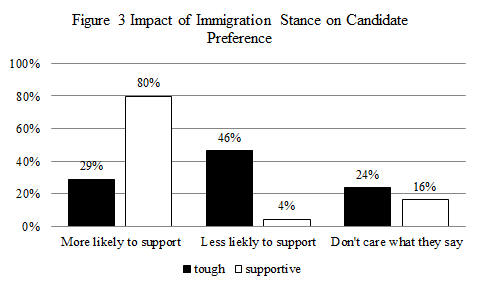 Suffice to say, Obama has the support of Florida Latinos. The question remains as to whether this will be reflected at the polls; support is only meaningful if the supporter actually turns out to vote. While I speculated that the continuing effort to purge the voter rolls on non-citizens in Florida might suppress Latino voter turnout, 87 percent of Latino Decisions respondents in Florida stated that they were "almost certain" to vote this fall. And supporters of Romney and Obama both intend to turn out; 95 percent of respondents who were certain of their support for either candidate reported that they were "almost certain" or "probably going" to vote. So, while neither candidate appears to have an enthusiasm advantage with regard to turnout, Obama's popularity among Florida Latinos (see Figure 1) is still a net advantage for the President.
This all said, there are four more months of political theater left to unfold until Election Day. One way for either candidate to influence the Latino electorate is through outreach. Figure 4 shows how Latino Decisions respondents in Florida currently perceive the efforts of the two parties to reach out to the Latino community. Governor Romney clearly has a great deal of work to do if he wants to make inroads in Florida's Latino community.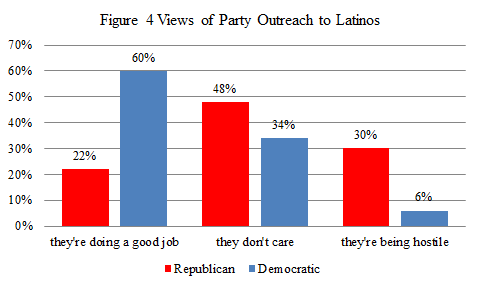 This piece was previously published on Latino Decisions.
Casey A. Klofstad is an associate professor of political science at the University of Miami, Coral Gables, FL. He has a forthcoming article co-authored with Benjamin G. Bishin in Political Research Quarterly entitled, "The Political Incorporation of Cuban Americans: Why Won't Little Havana Turn Blue?". His book, Civic Talk: Peers Politics and the Future of Democracy, is now available in paperback. You can follow him on Twitter at @klofstad, and on Facebook at www.facebook.com/civic.talk