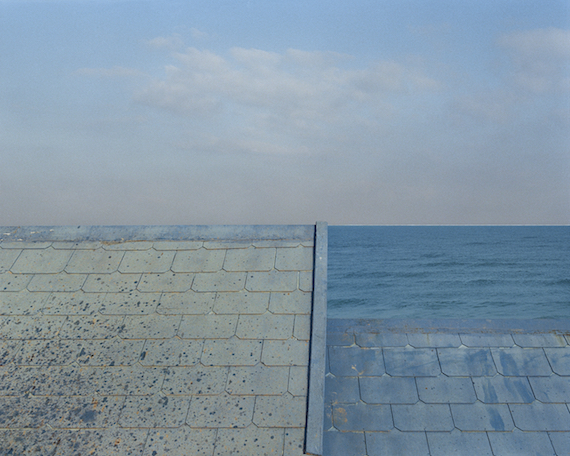 Orit Raff, Untitled, 2007, chromogenic print, 39 x 31 1/2", edition of 5
ORIT RAFF (ISRAEL)
Orit Raff is influenced by minimalism as well as the Northern Romantic tradition. She is especially drawn to the ice-covered landscapes of Caspar David Friedrich. Raff likes to photograph empty rooms, absence and the lingering remains of presence. She hopes to focus our eyes on what is unseen or passed over lightly. "By photographing these marginal details; stains, traces, dust, dirt, I bring them to the center of vision, allowing them to exist and prevail," she says, in an attempt to foreground "the abjectness of the otherwise invisible."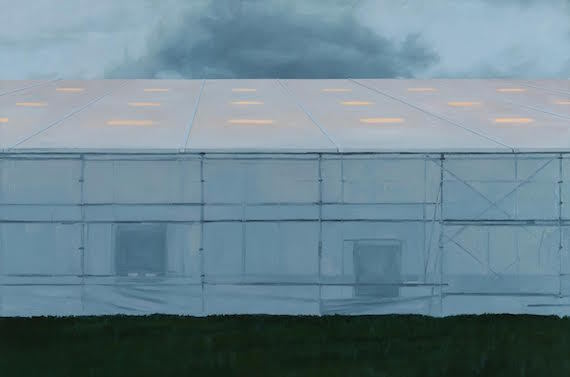 Sarah McKenzie, Barrier (Frieze Masters, 2013), 2014, oil and acrylic on canvas, 24" x 36", courtesy of the artist and David B. Smith Gallery, Denver, CO
SARAH MCKENZIE (UNITED STATES)
Sarah McKenzie paints architecture in a state of transformation: coming into being, or a starting to decay. Her mother is a land use planner, so she has long been familiar with the sheet glass, electrical wires and creased tarps she paints. For several years she has painted windows: empty views through soulless hotel windows, or broken windows of abandoned buildings. She says she finds incomplete structures the most beautiful, as they convey "a sense of absence and longing."

Wanda Koop, Colette Lives on That Island (SEEWAY), 2013 © CARCC 2014
WANDA KOOP (CANADA)
Wanda Koop's parents fled the Russian Revolution leaving behind all they had. "That's why I've been more concerned with intangible things," she says. She counts among her influences Wallace Stevens, whose close, plainspoken studies of the natural world are echoed in her own, and Glenn Gould, whose fascination with the Arctic, and its vast snowy plains, Koop shares, often painting winter moons and distant horizons. With their sparing use of pigment, her simple compositions have a sense of neutrality, opacity and flatness. If she had not become an artist, she says she would have been an astronomer or musician. Her interest in the elemental is made clear in her work.