Supermodel, designer and celebrity wife Camila Alves-McConaughey recently hosted in the Pacific Northwest a trendy fashion event as Macy's I.N.C. Brand Ambassador.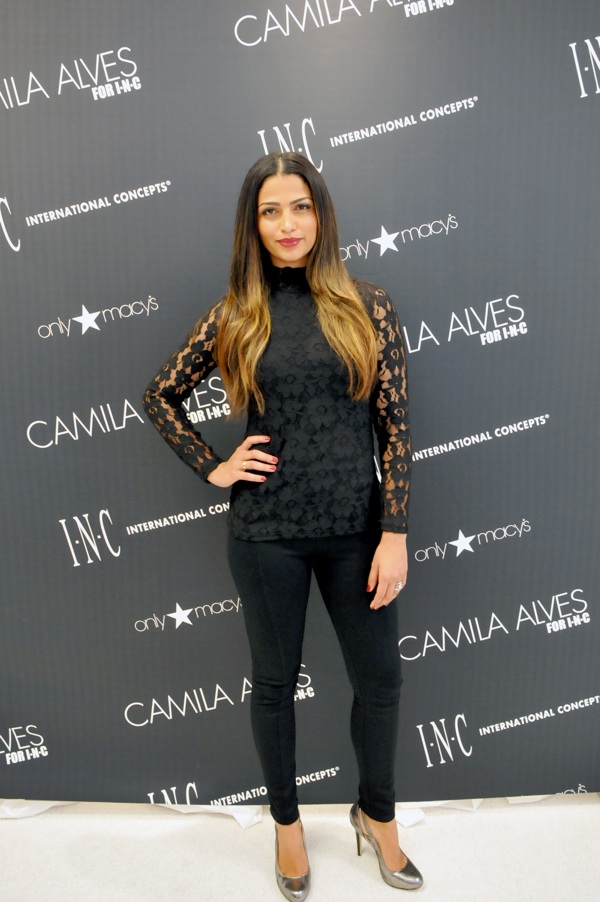 Macy's I.N.C. Brand Ambassador Camila Alves-McConaughey
Photo Credits: Vivian Hsu for Team Photogenic
Lucky me had a chance to chat with Camila and find out all about what are her favorite fall fashion trends, and an insider sneak peek at some wickedly fun Halloween costume ideas. Let's get started:
As Macy's I.N.C. Brand Ambassador what fashion and style themes for the fall season 2013 speak to you as a creative woman in the world?
I love the I.N.C. fall collection of sweaters, moto jackets and neutral metallic. The metallic fabrics and fibers are super modern. They're like 3-D or foil inspired with a cool vintage vibe.
What's your personal style, classic, romantic, modern, vintage collector?
I'm definitely a vintage collector. I have a wardrobe of core basics that I like to spice up with different colors, new accessories, and I love to try on new things to invite something different. I find with every new stage of my life my self-image shifts with new duties and responsibilities, and so does my fashion style.

Name three fashion and style trends that continue to show up in your wardrobe? Is it a color, a texture, a pattern, a decade, silhouette or fragrance?
1. Boyfriend jeans: I.N.C. denim is awesome. It fits, stretches and hugs your body in the right places without getting sloppy looking and it has memory threads.
2. Two-tone oxford flats: I'm really a high heel kind of girl but recently because my family has grown I have these flat shoes I wear almost everywhere even on the red carpet. The shoes are similar to a vintage two-tone saddle shoe with blue and grayish neutral color.
3. Moto jacket: I recommend buying and owning more than one. The I.N.C. metallic moto jacket is polished and modern, however there are new moto jackets in softer fabrics, and these are great options to wear, so versatile.
How does fashion allow you to express yourself? Do you feel free or restricted by fashion?
I don't have a lot of time in my household to always fuss with different looks because of travel and my busy work schedule I stick with standard pieces and layer. Layering is great for me because I can play with texture, flowy fabrics and prints.
With so many fashion styles out in the marketplace, does it feel chaotic or do you ever feel overwhelmed?

No, it's important to me to believe in yourself as an individual. Allow yourself to try on new things without losing your sense of your own personal style.
What's your fashion center of calm that resonates a vibe of your glowing self?
Embrace yourself and do what you can to look and feel your best. Don't put on so many fashion trends that create a ridiculous style statement. Pick and choose what feels good, and flatters your own body.
What challenges you right now and how does that challenge empower you to grow and learn more about yourself and others?
My health because I now have three babies and a husband that depend on me, so my health and taking care of myself is very important. I must exercise five days a week, stay healthy for a happy state of mind, create time and space so being healthy is a permanent lifestyle.
What is the first thing you grab from your closet to wear that evokes a feeling of being strong, balanced and beautiful?
My two-tone oxford shoes, boyfriend jeans and I like to try on new lipstick colors.
Who and/or what inspire your fashion curiosity?
Women inspire me. Women in the airports, around the country in different cities, destinations around the world inspire me with the way they express their individuality. I love watching women and discovering all the ways each person uses a color, pattern, a style, even a lipstick color. I'm a people watcher.
Is your household dressing up for Halloween? What are the costume considerations on the table for your family this year?
Yes, we love to dress up and go out for Halloween. This year the kids are thinking army commando and princesses. Last year I was pregnant and I wanted to wear a sexy Indian (Sari) outfit but it just didn't work. So Matthew and I dressed as Mario and Luigi. I was Mario and Matthew was Luigi. We wore the mustaches and hats, everything. It was so much fun.
PHOTO GALLERY
BEFORE YOU GO
Macy's I.N.C. Brand Ambassador Camila Alves-McConaughey Hosts Fall Trend Fashion Event
PHOTO GALLERY
Macy's I.N.C. Brand Ambassador Camila Alves-McConaughey Hosts Fall Trend Fashion Event