Autumn is in full swing and gearing up for winter I'm shopping around for more than one coat to fit into my fall fashion schedule. Not living in cave, I couldn't help but notice Kate Middleton, Catherine, Duchess of Cambridge has on many occasions made a trendy fashion statement wearing a dress coat.
The Alexander McQueen (Sarah Burton) design Kate wore on the day of Prince George's christening is one of my favorites. She looked terrific in an understated glamorous way telling the fashion world it's okay to dress up in a coat.
Another fashion editor I like to follow Anna Dello Russo is known for her dressy coats. I love Anna's style. Anna is Italian, Kate is British and of course, in Europe women dress differently than how women dress in the America but I like the ladylike look, so what to do? Here's my list of five:
Ladylike dress coat
Wool wrap
Mixed media two-tone peacoat
Sporty packable down
White edgy faux fur collar coat
As you can imagine this coat list is not too difficult to find but I was struggling to find just the right dressy one, until I saw my Facebook friend Natalie Redding of Namaste Farms in California had posted a classy Betsey Johnson dress coat she had purchased at Macy's. Eureka.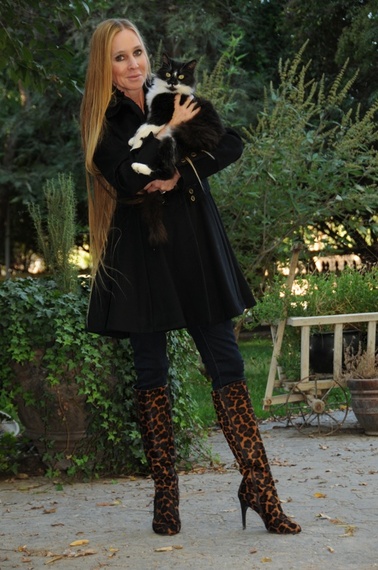 Gorgeous Natalie Redding models her new Betsey Johnson dress coat wearing trendy leopard print knee high boots holding her adorable fluffy black cat Flap Jack.
Photo Credits: Sean Redding
Stylish Natalie had made a great fashion find and she also had a secret to share. Psst, she's just completed filming a new reality show on Nat Geo Wild called, Shear Madness to air in January 2014. How exciting. So be sure to save the date in January to watch Shear Madness as Natalie demonstrates to the world how to work a sheep farm (Namaste Farms) and her flock and fiber business.
Thanks to Natalie I no longer have to search around for my perfect fall winter fashion ladylike coat because I can head straight to Macy's. I also want to let you know about Macy's new Coats4Souls "Buy 1 & Macy's Will Give 1" campaign going on right now. For every coat purchased in Macy's stores and on Macys.com during the campaign, Macy's will donate one new coat (up to 30,000) to anti-poverty organization Clothes4Souls. And for customers who purchase in a store, their donated new coat will go to the local community where the store is located. Now I'm ready for whatever winter brings my way. What are you wearing for winter?
PHOTO GALLERY
Fashion Coats for Fall and Winter