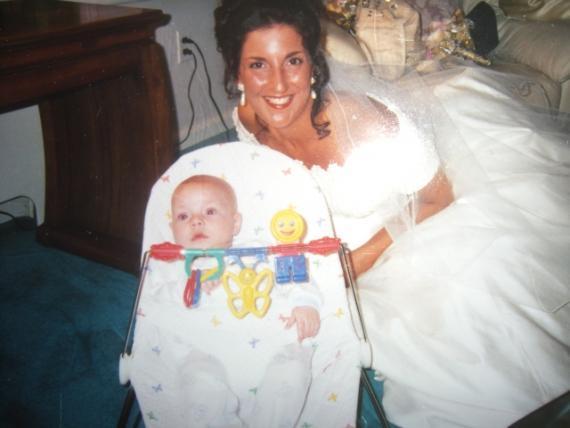 Photo of my two children, Natalie and William 1995
In 1985, I at last had the family I had prayed for, and I was proud to be the wife of such an important, wonderful man, whose business obligations at last began to settle down. Earlier in our marriage, I'd had a strong desire for another child, but knew Bill had no interest, which he'd been very frank about from the beginning, explaining that it was in part because of his frequent travel. I honored and respected his wishes and accepted the situation, which I left in God's hands.

We were happy and grateful for what we had, and were growing together as a family, satisfied and glad to have Natalie to care for and raise. She went through the usual teenage turmoil, but I remembered to pray to my Savior to see her through. It wasn't always easy, but I learned that life involves conflict at one time or another, and dealing with a teenager is no exception. Her issues were yet another opportunity to go within for His counsel. I didn't wish to interfere where I thought I shouldn't, remembering who was guiding me.
Natalie grew up into a splendid young woman, and she met a most wonderful man‒for which I say, Thank you, God, for doing this for us, because we believed in you more than we believed in fear, or in the appearance of suffering or lack.

One day, as we were planning Natalie's wedding, Bill unexpectedly said how sorry he was that he didn't have children of his own. His brother, Bob, who was 11 years younger, was going to be a father, and this made Bill feel pangs of regret. My heart leaped for joy, not only for my in-laws, but also on hearing this wonderful change of heart on Bill's part, after ten years of marriage. I told him that we could still have a baby if he really wanted one, and he asked if we weren't already too old: he was about to turn fifty and I was 45. I explained that I may have been forty-five, but that I also felt very young and was in perfect health. I could scarcely believe Bill was talking about this with my daughter's wedding day approaching.

Concerned about not being a proper grandparent for my future grandchildren, I asked Natalie if she and Sean, her fiancé, had decided to have children right away. She explained that she loved her job and didn't plan to start a family for at least another five years, particularly because her work involved frequent travel to other parts of the world, and she wasn't ready to settle down yet or to take time out from her career.

I felt healthy enough to have another baby, having been healed of a thyroid condition with sound medical attention, by praying over the book of Job, and by focusing on Emmet Fox's advice to balance our glands by balancing all of our thoughts and emotions. I'd learned to take notice of what caused me to have an adrenaline rush, often over some minor issue, and I learned through Christ to cultivate right feelings about each thing that had stirred me up. By making these small changes, with the help of my wonderful doctor, and, of course, through prayer, my health was restored and has remained strong in the twenty years since.
Assured that Natalie wouldn't be upset if I became pregnant, I asked my doctor if I was healthy enough to have a child at my age, and if it would be wise to do so. He said he thought it not only wise, but wonderful.

I remembered that any negative thought that arose no longer applied; and that those thoughts were merely leftover conditioning ideas from the past. Any time a negative thought did come up about my age, or the possibility of having a child born with special needs, I was able to root them out through prayer. The moment we make our decisions with God's help, everything to the contrary will show up to challenge us. But when we hold onto His promise, He will supply everything we need and the best will happen for everyone.

In less than a year, I became pregnant without a problem or any medical assistance. Then I gave birth to William, a healthy baby boy, fulfilling my heart's desire from ten years earlier, through patience and trusting in God. I thought-Wow!-We can give our baby all those things I couldn't give Natalie. And I could be a full-time mom this time because Bill's business was very successful by this point, and being able to stay home with my child was my greatest dream come true. Spirit saw this happen before we did, and my silent prayer of "Thy will be done" was answered at the perfect time to benefit our family.

I felt it was a miracle for me to become pregnant naturally and give birth at that age, and I believe that my appreciation, love, compassion, and consideration for others, putting their needs first, brought me my heart's desire. By choosing to be grateful for the blessings already in my life, without allowing myself to focus on feelings of loss over not having another baby brought about "the fruit in the perfect season." I trusted in God's timing, in my daughter's family planning, and in my husband's wishes, and this brought us the gift of life and expanded our family, just as I had always wanted.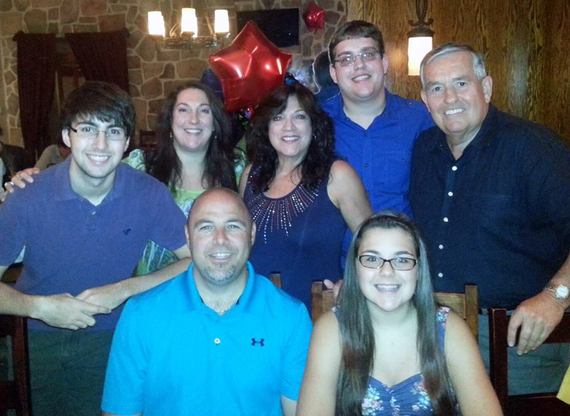 Photo of my expanded family 2013
Catherine Nagle
Imprinted Wisdom