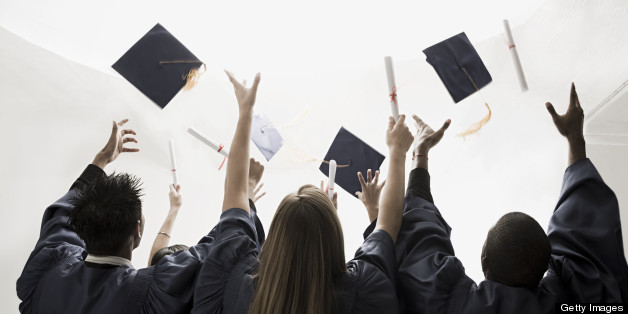 It has been a week since I celebrated one of my biggest accomplishments, graduating from college. On average, most students spend four to five years enjoying their college years. For me, after a long six-year journey I can finally say that I am a college graduate. Don't worry, it wasn't because I skipped classes or partied too hard and missed assignment due dates.
I was raised in rural eastern North Carolina where there was limited educational hope for students. Growing up in a single-parent home, my mother always stressed the importance of obtaining a college degree.
My older sister was the first to venture off to college. She moved into her college residence hall on my 16th birthday and that was the day I knew I wanted to go to college. Exploring the campus with her and listening to the staff and students talk about all that college had to offer, bestowed the dream of going to college in my heart.
It was then when I began to research schools and begin to consider college majors and academic programs. However, it wasn't until winter break of my senior year when I became serious about enrolling in college. Little did I know, I was a bit too late on the planning process. I didn't save any money for college, wasn't aware of the financial aid process and most importantly, my grades weren't the best.
Back then I didn't understand the importance of getting good grades and the overall college admissions process. There weren't any programs that I knew of that would assist me in the process. I had my older sister and mother working with me to make sure my dream came true. Eventually, I was accepted into an art and design school in Chicago but due to high tuition costs, I was unable to attend.
It was weeks before I graduated from high school and I had no clue what I would do next. I spent the next year researching colleges and universities and filling my brain with the college admissions, financial aid and scholarships process. There wasn't a day that I wasn't on the computer conducting researching colleges and narrowing down my college list. While my former classmates were enjoying their freshman year of college I was at home without a job and hoping for my chance to join them.
In August 2007, my chance had finally come and I was so excited to begin my freshman year of college. Due to financial stress I decided to withdraw from college my sophomore year and work to help pay for my college education. That decision was hard for me to make but it was important of achieving my dream of graduating from college. The pain and hurt that I endured during my time out of school was hard. Even though times got hard and stressful I never gave up. I was able to pick myself up and do my best. I learned a lot about myself during that time. Good and bad things came out of it but I'm still able to stand strong and happy with that I did.
I was able to re-enroll in college and transferred to Barton College. Quickly I became involved in campus life and set goals to work hard within my academics. I have achieved so much during my college career and I am so blessed to have persevered through it all. It has shaped me into the person that I am today and for that, I am forever grateful. With the help from my mentors, family and friends I have successfully achieved my dream.
This past week I've had time to reflect on my journey and my passions. College readiness, education and leadership development are deep passions of mine. My personal story is a reflection of it and it's my purpose in life. A quote I recently came across says, "Sometimes when life throws a curve ball, it can be a blessing in disguise." I firmly believe in that and I can honestly say those curve balls have turned into some of my greatest blessings. I dedicate my college degree to everyone around the world who fights for their right to an education who has obstacles against them. My advice: Keep on keeping on. Soon you will achieve your wildest dreams.