For quite some time many have warned of the dangers of abusing social media by posting all the wrong things, however, some are using it the right way. Students from the University of Michigan and Georgetown University have chosen to use the internet as a powerful tool of awareness and liberation.
The University of Michigan's Black Student Union launched the #BBUM (Being Black at Michigan) campaign last year with a mission to "mend the fractures of the black community at the University of Michigan." So far, administrators have said to been responding well to the campaign.
They hope to continue to keep the movement alive on campus and online. They have done so by meeting weekly with school administration on the issue. Tyler Collier, member of the Black Student Union said, "By the end of this school year, we hope to develop both short and long-term solutions."
Said BSU member Robert Greenfield:
The campus has responded very well toward our campaign. The institutional methodology that we have utilized to create solutions with administration will implement university policies that better the whole student community. Also, many other organizations from different backgrounds have joined the conversation to help promote the change that our campus needs.
According to Collier, the idea of #BBUM developed from a forum discussion of the verdict of the George Zimmerman case hosted by BSU on campus.
"The discussion began as a reflection of being Black in America, but quickly transitioned into being Black at the University," said Collier.
This same dialogue occurred for students in the nation's capitol at Georgetown University.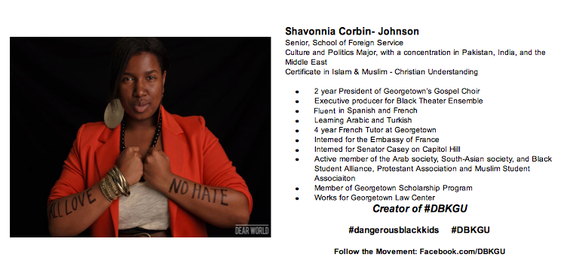 Shavonnia Corbin-Johnson created #DBKGU (Dangerous black kids of Georgetown University) as a response from reading the Huffington Post article about the trending #dangerousblackkids link on twitter.
I created a team on Thursday Feb. 20. My team consisted of: Cat Skonicki and Celeste Gee, who were my "right hands" and helped me unwaveringly the whole process, staying up until 5 a.m. numerous times with me as I edited around 700 pictures and as they edited the list of accomplishments all the students sent. There was also: Brittney Blakley, CeeJay Hayes, Michelle Hernandez and Nicole McKenzie, who all help with some photography. Also there was Farah Abdallah, Binta Cessay, Stephanie Curl and Sydney Stockton who help with more administrative tasks.
With the release date set for the first week of March the campaign launched, and in a matter of a couple of days, it reached more than 1,000 likes on their Facebook page.
"With this movement I did not want to paint blacks in a 'good' light, but it the correct light as entrepreneurs, humanitarians, teachers, politicians, friends, things we actually are."
Their Facebook page now has more than 1,300 followers and heavy traffic to their Instagram and Tumblr page.
Movements like these keep the conversation of race, stereotypes and diversity alive on campus and in communities around the world.