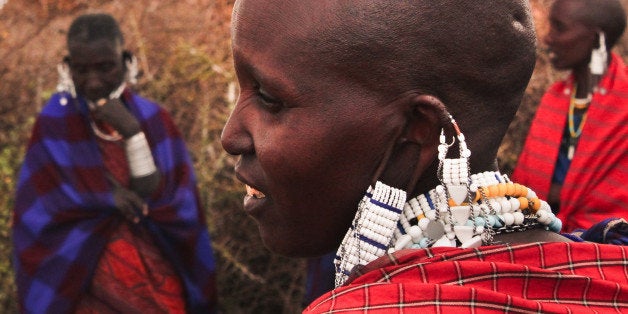 This week, we commemorate the International Day for the Elimination of Violence Against Women, which kicks off the 16 Days of Activism against gender-based violence. It's a time to remind us every year how much work there is to do to end violence against women and girls around the world. And while there are many tireless activists who do this work all year round, we rely on this day to rally as many as possible to take action with us. It will take all of us -- men and women -- to end gender-based violence.
I recently traveled to Guatemala, which ranks among the world's highest for the murder of women, and I met a woman who told me very frankly that being a woman in Guatemala is a courageous act. I was struck by the simplicity, honesty and accuracy of her words, and they have been on my mind ever since. Guatemalan women face violence in their homes at the hands of their families and partners, they face harassment on the streets by strangers and neighbors and they suffer brutal violence from the gangs and drug-trafficking organizations.
Unfortunately, these stories are far too common. I travel all over the world meeting women and girls, and no country is immune to gender-based violence. An estimated one in three women worldwide has been beaten, coerced into sex or otherwise abused in her lifetime.
The situation, however, is not hopeless. There are countless stories of tremendous resilience and ingenuity of women and girls, and outstanding efforts are taking place to address this issue.
I recently met with a remarkable woman named Kakenya Ntaiya, who refused to accept the traditional expectations for her future in her rural Maasai village in Kenya. After getting a college education in The United States, Kakenya started a boarding school for girls in her home village. Kakenya wanted to do more than provide girls an education. Despite cultural sensitivities, she decided to address head-on two forms of gender-based violence that an estimated 90 percent of Maasai girls are forced to endure: female genital mutilation and early and forced marriage. Female genital mutilation has horrible health consequences for girls, and early and forced marriage often results in girls having children long before their young bodies are ready.
As a condition of allowing girls into the school, Kakenya asks parents to sign pledges promising that their daughters will not be subject to either female genital mutilation or early marriage. And her bold idea has paid off -- not one of her 170 students has been forced to endure either practice. She is also working to raise awareness about the detrimental effects of these practices in other communities.
But the reality is that women and girls cannot solve the challenges alone. Just as no country can progress without the full participation of women, men must be part of the solution to ending GBV. That is why I am so pleased that we have recently seen a number of efforts focused on engaging men and boys.
President Obama and Vice President Biden recently launched the It's on Us campaign, an effort to help prevent sexual assault on college campuses across in the United States. The campaign has a special focus on motivating men and boys to act. Last week, marked the campaign's first National Week of Action, for which more than 140 events were held at colleges and universities across the country.
With this in mind, another exciting campaign is UN Women's HeforShe campaign, which aims to mobilize one billion men and boys over a one-year period as advocates to end discrimination against women, including gender-based violence.
These initiatives give us hope that our efforts are gaining momentum, and I'm personally grateful for all of the work Secretary Kerry has done to advance these issues. As the Secretary recently said: "This is a fight that demands action from every single one of us." Whether it occurs in our home, our neighborhood or across our borders, gender-based violence has no place in our society.
As this year's 16 Days of Action take place, I'm thankful for all the women and men, girls and boys, governments and international organizations and civil society and private sector organizations joining in to end gender-based violence once and for all. I'm also especially pleased that so many governments -- including the United State s-- are working to ensure that ending GBV is part of the next generation of international development goals.
Simply being a woman in any part of the world should not have to be a courageous act.