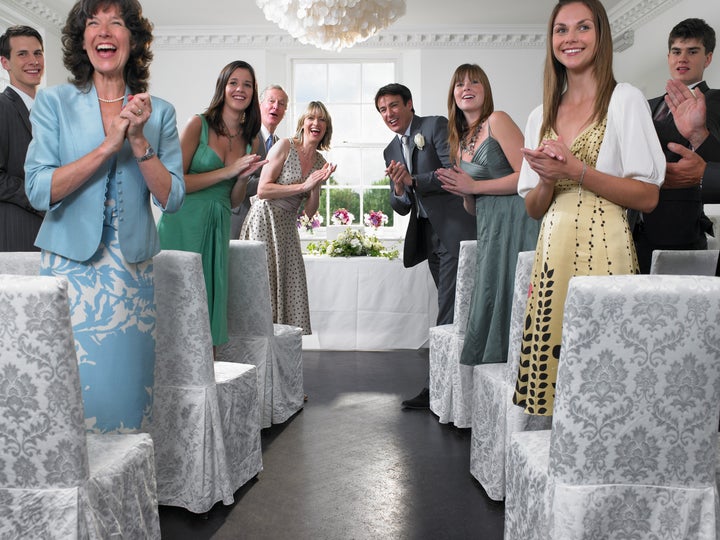 I get that weddings, not unlike funerals, are depressing for some people. Maybe it's because the person tying the knot is the one that got away. Or maybe it's your partner in crime who will be your partner in crime no longer. Regardless, remember that no day of their life will be more documented -- and your attendance alone means that you will be photographed. So please, do yourself a favor and look hot (and only too hot if it is, in fact, your ex who is saying "I do"). Here are some popular summer wedding locations and what you should wear to be the Belle (well, Babette) of the ball.
Destination Wedding/Beach Wedding

Beach weddings are some of the trickiest weddings to dress for because a lot of times we aren't sure what to expect: Are we overlooking the beach? Is it on the actual sand? Are my feet going to get wet? High class problems... but problems nonetheless. Beach weddings are fun because you get to go a little more casual. I would definitely opt for a dress -- skip the skirt/top combos because if there is a breeze, all the tucking and styling will come out of place. Skip the structure and choose flowy fabric that you don't have to worry about wrinkling. It's summer so there is no shortage of this style in stores. For a daytime wedding, you can go with a shorter dress (but be careful to wear the proper underpinnings) or a maxi-dress. I am still loving the mullet hemlines, even though they are becoming a bit played out. If the event is at night, I would stick to something longer -- it will get cold. Finally, make sure whatever dress you choose is a look in itself. More than likely your shoes will have to come off in order to trek through the sand.

Shoe choices are easy for a beach wedding; skip any type of stiletto or closed-toe kicks. Your shoes should simply highlight your dress choice rather than be the centerpiece of the look. The best option is either a wedge or a a flat sandal -- this is not the appropriate time to show off your stilt-walking abilities.

Church Wedding
Here we wear the typical Southern Baptist wedding attire (or Catholic, Methodist, non-denominational, you get it). These weddings are indoors so you won't have to worry about any unexpected wardrobe malfunctions. Because it is summer I would still stick to a lighter color palette but you might choose an outfit with a little more structure. This is a good opportunity to rock your favorite separates and maybe add a blazer or cute cardigan for layers. Think Sunday's finest on crack. God will have a front row seat to the exchanging of these vows, so dress accordingly.

Garden Wedding/Outdoor Wedding

Because a majority of the country is not located on the coast, there will be the occasional outdoor wedding on a golf course, back yard, or some other fancy turf and this calls for an entirely different look. First of all, your shoes will not be coming off so you need to put more thought into what you put on your feet. I would 100 percent suggest wearing a wedge -- skip the flats but stay away from anything with a heel that is too skinny -- you are not there to aerate the lawn. Because this wedding venue is likely to be a little less casual than the typical beach wedding, I would stick to something more structured to go with the mood. You can still get away with separates but my vote is for a very put-together look. I love anything with boning (just sayin').