In 2006, a 1-year-old boy was playing with neighborhood children in a yard near the family home in Baghdad. Suddenly a white car pulled up: Men came out and took the toddler. "They didn't take any of the other children," says his mother Qahira, an Iraqi woman in her 40s who had already lost her husband to terrorists. "Just him."
"He had just started to walk."
For many Americans, a stranger kidnapping a child is a plot point in a movie. A child is grabbed by someone. The hero gets furious, beats the bad guys, and saves the day.
But for thousands of Iraqis, kidnapping is a nightmare they cannot wake up from. Especially between 2004 and 2007, hundreds of children and adults were abducted, tortured and often killed -- all while their frantic relatives scrambled to scrape together enormous ransoms.
Qahira never found her little boy. The kidnappers called her on the phone, but not to ask for a ransom: "We just want to break your heart," they told her. They had killed her husband for his political views soon after she'd learned she was pregnant with the baby.
After fruitless attempts to track the boy down, and after increased threats against another son, Qahira and the rest of her family fled Iraq for Amman, the capital of nearby Jordan. Qahira's eyes glaze with pain when she speaks of her little boy now. "I don't know what happened to him. Some people say [the militants] would throw children in a ditch."
"No one can bear what has happened to me."
Kidnapping is only one atrocity that Iraqis have had to endure. Mutilation, torture and rape have left enduring psychological scars on thousands of the refugees. At Caritas offices distributing CRS-funded food and medical care, refugees share their horror stories. Munjit, who now lives in Amman, had five children and a pregnant wife when his house was bombed; "It killed my whole family," he says. Noor, a 15-year-old girl, witnessed her father's murder at the hands of militants.
Karim, an Iraqi man now living in Lebanon, was a successful car dealer in his home country. In June 2005, he was kidnapped; his abductors demanded tens of thousands of dollars. The family borrowed money to pay the ransom and later, sold their house to pay back the loans.
But Karim, like many others, wasn't released after his family paid the staggering ransom. He was beaten, shot and left for dead.
Thanks to a kind woman who found him and used her headscarf to stop his wounds from bleeding, Karim was reunited with his family. He recovered, and the family fled to Lebanon, where they live rent-free in two small rooms in exchange for taking care of their landlord's house and garden. They are safe for now, but fear still sparks in Karim's eyes as he describes his ordeal.
Sometimes there is a slightly happier ending. Imad had a 14-year-old son kidnapped for a week in 2005. His kidnappers demanded a $15,000 ransom, but after several negotiations, the family paid $5,000 and the boy was returned unhurt. They fled to Lebanon, where Catholic Relief Services provides diabetes medicine for Imad's wife along with other aid.
For years, Catholic Relief Services has been helping Iraqi refugees with rent, food, medical care and shelter. Now, CRS is expanding its psychosocial programs for Iraqi refugees in Middle Eastern countries like Lebanon, hoping to heal some of the trauma Iraqis have experienced.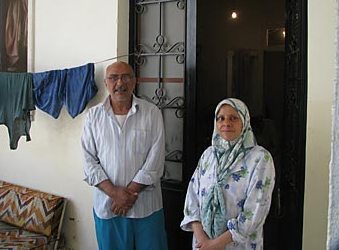 An Iraqi refugee couple whose teenage son was kidnapped and then was returned after they paid a ransom. The family fled to Lebanon. Photo by Laura Sheahen/CRS
"Some Iraqi refugees I meet look shellshocked," says Doug Ryan, subregional representative for Catholic Relief Services in the Middle East. "CRS has given them heaters and blankets, helping them with basic human needs so that families can stay together," says Ryan. "They can give each other support, but what they don't have is a forum where they can talk about the horrible thing that has happened to them."
Both adults and children need help. "Some Iraqi children remember the time when they were kidnapped," says Yasmine Serry, a CRS staff member who works with Iraqi refugees in Egypt. "Some of the children saw their brother or sister killed in front of them."
With money raised by U.S. Catholic colleges like Villanova and Catholic sisters like the Dominicans, CRS is helping. In October 2008, CRS brought partners from Jordan, Syria and Lebanon to Virginia for a weeklong training session in trauma awareness and resilience.
During the course, they learned how to identify the effects of violence, break the cycle of reliving it and build hope. "The training helped us realize how war and violence affect people, even years later," says Vivian Manneh, program manager for CRS' Iraqi refugee work in the Middle East. "I hope we can relieve some of the suffering and pain that Iraqis have endured."
The CRS project trained Arabic-speaking social workers to address trauma in culturally appropriate ways among the Iraqis they are already serving. The social workers have earned the refugees' trust by helping them with needs like food and medical care, so the refugees feel more able to share their experiences.
Gathering small groups of Iraqi women for hourlong sessions once a week, trained leaders guide them as they share their fears, sorrow and anxiety. Sometimes a psychologist will lead along with the social workers. "In one group session, an Iraqi woman said that she hadn't yet told her children their father had been killed. She told them he was away, working, but it had been several years," says Manneh. "The psychologist said the children might think the father is neglecting them, and that the mother needed to tell her children the truth."
The CRS program also funds activities like games or field trips for Iraqi refugee children who have experienced terrible violence. "As refugees, their lives still aren't 'normal,' " says Manneh. "But we can try to give children a feeling of stability, a sense that good things can happen too."
The psychosocial support groups will never erase the tragedies Iraqis have experienced, but can help them build resilience as they start new lives in other countries. "It's incredible what Iraqi refugees have gone through," says Ryan. "We want to offer them a safe space where they can talk about it, begin to heal and rebuild their lives."

Laura Sheahen is CRS' regional information officer for Europe and the Middle East. She is based in Cairo.