"There is nothing insignificant in the world. It all depends on the point of view." ~ Johann Wolfgang von Goethe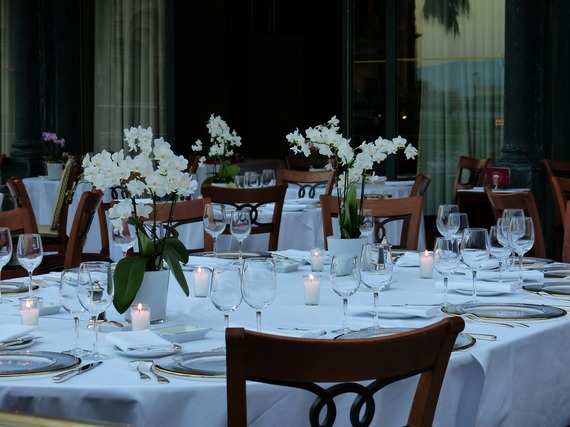 I sat at the dinner table with a glass of Bordeaux in hand and a pasted smile on my face. This wasn't the first time my mouth froze in that position. I was sure it wasn't going to be my last.
"If man feels small, let man make himself bigger." ~ Hubert Humphrey
We were invited to a small dinner party -- a birthday celebration a friend of ours decided to throw for himself. Actually, it was a friend of my husband's. I knew no one. Yet I relished the chance to meet new and interesting people. I also looked forward to the splendid meal Zagat's promised we would enjoy.
In my usual pre-party jitters, I worried about what to wear. If I was a few inches taller and more than a few pounds lighter I wouldn't have to worry how my outfit looked. But wait. Hold on a minute, girl. Time to recite the quote you love:
"To lose confidence in one's body is to lose confidence in oneself." ~ Simone de Beauvoir
We arrived at the party on time, and it was intimate and delightful. My husband and I introduced ourselves to everyone before being seated at our table. Beyond the usual niceties of exchanging names and places of residence, I found that many of the guests led interesting lives -- from retiring early and moving to coastal Maine (lucky!) to following Bruce Springsteen's tour all over the country (lucky again!)
We were having a good time, but in the back of my mind I wondered how the conversation would flow when people began asking about careers. I'd been a stay-at-home mom, by choice, for a long time, and knew how many people reacted when I told them about my choice. I used to silently practice my resume -- the "I worked and then decided to stay home and raise my son" speech.
Rarely did that conversation get out of the starting gate. People usually asked my husband about his career and would show great interest in his work. Then when it was my turn, I'd get a brief look of disappointment, no follow-up questions, and the conversation moved on to the next guest. The quiet suburban housewife sits again in silence, fuming about the idiotic reactions.
"The thing that is really hard, and really amazing, is giving up on being perfect and beginning the work of becoming yourself." ~ Anna Quindlen
What is it about people that they have so little understanding for someone who chooses to be a stay-at-home mom? Do we all need to fit into what society deems a "worthy" profession in order to be found interesting? In all the years I was a stay-at-home mom (which I was extremely proud of being and have never regretted) that question bothered me.
"Know what you want. Become your real self." ~ David Harold Fink
As I sat there sipping my wine I halfheartedly listened to the questions being asked of my husband, the same ones I'd heard time and time again. I am very proud of him and his accomplishments, but thought that when it's my turn, all I'd hear was crickets.
Then suddenly, something wonderful and unexpected happened. I heard my husband change the direction of the conversation from talking about his career to proudly announcing what I now do for mine. He boasted about the fact that I was a stay-at-home mom, and now that our son was older I decided to carve a new path for a new career for myself.
I almost started to cry.
Without missing a beat, the other couples wanted to know all about my writing and my advocacy work. They asked for my business card.
Ahh.
I realized, in that moment, there are many reasons why we should love being in our fifties.
Mahatma Gandhi once said, "Whatever you do may seem insignificant to you, but it is most important that you do it."
Feel good about yourself and how you look. You are unique and you don't need to look like an airbrushed model.
Be proud of yourself and your accomplishments.
Stick to your convictions and believe in yourself.
Wear what you're comfortable in and makes you feel good. For me, a little lipstick, some simple jewelry with a sweater and a pair of (slimming) jeans makes me feel good and ready to enjoy my day.
Eat in moderation, but don't deprive yourself if something looks scrumptious. We don't need to starve ourselves to look like the cover of Vogue. But we do need to be more conscious of our cholesterol, sodium and fat intake.
"The man who views the world at fifty the same as he did at twenty has wasted thirty years of his life." ~ Muhammed Ali
Earlier on Huff/Post50:
PHOTO GALLERY
7 Steps To Starting Your Own Business Over 50