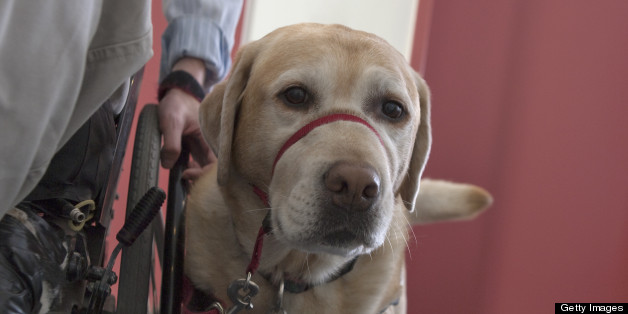 Captain James Van Thach was wounded twice in the line of duty in Iraq and received the Bronze Star and Purple Heart.
Vincent Ficarrotta is an 18-year-old student at Farmingdale State College who was born with a condition that results in stiff joints and abnormally developed muscles.
Jeff Brosi was struck by a hit and run driver in 2000 and is paralyzed from the waist down.
All of these men have one thing in common -- they each received a dog from Canine Companions for Independence (CCI) to help them navigate the challenges of every day life.
Since 1975, CCI has provided highly trained assistance dogs to children and adults with disabilities. The dogs are Labrador Retrievers, Golden Retrievers or a mix of the two. Cadres of volunteer puppy raisers across the county take the dogs into their homes, teaching them basic commands and socialization skills. They then work on advanced training with CCI Instructors where they learn more than 50 commands. The dogs can retrieve objects, open doors, carry groceries, and perhaps most important, provide companionship.
At a recent benefit for CCI that raised more than $300,000, the three men, accompanied by their dogs, spoke with emotion about how important their dogs are to them.
Captain Van Thach, who suffered a traumatic brain injury while serving in Iraq, talked about his dog, Liz:
She is very well-mannered and business like and knows 45 different commands. Because of injuries to my back and spine, I can't bend down so Liz picks things up for me -- everything from medicine bottles to the remote control. She even turns the lights on and off. I would be lost without her.
Jeff Brosi brings his dog, Shane, to his job at In Good Company Hospitality Group, which owns and operates several of New York City's premier nightlife venues and restaurants.
Having Shane means I can live on my own. He opens and closes doors and pulls my wheelchair when I am tired. I waited a year to get Shane after my dog, Jasper, passed away in 2010. I can't imagine life without him.
For Vincent Ficarotta, his dog Stetson has become an invaluable part of his daily life. Because of a medical condition, his right leg had to be amputated: "I thought that my life would be filled with limitations, but having Stetson means that I can participate more fully." The 18-year-old student at Farmingdale State College will start taking Stetson to his classes.
"We're so pleased to honor James, Jeff and Vincent, who are always an inspiration to the Canine Companions for Independence family," said Debra Dougherty, Canine Companion's Northeast Region executive director. "It's been amazing to watch this journey with all three of these outstanding young men, and to know Liz, Shane and Stetson will continue to make such a positive impact in their lives. We're so proud to honor their achievements at our Hearts and Heroes gala."
I am particularly interested in the incredible work that CCI does with veterans organizations. More than 50 veterans now have assistance dogs through CCI. Captain Van Thach marched with Liz, and 150 other CCI dogs and supporters in the Inaugural Day parade in D.C.
If you are interested in supporting this wonderful organization, visit their website at www.cci.org. If you love dogs and want to help CCI, call 1-800-577-BARK to find out more about raising a puppy that will someday become an assistance dog. These dogs change lives.