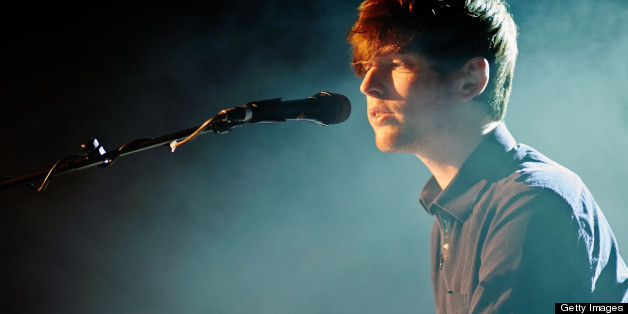 James Blake is fumbling beautifully with chords on his keyboard as his three-piece band sets up the intro to its next song midway through their set at Terminal 5. He's teasing an intro that's not entirely discernable until his drummer kicks in with the beat, to which Blake matches his soulfully melodic vocals for "Retrograde," his audience exploding in approval. It's slowed a bit as Blake hums his lead-in sweetly, his voice doing a dance with the instruments of bandmates Ben Assiter and Rob McAndrews as his chorus climaxes at "Suddenly I'm hit" and a bone-shaking bass reverbs of the venue's walls.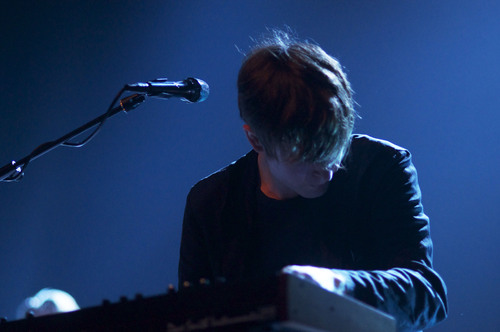 Blake is playing the first single from his new album Overgrown, an album aptly titled for a musician who stands at 6'5. This is the first of two sold-out shows the UK-based artist is playing at New York City's Terminal 5. His set is a shuffle of both new and old material, but taking the stage for an encore, Blake ends with an acoustic cover of Joni Mitchell's "A Case of You."
Despite the majority of his tracks being largely electronic, he accredits playing songs with a live band as being instrumental in his growth as a musician. Currently on tour for his critically acclaimed Overgrown, which dropped early last month, Blake sat down to talk about what's next.
You just performed on Letterman on Monday; I wanted to talk to you about how as an electronic artist you feel accessibility to that type of music is changing for more of a general audience.
["Retrograde"] is probably the one song I have that may have worked for Letterman. Maybe there would have been a few, but a small handful. I like to think that I can kind of exist in a few different worlds, you know? Later the same day we went to an underground disco night, and then later in the week we're going to have our own after party where we're all playing records and playing dance music. More recently I did a piano improv at a club in Paris. I think Letterman, while it's amazing to be on a show like that, is something I feel is one of the things we do. We can come and play our songs on television, and it's nerve-racking as fuck. But it's fun to play your songs to millions of people. What better opportunity to do that than shows like it? I mean, older people are standing outside going, 'Hey man, great voice!' It's just a nice feeling when it's a different audience.
It seems like there has been a natural progression in growth from the start of some of your earlier work (a la CMYK, Enough Thunder, etc.) to where you've come to with Overgrown. How do you think this album reflects that evolution in your production?
My music inquisitiveness usually starts with chords. This album is full of places I haven't been before, or vocals I haven't done before - little tricks, or inflections, or just things where I'm developing. I'm fascinated with how people develop as they get older. I don't want to be the guy who makes the same music all his life, you know? I want to move on. Most people do that by having different producers, but when you produce yourself, you have to reinvent yourself.
In what way do you feel you've done that?
I think by playing live - that's really changed the whole thing. It's really shaken up the whole... I don't know what the fuck I'm trying to say. It shakes things up because with Ben [Assiter] and Rob [McAndrews], I mean, all of my songs sound better when they're played by Ben and Rob. That's a real lesson to me because I've started out where I've solely produced it, apart from the Brian Eno tune where it's kind of more of a collaboration. I sat there and finished it in my room putting on all of the finishing touches. That whole process is so intense and maybe next time around, now that me and Ben and Rob are playing so closely together and we feel like such a unit, that's the time to record it live; or we'll just experiment and the whole burden will be on myself.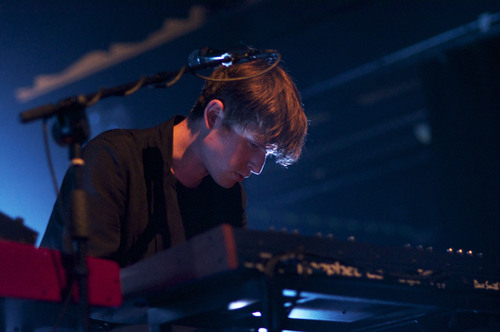 You had a muse on this album, someone who inspired most of the work.
I just did an interview where someone said to me, "What is the song that reminds you of your first love?" And I said D'Angelo, "The Line." And then she said, "When was that then? You must have been..." And I was like 23. [Laughs] She looked a bit shocked. I know not everyone falls in love really early, but I really waited. I just didn't really meet that person at all. It's just a pretty amazing thing to happen when you're on tour but all of the things in your life are uncertain, but there arrives this one certainty; or at least in your mind. That was a really beautiful thing to happen at a really important time. Suddenly I have to write an album and I just know exactly what to fucking write about.
You worked with RZA on the track "Take A Fall For Me," and there are rumors circulating that some more hip-hop collaborations are in the mix.
They are mainly, and they have stayed, rumors. I'm not in the studio with anyone right now. I'm not probably for a bit because I'm touring and stuff and moving house. I've had an amazing amount of accolades and some great people who have some great work have got in touch. But right now it's pretty hectic day-to-day. It's just a matter of staying in touch, keep sending people music, and see what happens organically. And we've started the new label 1-800-DINOSAUR.
I wanted to talk to you about that label. Where do you see that going?
That's an outlet as well for us to do something like [collaborate with artists]. The idea is that it's a dance music label, but I think it's going to be fairly eclectic. Just like my music set and the way I operate, really. I co-run it with a guy called Dan Foat who's also my manager. He's a brilliant house DJ. We're a good team. We just want to find really exciting stuff. It's the first time I've really had the chance to actually be on the other side of that.
While we're on the topic of collaborations, you've worked with Mount Kimbie before laying vocals for a few of their tracks and your remix of "Maybes." Will you or have you been working with them on anything new?
It excites me to no end to work with them because not only are they two of my best friends, they are just the most oddball, incredible people and musicians. When I say oddball, they just surprise me every time. It's like they're...I don't know. It's like they're a fucking kaleidoscope met with the most interesting electronic music, but it's all rooted in this real humanity. It's so unique. The new album is excellent. I love it. Everyone's going to love it.
Let's talk future endeavors. What do you foresee happening after this tour?

I'm going to settle into my new flat. I'm moving house. I'm going to settle in and then try and write some music. I have some things on the road with me that I've been writing music with, and that's really exciting. I've got a few bits and bobs. I want to get out there and play DJ sets and stuff. To be honest the newest stuff I have will be in my DJ sets. For me, that's where I play all of my new music. It could be vocal, it could be new harmony mixes, and things like that, or little bootlegs, or tunes by friends of mine. You know, some good shit!
Photos by Catie Keck