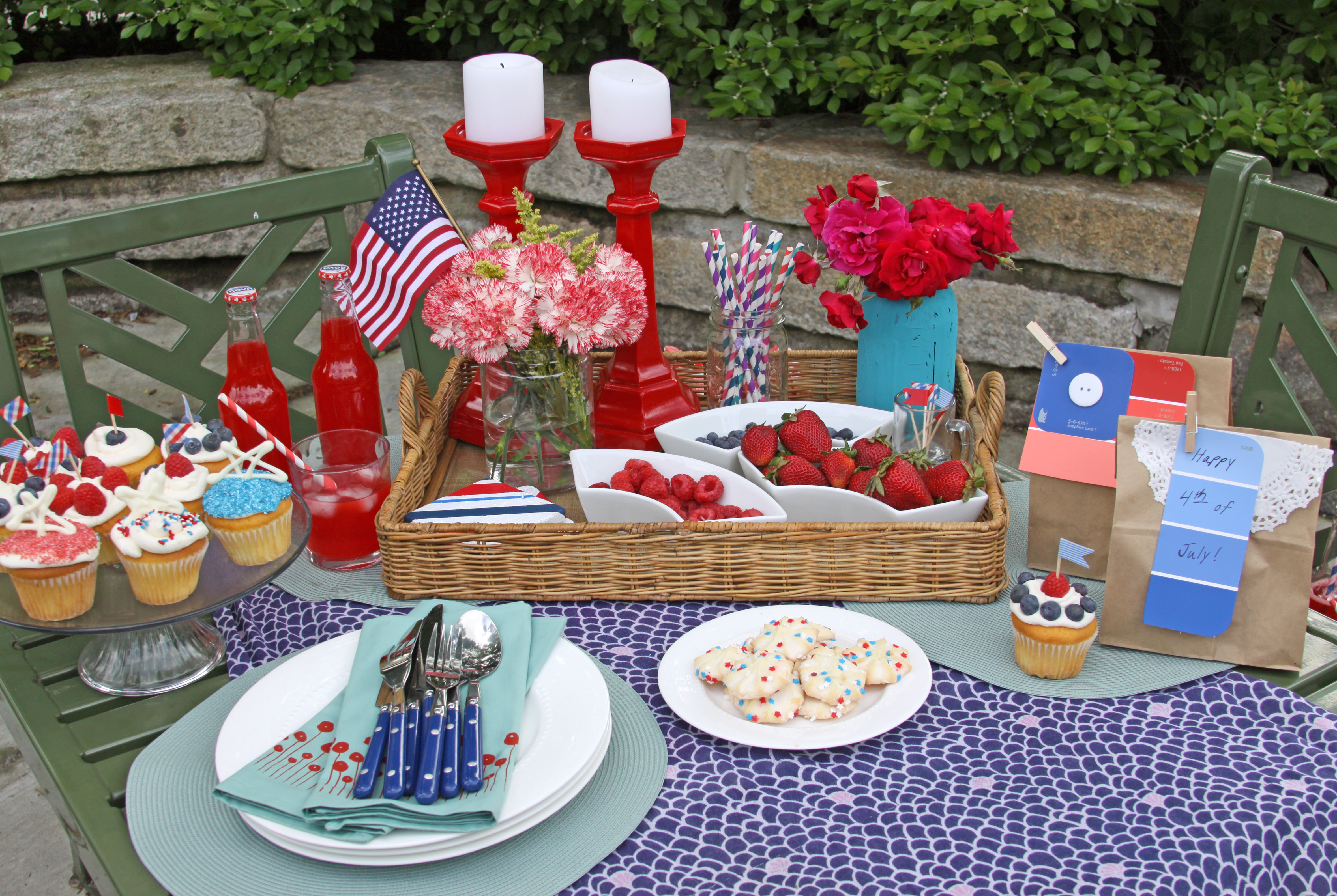 "Wait . . . You made that?!"
Let's be honest; when it comes to a party, that's the reaction we're all hoping for. Yes, yes, our guests' comfort and happiness are the top priority. But we also want to wow them. We want to create a setting that's clever, pretty, and -- dare I say -- pin-worthy. The good news is there are ways to show your creativity without having to take three days off work (or emptying your bank account): Crafts that don't require a glue gun, a tabletop with stuff you have on hand, desserts that can be made without a pastry bag . . . or a culinary degree. Take a Fourth of July party, for example. Grilling and fireworks are a given, but it's all the little extras that make it special.
Begin by scouring your house (even your closet!) for red, white, and blue items. Don't be picky on the shades of color because a little variation in hues will make your dᅢᄅcor more dynamic. For example, robin's egg blue place mats and napkins truly pop against royal blue and cherry red. Also, look for treasures outside your kitchen. Here, a blue and pink scarf serves as a table runner. The blue-handled flatware was found in a camping dishes and utensils set. The chunky red candle holders were originally on a mantel. And the wicker tray was pulled from an entryway table. After you've gathered all your options, you may find your table needs a little punch. A few foolproof accessories for a picture-perfect table include bottled soda, cake stands, striped party straws, fresh flowers, and--for Fourth of July--a flag, of course!
With the table set, all you need are a few homemade touches, such as crafts and cupcakes. Here's how: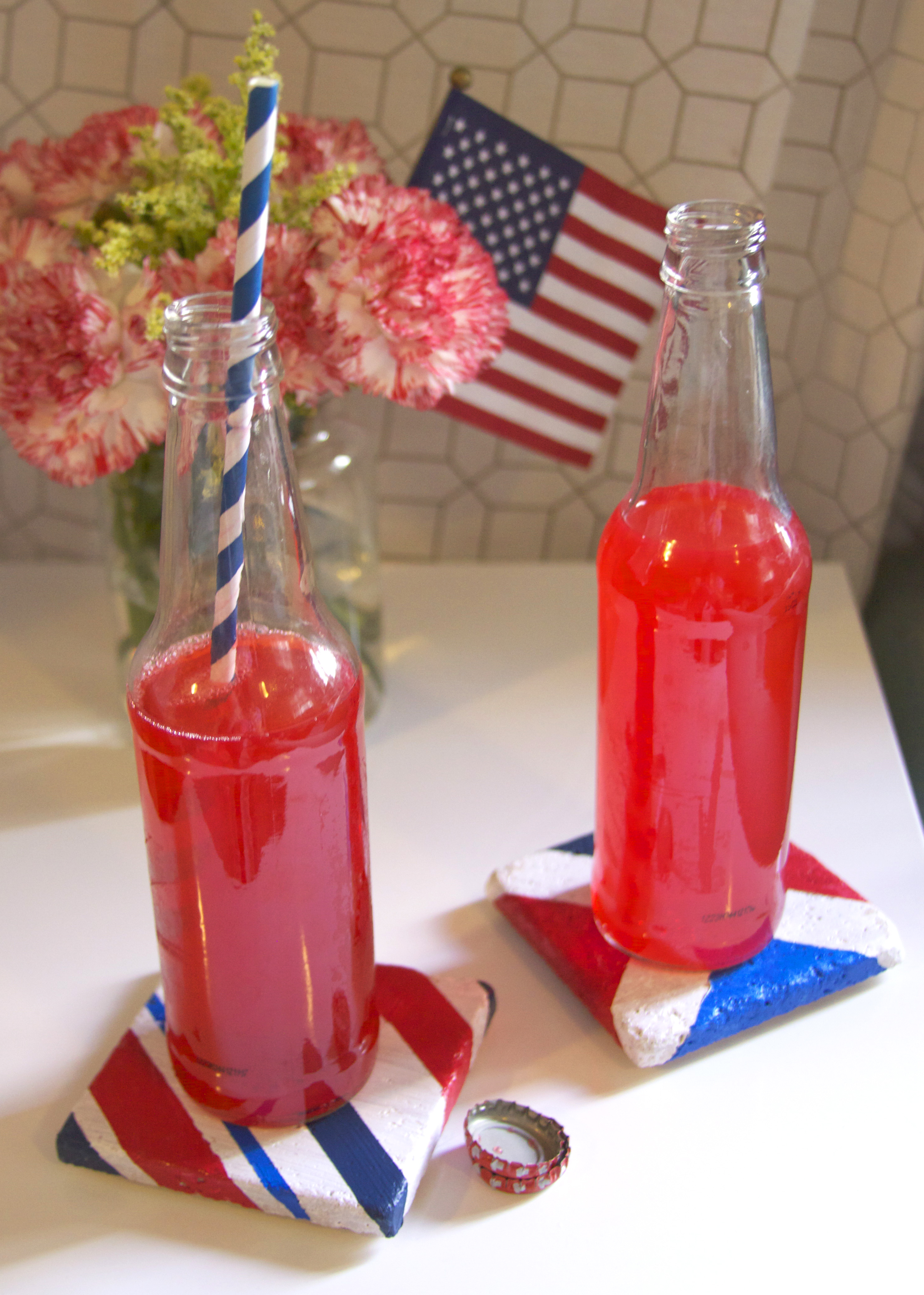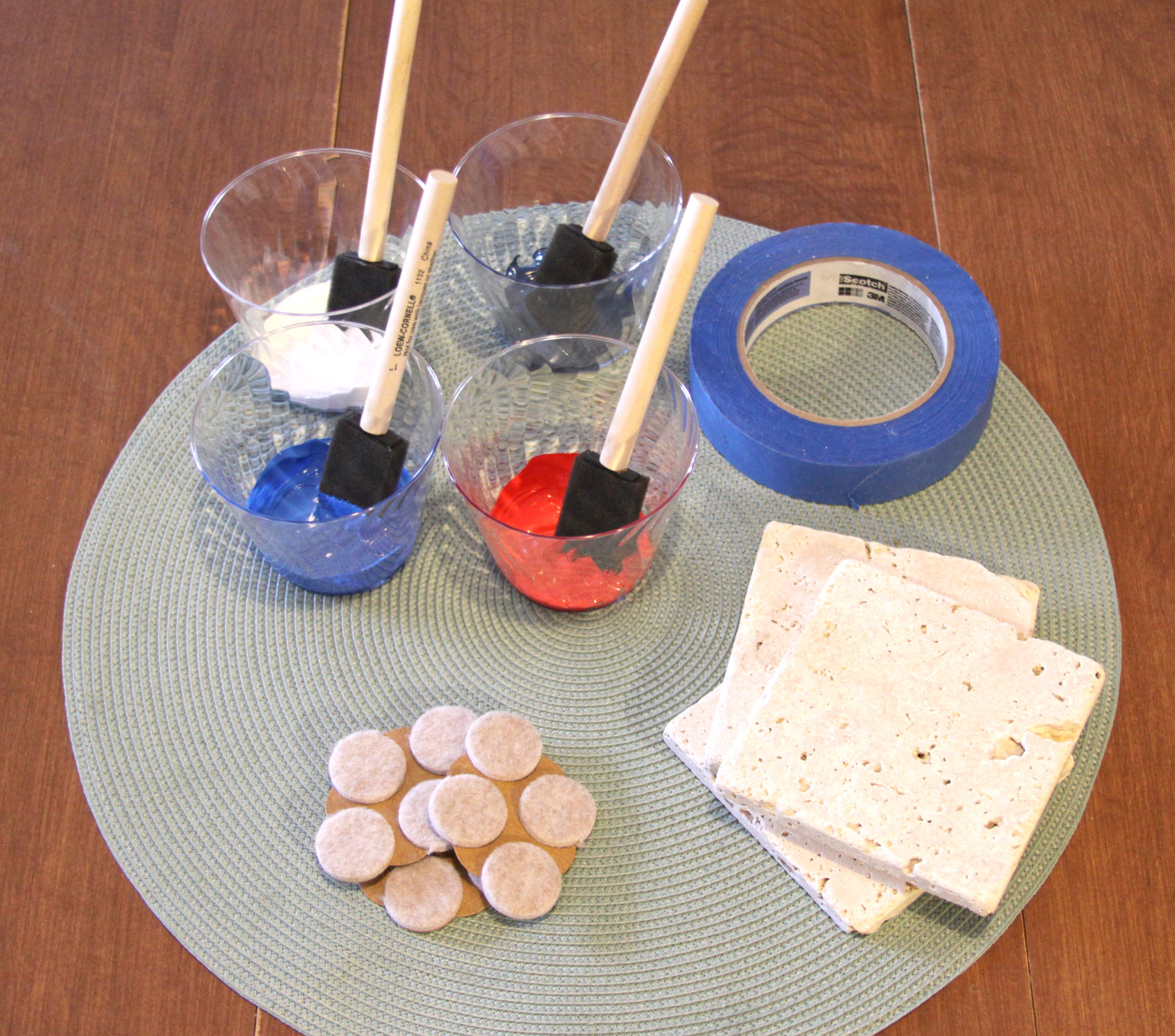 Cost: About $15
Supplies:
• Tiles
• Acrylic craft paint in red, white, and blue colors
• Foam brushes
• Painter's tape
• Adhesive felt furniture pads
Instructions: Use a damp paper towel to wipe off any dust from the tiles. Brush on a coat of white paint on the top of the tiles, then let dry. Use painter's tape to mark off a design, such as stripes, and then fill in with colored paint. Once dry, stick an adhesive felt furniture pad on each corner on the bottom of each tile. If desired, seal the top of the coaster with a coat of sealer.
2. 4th of July Goody Bags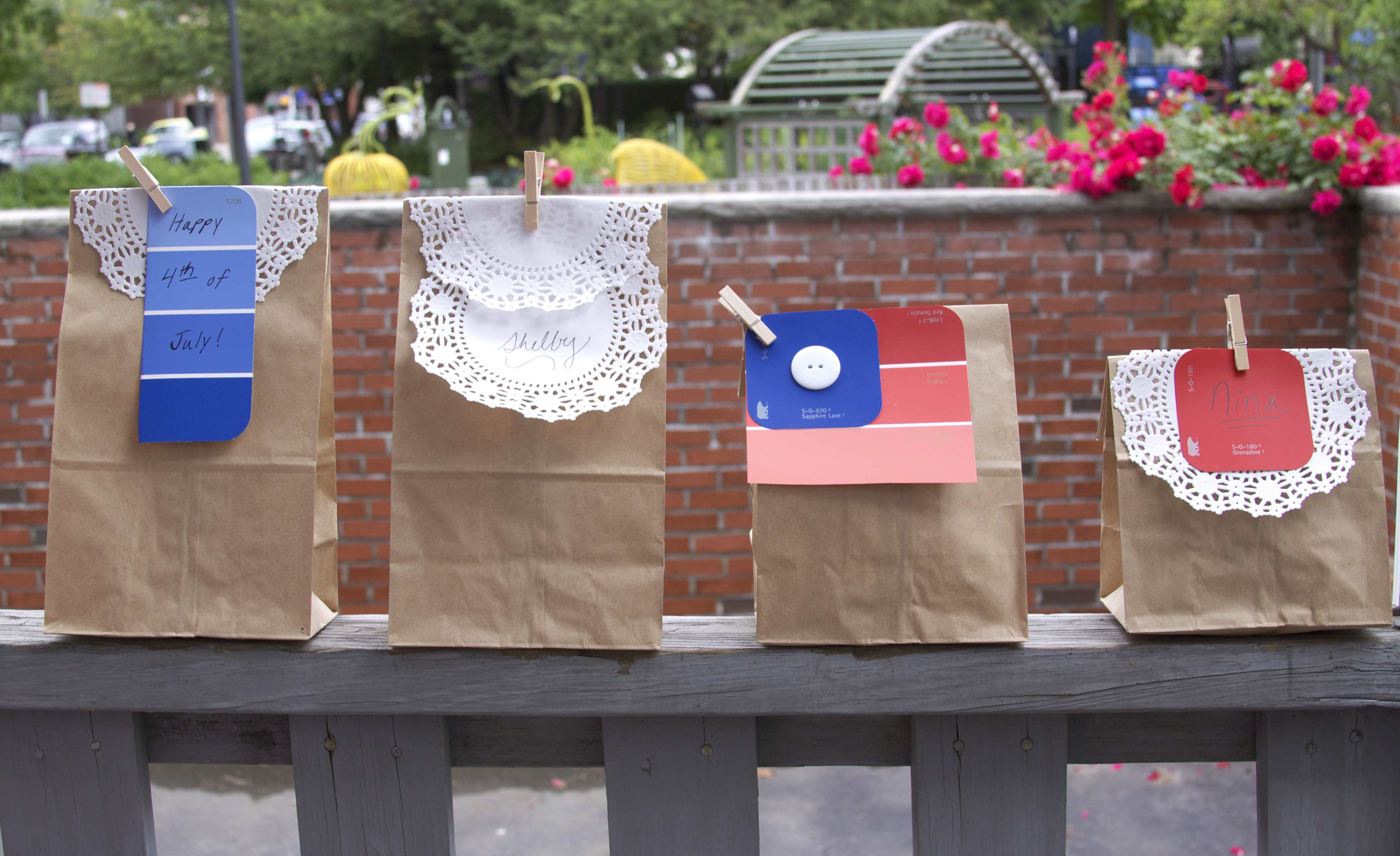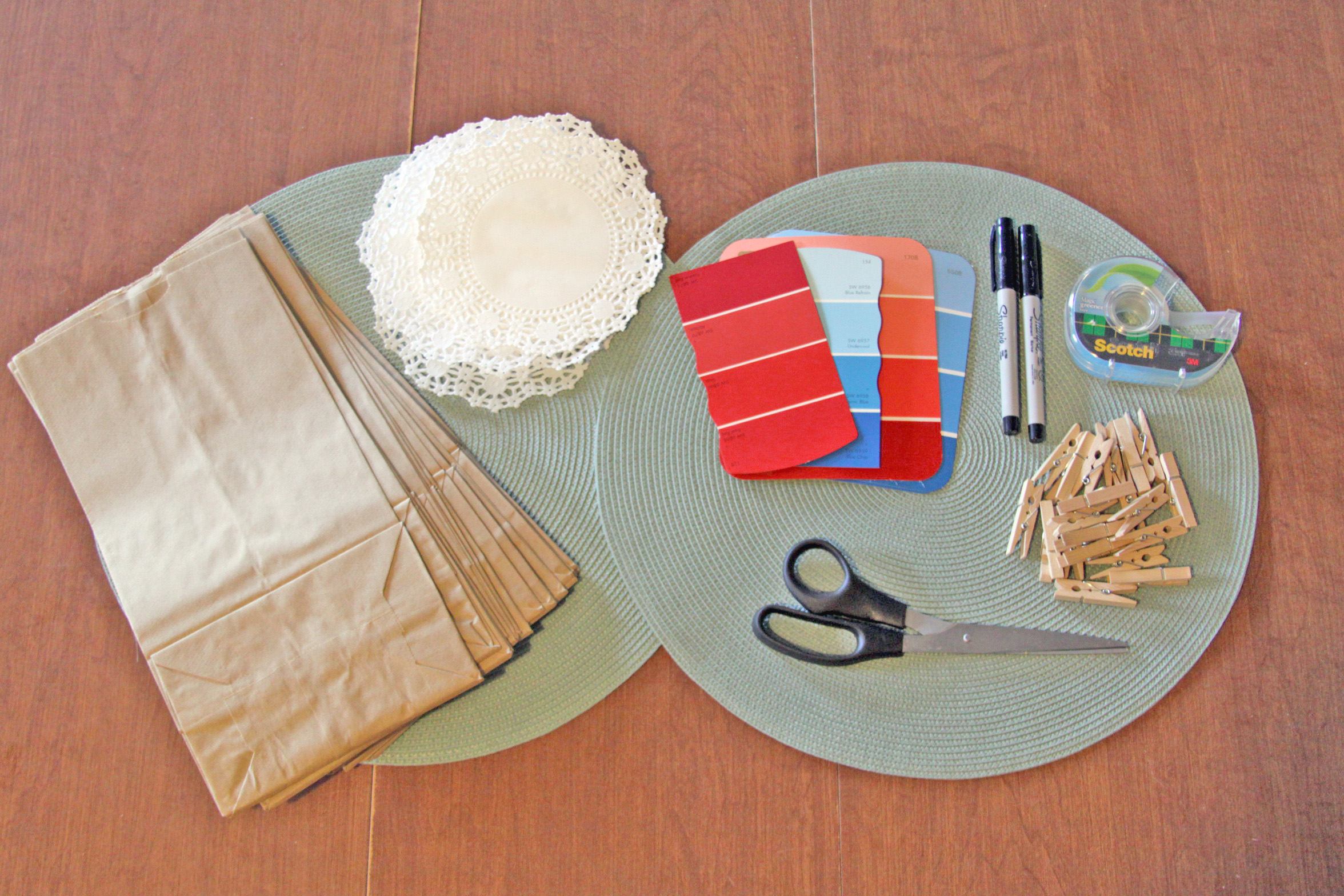 Cost: About $7
Supplies:
• Paper lunch bags
• White doilies
• Mini clothespins
• Paint chips
• Embellishments, such as buttons (optional)
Instructions: Fill paper lunch bags with treats such as cookies, candies, popcorn, or pinwheels. Fold the tops of the bags down to varying heights. Secure shut with a clothespin and any combination of the following decorations: doilies folded in half, paint chips. To create paint chip "flag," find a square-shaped paint chip, and use scissors to cut off the bottom stripe. Using a loop of tape or glue, secure a blue paint chip to the top left corner. Embellish with a white button. If desired, write a guest's name or festive message on the bags.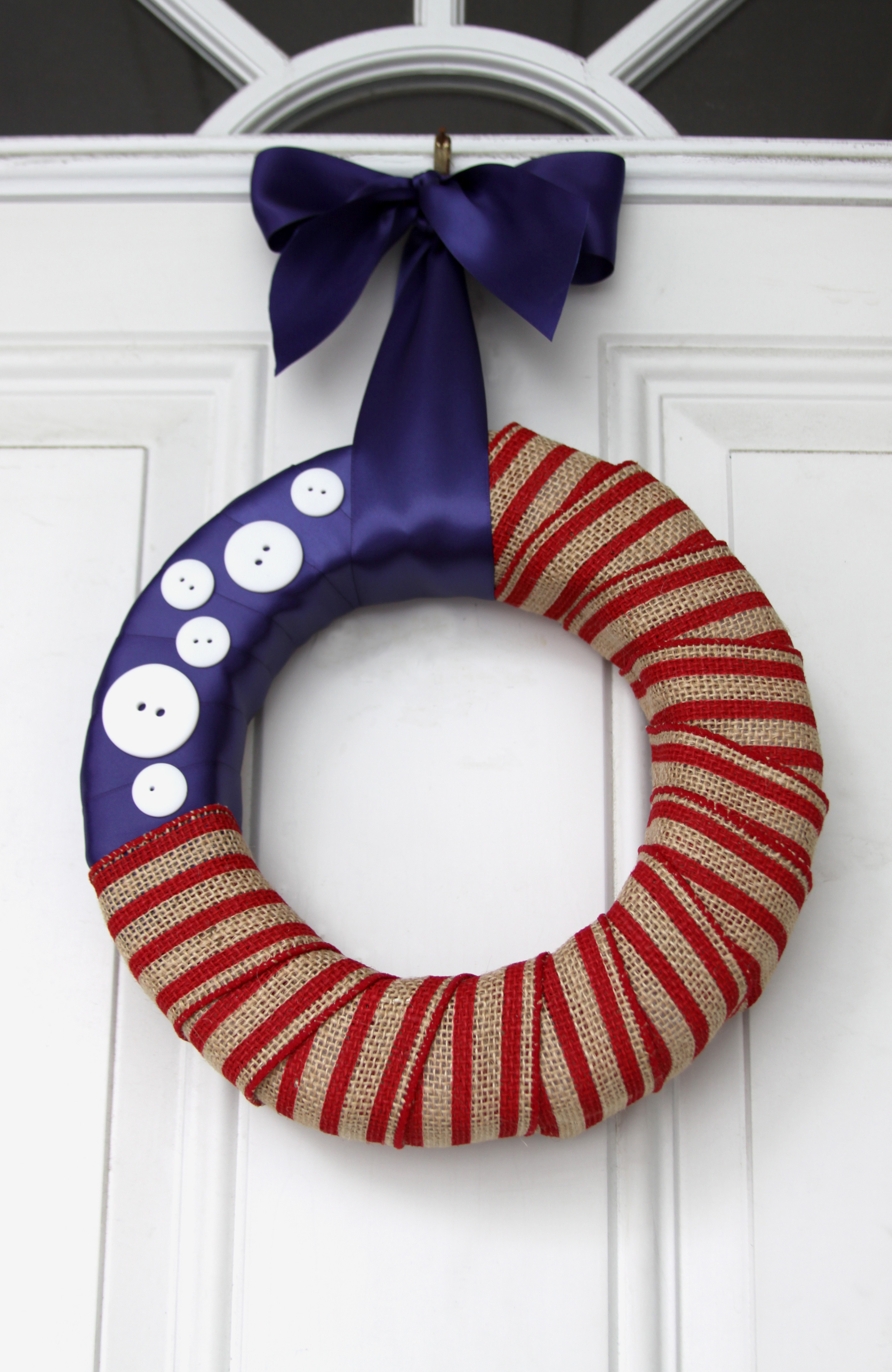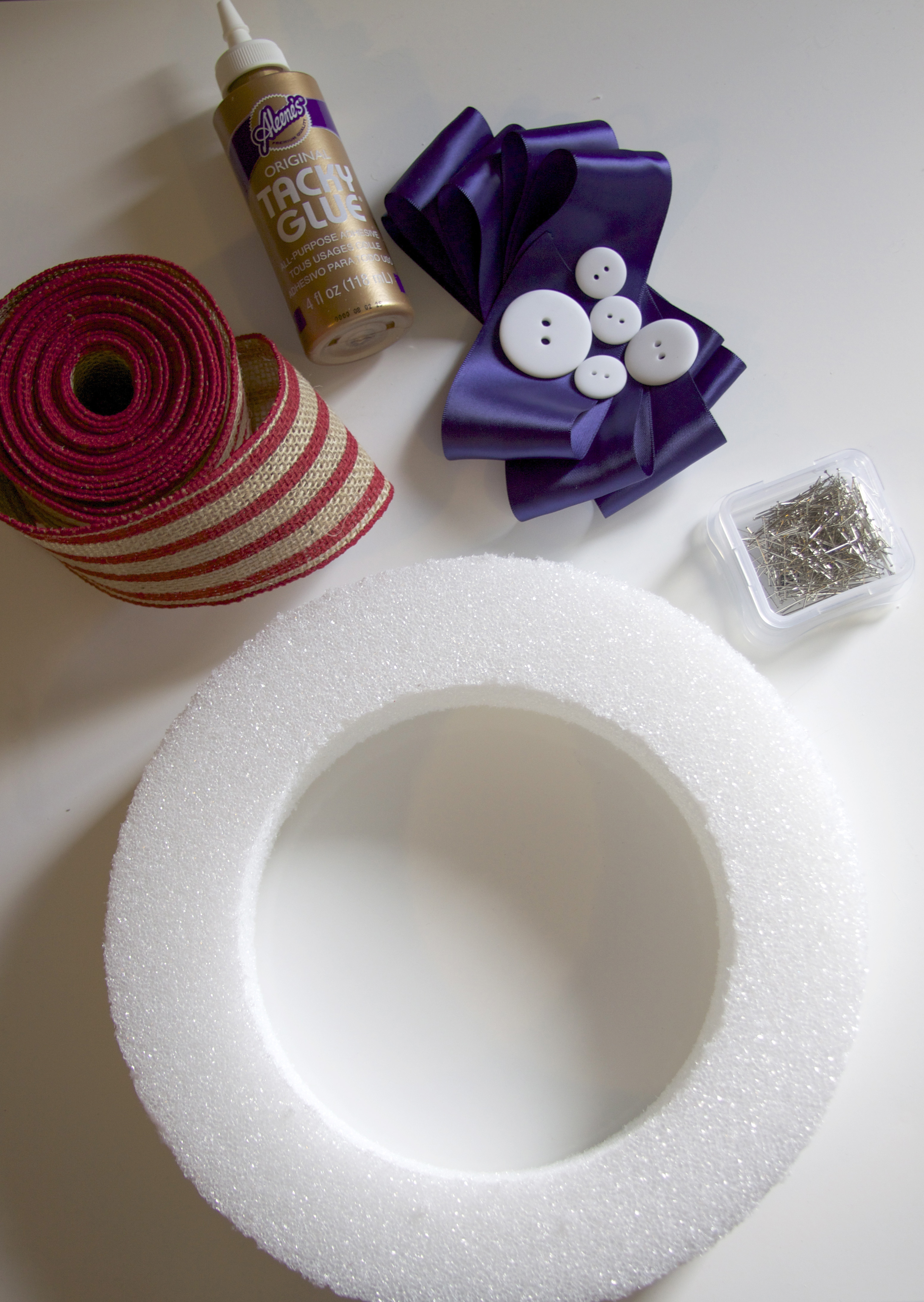 Cost: About $17
Supplies:
• Styrofoam wreath form
• Small straight pins
• Red striped ribbon
• Blue ribbon
• Craft glue
• White buttons
Instructions: Wrap three-quarters of the wreath form with the red striped ribbon, overlapping and securing with pins as you go. Wrap the remaining one-quarter of the wreath form with the blue ribbon, overlapping and securing with pins as you go. Arrange white buttons on the blue ribbon and secure with craft glue. When dry, loop a length of blue ribbon through the center of the wreath and then tie in a knot or bow to hang on front of door.
For the following cupcakes, start with homemade cupcakes, or just buy plain, white frosted cupcakes and bring them home to decorate!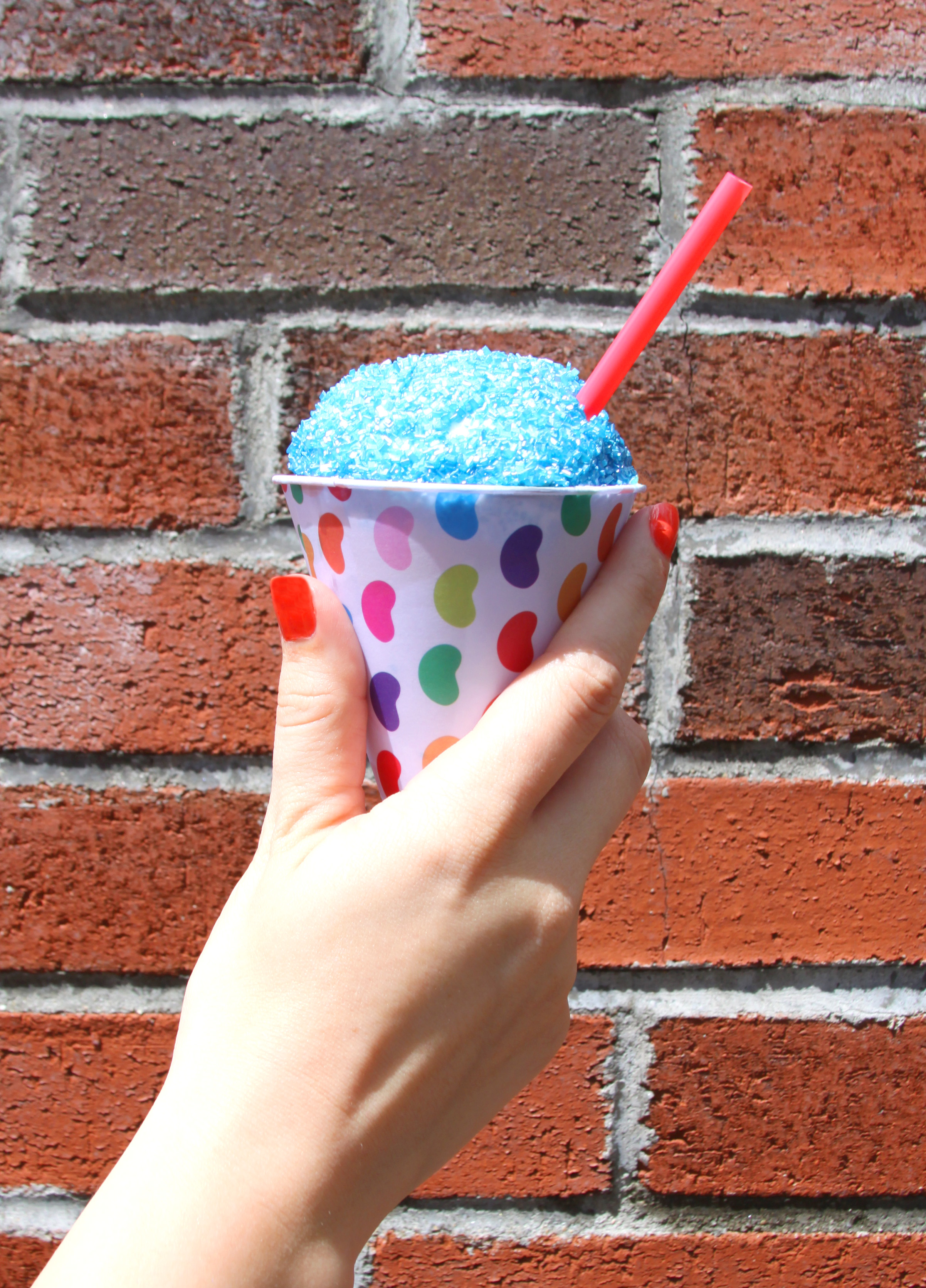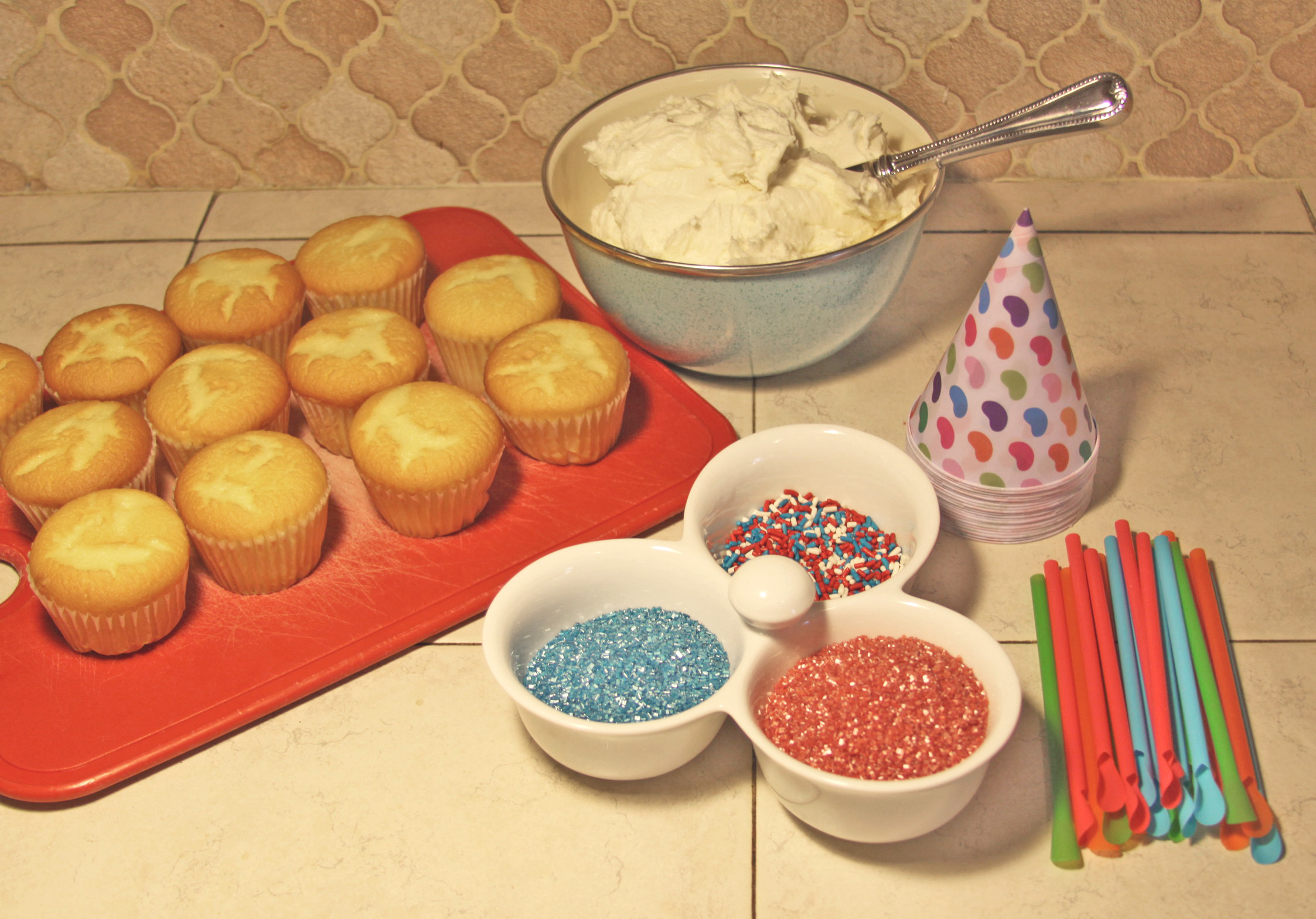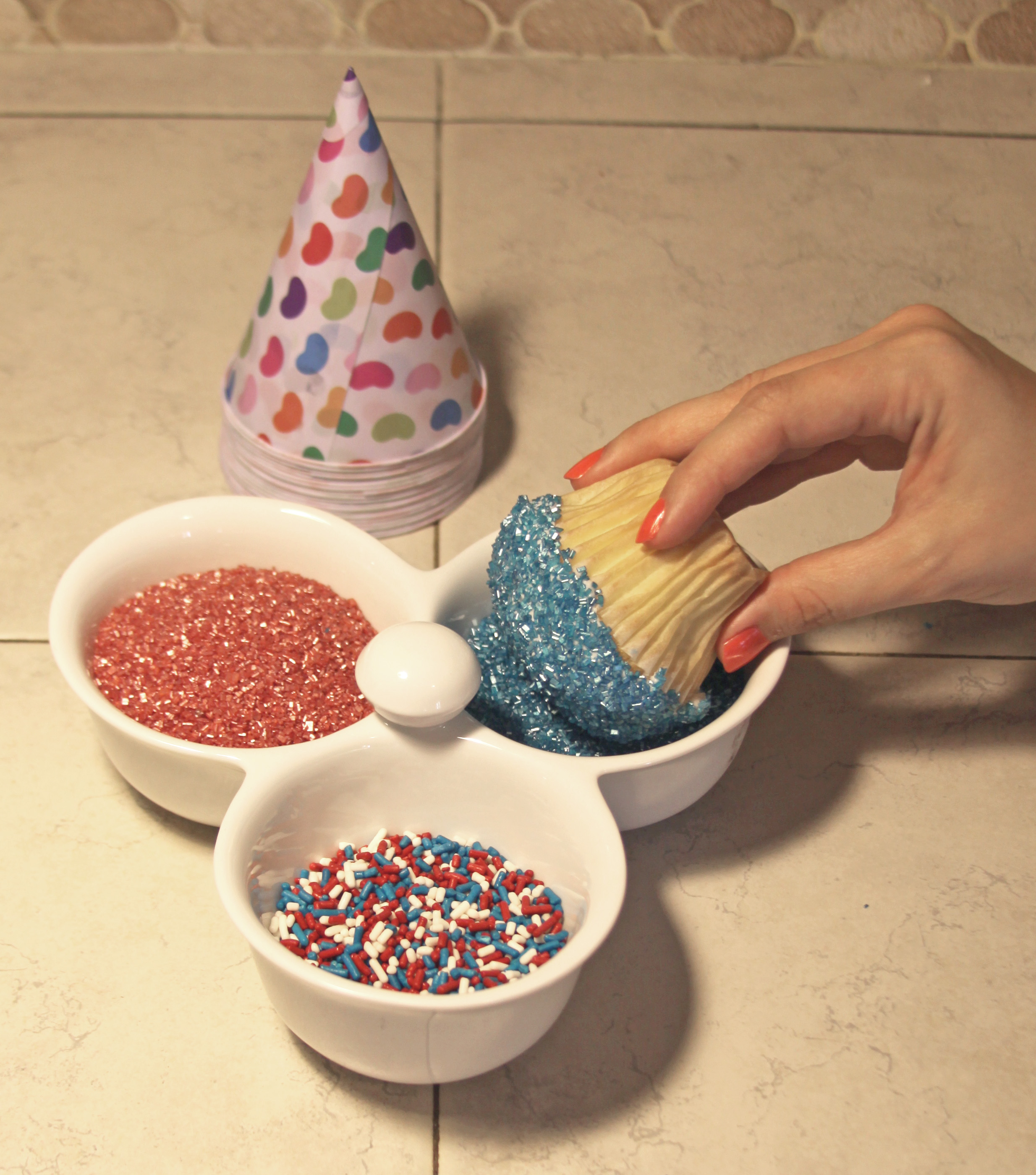 Supplies:
• White cupcakes
• White frosting
• Sno-cone cups or white paper water cones
• Pearlized blue or red sugar
• Straws
Instructions: Frost a cupcake, and then roll the top in the pearlized sugar, completely covering all the frosting. Slip the cupcake into a sno-cone cup. Stick a straw (trim if too long) into the cupcake.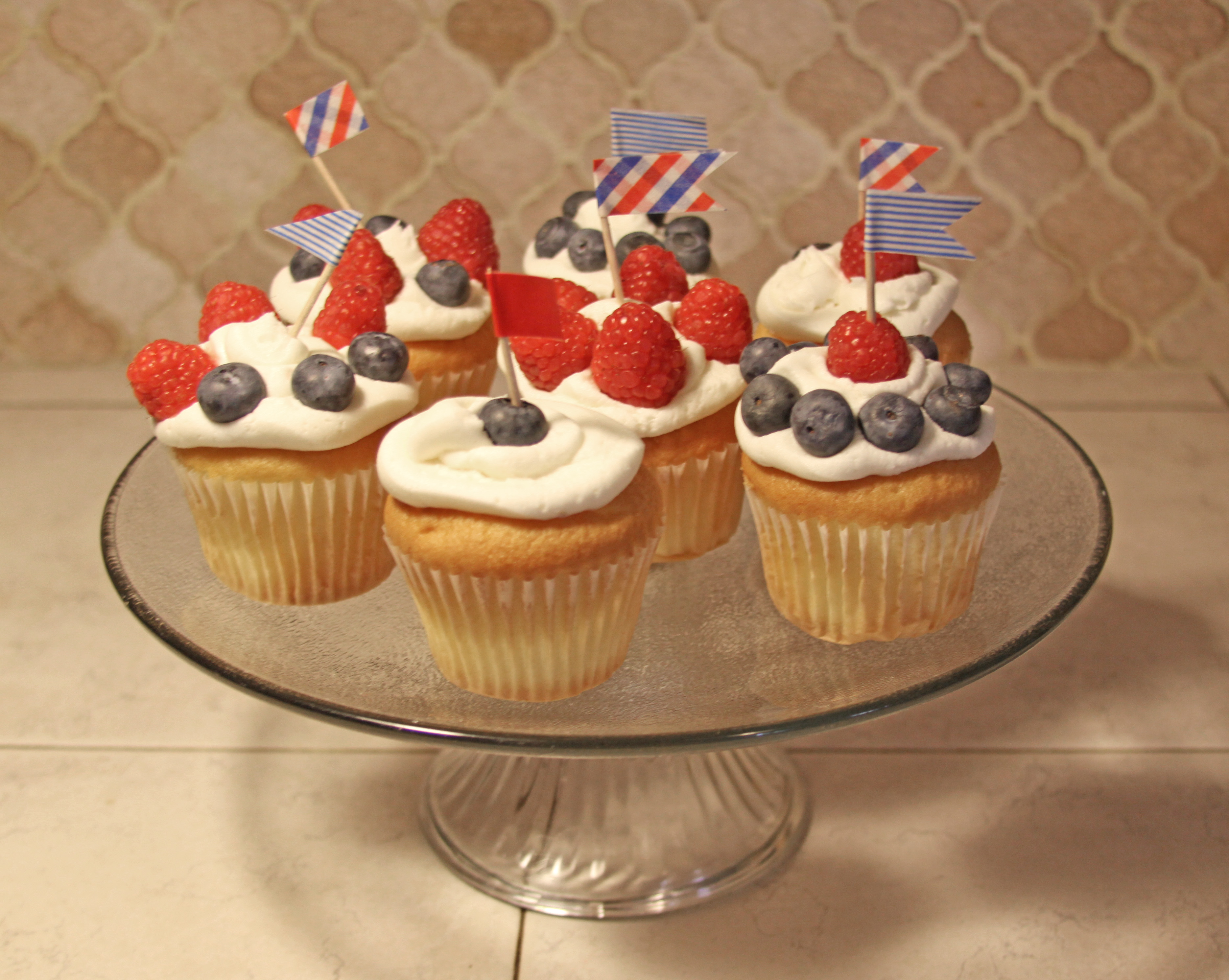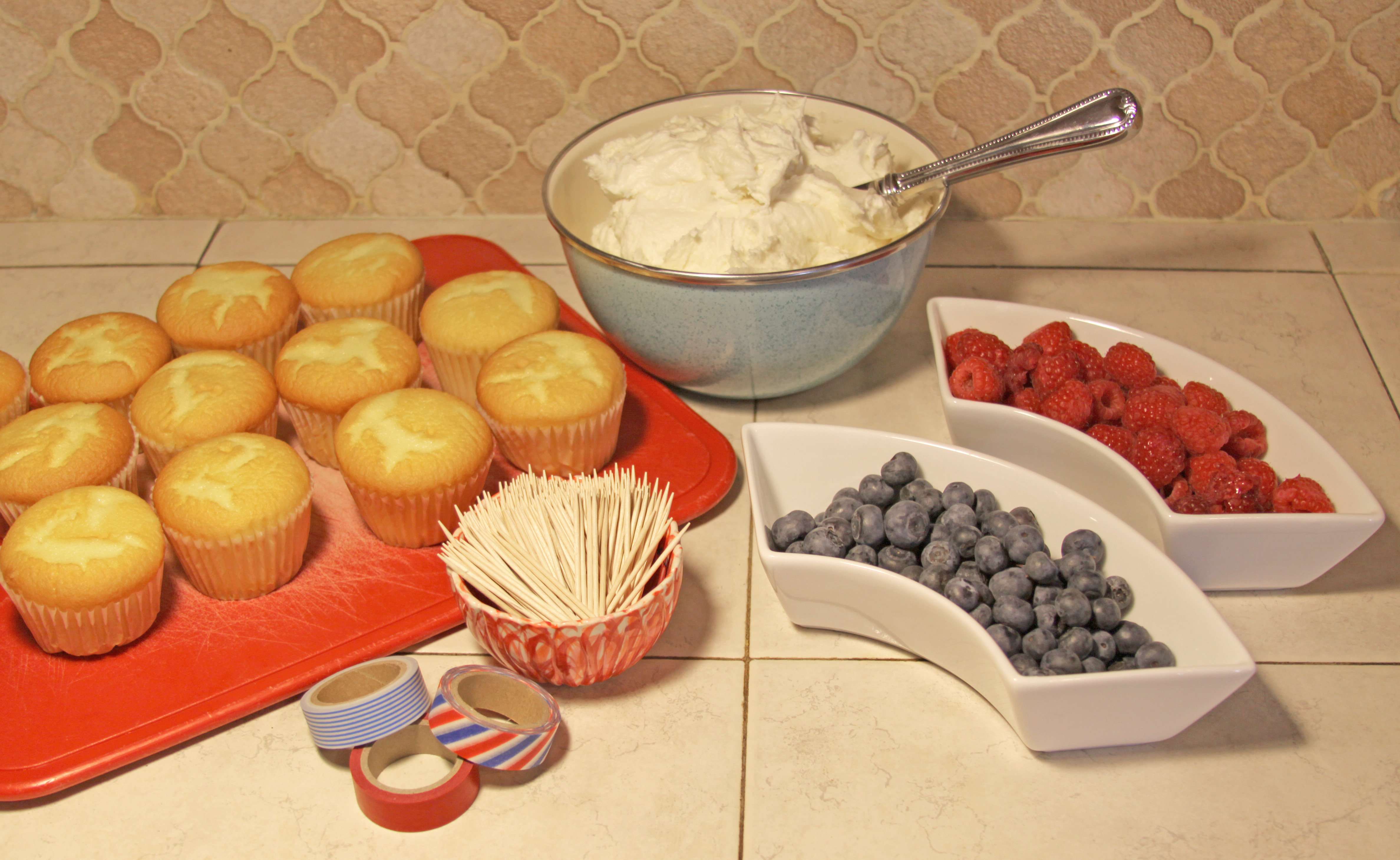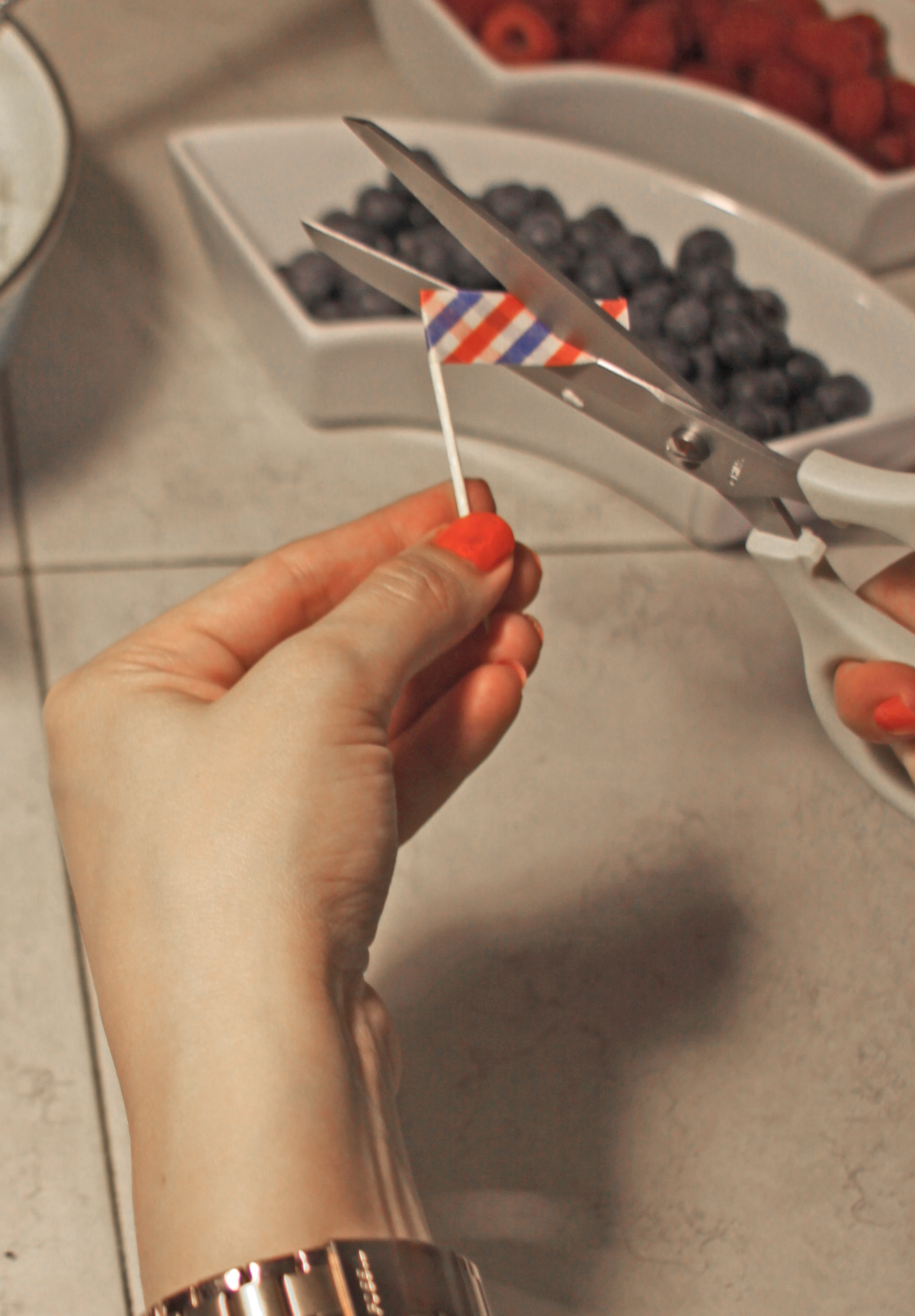 Supplies:
• White cupcakes
• White frosting
• Blueberries and raspberries
• Toothpicks
• Red, white, and blue washi tape
Instructions: Decorate the tops of frosted cupcakes with berries and top each with a mini flag. To make flags, cut a 2-3 inch piece of washi tape. Fold it in half on itself with a toothpick in the middle. Use scissors to trim the end into a pennant or flag shape.
6. Star-Shaped Cupcake Toppers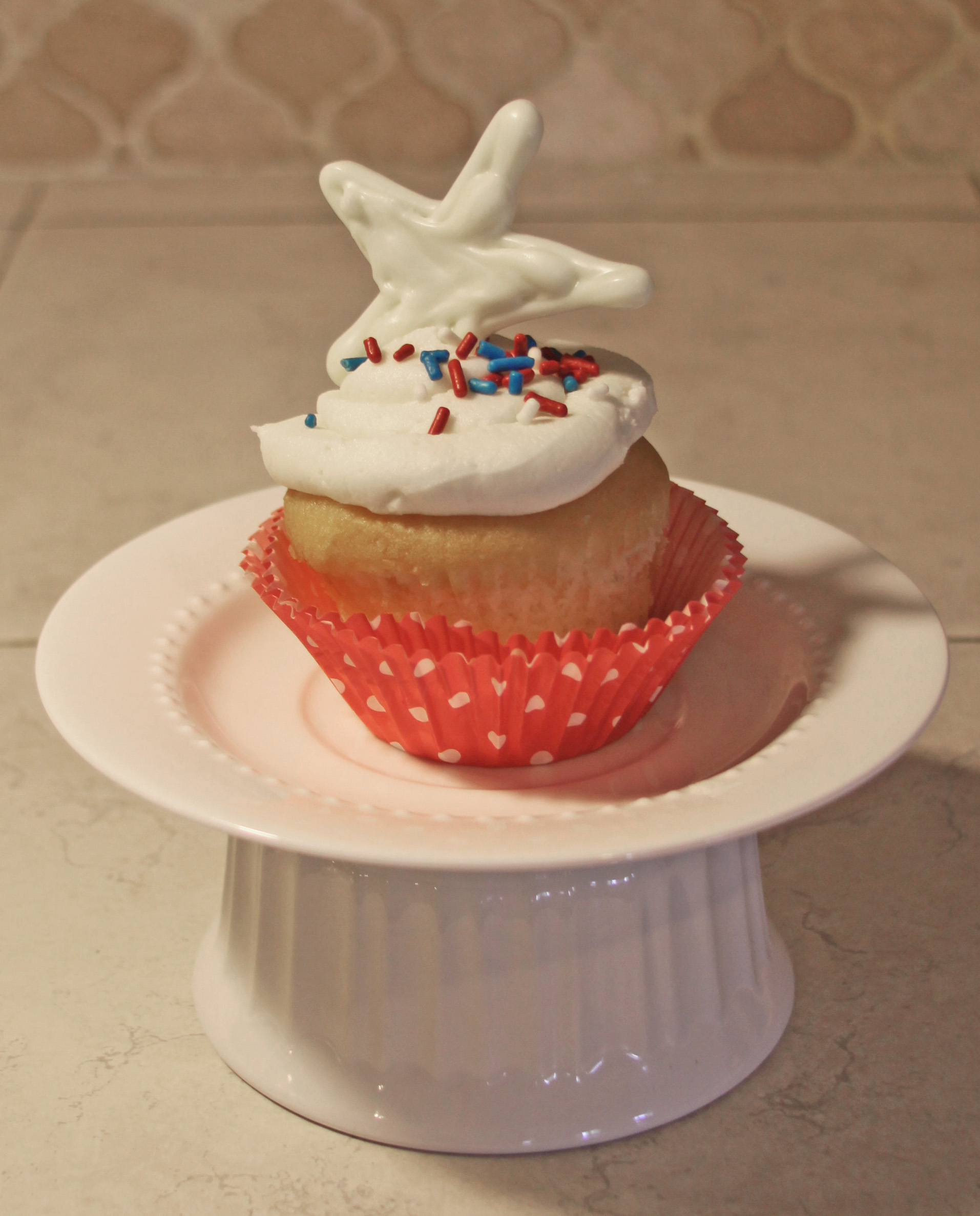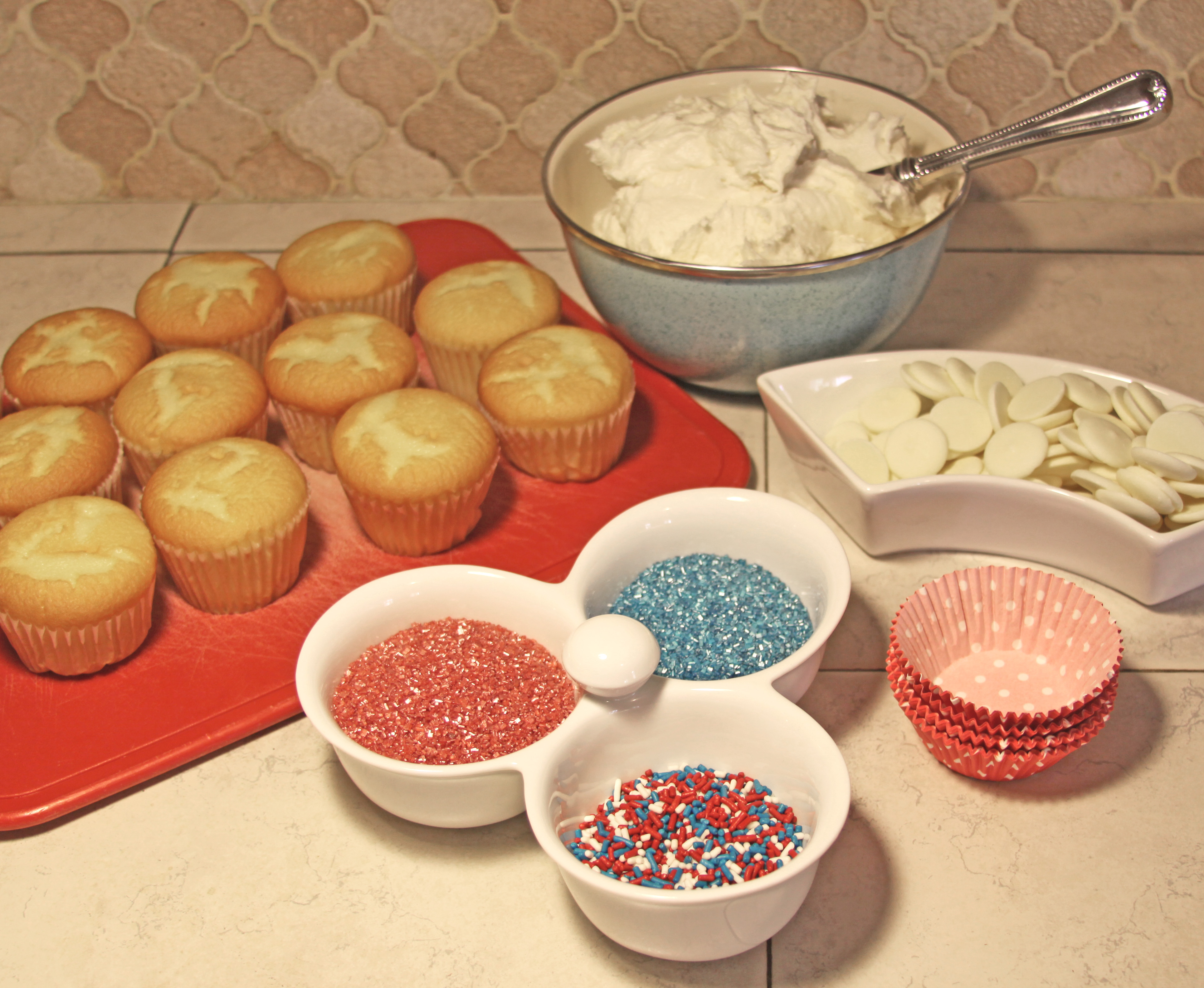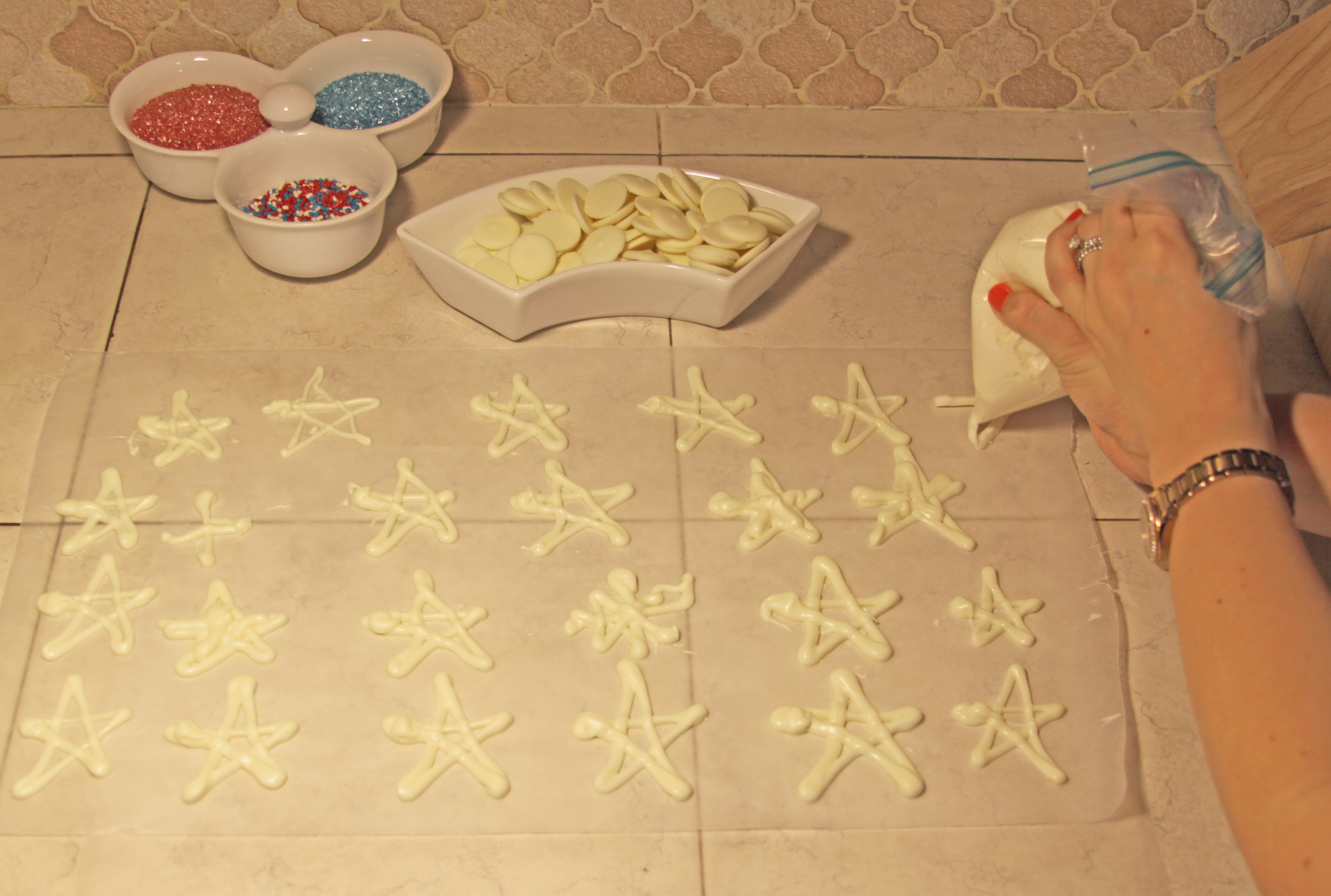 Supplies:
• White cupcakes
• White frosting
• Vanilla candy wafer melts
• Decorative paper cupcake liners
• Red, white, and blue sprinkles
Instructions: Following the package instructions, melt vanilla candy wafer melts. Pour the melted candy into a plastic zip-top bag and snip the corner. Draw star shapes with the melted candy onto a sheet of wax paper. If the candy is too runny to draw a shape, allow to cool slightly. If desired, completely fill in some of the star shapes. Set aside to cool and harden completely, about one hour. If making homemade cupcakes, bake them in the decorative cupcake liners. Otherwise, simply place the previously baked and frosted cupcakes in the decorative liners. Scatter the sprinkles over the tops of the cupcakes. Top with a hardened candy melt star.