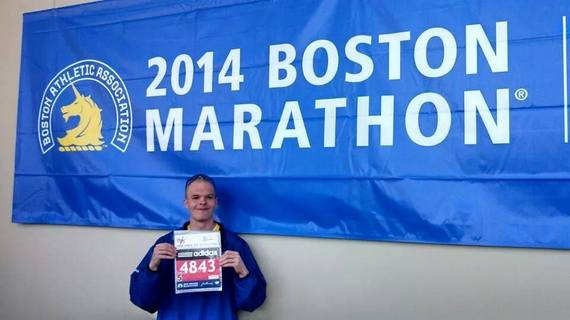 J-Mac on the eve of the 2014 Boston Marathon. Photo courtesy of Josh Thomas and AutismUp.
Jason "J-Mac" McElwain has a message for kids with autism: "It's amazing what you can accomplish when you put your mind to it."
Look at J-Mac for proof.
On Monday J-Mac, 25, who has autism, completed the 118th Boston Marathon in less than three hours.
It was his first time running Boston and his third marathon ever.
It also came on the heels of one of western New York's worst winters in modern memory.
His hometown of Greece, New York, is located in a county that the U.S. Department of Agriculture named an agriculture disaster zone following a record-long winter of sub-zero temperatures.
"I did all my training outside in the bad winter," said McElwain, who qualified for Boston following his times in the 2012 and 2013 Rochester Marathons. "I ran 60 to 70 miles a week in the cold."
McElwain's intense training schedule was also in addition to a full-time job he holds at Wegmans, a part-time job at a restaurant, and several coaching positions.
His hard work was worth it all, he said.
He crossed the finish line in 2:57:05 -- crushing his goal of 3:10:00 and giving credit to Boston for the unexpected time.
"The enthusiasm of Boston was just unbelievable," McElwain said. "The city embraces the marathon. People were screaming at every mile. It was an unbelievable experience."
J-Mac was wearing Bib Number 4843 on an AutismUp jersey when he crossed. AutismUp is the leading 501(c)3 autism organization in Rochester, NY and the surrounding areas.
"I felt is was necessary to wear the AutismUp jersey to get awareness of the group and Autism out there," J-Mac said. "I ran it for them and also the victims of the bombing, and all of my old sectionals teammates."
Old sectionals teammates?
Oh yes, the marathon was not J-Mac's first amazing sports feat.
In 2006 he made national news when he scored 20 points in four minutes and 19 seconds while playing in his only varsity basketball game for Greece Athena High School.
J-Mac entered the game as the team's manager and finished a hero.
His accomplishment on the court earned him an ESPY Award from ESPN; appearance on Oprah; and an audience with the president of the United States.
As for J-Mac's next goal after an ESPY and an incredible Boston Marathon performance?
"My dream is to be a college coach," he said.
No doubt he will achieve it.