This summer, many of us are gearing up for some relaxation and fun in the sun by heading to the beach, the mountains or some of the country's greatest landmarks. It's an American rite of passage to embark on a grand summer vacation; but as the country's demographics have shifted, so have travel patterns. Consider that America's travelers are a diverse group, increasingly Hispanic, African American, Asian American and LGBT, each with unique preferences.
It's important that the tourism industry understand each demographic's travel preferences so they can target accordingly. Take a look at the graphic below to learn more about the unique travel patterns of America's New Mainstream populations: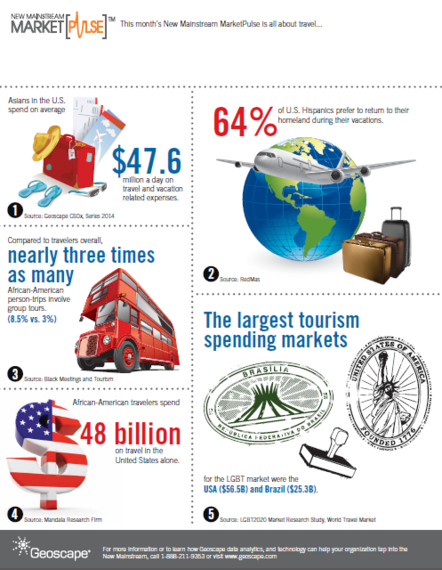 Leveraging research in order to improve customer experience is incredibly important in the travel and tourism industry. By taking language preferences, historical tours and tailored resources into consideration, attractions can ensure that vacationers are having the most fulfilling experience possible while maximizing their profits.