Historically, spring is not only a renewal of temperate weather for most of the country, but a warming of the U.S. housing market as well. While the spring thaw is coming later than normal in both climate and housing this year, there are new signs that the market is picking up.
While national growth has been sporadic, there are two market segments that can showcase consistent home buying strength - Hispanic and Asian Americans. In fact, these groups will account for a majority of new home sales over the next several years.
The facts are the facts, outlined in the graphic below.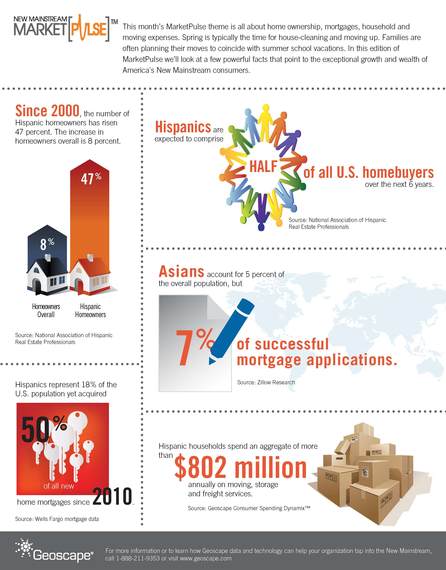 There's no question that the impact of these groups on the housing market is unprecedented. But where will the growth come from? Our research at Geoscape shows population migrations away from the traditionally Hispanic pockets of the Southwest. In fact, we're seeing more Hispanics migrate and purchase homes away from traditional "border states" into areas such as Oregon, Washington, North Carolina, Colorado and Illinois. Asian Americans are no longer concentrated on the West Coast; they're a large part of the populations in cities such as Chicago, Boston, Houston, New York, Seattle, Washington, D.C., and Philadelphia.
The end result is an increasingly diverse housing market that can come with certain misconceptions. Brands must understand that these groups cannot be treated under the same broad rules and perceptions. Their buying power will continue to exponentially change American markets as well as the culture. Congratulations to all new homeowners this spring - we're excited to see what the future will bring!