Today's disappointing employment report shows that the labor market remains far below full strength. The unemployment rate edged up to 8.2 percent and forecasters expect it to remain near 8 percent by the end of the year, which has important implications for the current temporary federal unemployment insurance (UI) program. Since policymakers created the first such program in 1958, they have never allowed it to end when unemployment topped 7.2 percent -- and they certainly should not start this year.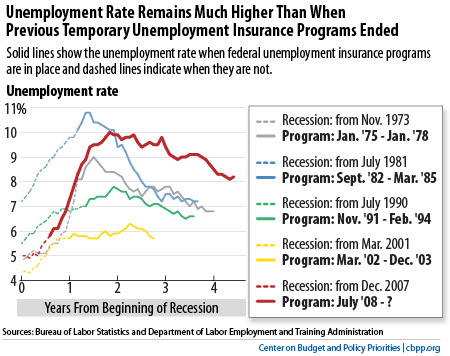 Unemployment has been higher for longer than in any previous recession since the 1930s (and would be higher still if a substantial number of people had not stopped looking for work for now because they view their current prospects of finding a job as dim). Nevertheless, support for UI has waned among lawmakers at a time when the economy will continue to need the support that it provides and when long-term unemployment remains at unprecedented levels. Before topping 40 percent in the recent slump, the percentage of the unemployed who have been looking for work for more than six months had never exceeded the 26 percent reached in June 1983 in data going back to 1948.
Private employers have added jobs for 27 straight months, but the economy still lacks the strength to generate the kind of job growth (200,000 to 300,000 jobs a month or more on a sustained basis) that would restore normal employment in a reasonable time frame. As policymakers focus on the challenges ahead at year end, due to expiring tax cuts and spending provisions plus scheduled across-the-board spending cuts -- all at a time when the fragile recovery will still need nurturing -- they should remember that UI is one of our most cost-effective measures for supporting the economy.
UI injects new spending into the economy quickly. It doesn't add to the long-run budget deficit because UI claims fall as the economy strengthens, and policymakers have always let temporary programs expire. But, we're not there yet, with an overall unemployment rate that tops 8 percent and an extremely high long-term unemployment rate.