"Mother is a verb, not a noun," says an old proverb, and this month I'll be honoring a few mothers in my blog posts who are verbs personified: mothers who are making an impact in their communities while raising their children.
Today's honoree is Areva Martin, Esq., mother of three children, including one with autism. Areva has always been active in her community, but she stepped it up a notch after her son Marty was diagnosed at age 2 with an autism spectrum disorder. Areva found it challenging to get the services her son Marty needed, despite being a partner in a Los Angeles law firm. But Areva did not stop at getting the services her son needed. Within months of being immersed in the world of autism, she re-evaluated her career and her new obligations as a caretaker.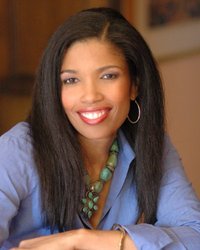 Areva realized that many families do not have the resources to advocate for their children, despite the laws in place that guarantee a free and appropriate public education to children with special needs. She co-founded The Special Needs Network, Inc. (SNN), a nonprofit whose mission is to raise public awareness of developmental disabilities and to impact public policy, while providing education and resources to families, children and adults.
A graduate of University of Chicago and Harvard Law School, founding and managing partner of Martin & Martin, LLP, Areva has counseled hundreds of parents of autistic children, and wrote a book to empower parents, The Everyday Advocate: How to Stand Up for Your Child with Autism (Penguin). Areva served as the only African-American woman and attorney on the California Legislative Blue Ribbon Commission on Autism and is currently the Chair of the South Los Angeles Autism Regional Task Force for the California Senate Select Committee on Autism.
Areva has an impact beyond California, as she is also known nationally from her regular appearances on The Dr. Phil Show, Anderson Cooper's 360, The Doctors, and various CBS News programs, and has also been featured on the pages of publications ranging from the Redbook, Parenting, and Ebony Magazines to the Los Angeles Times. Areva has received numerous awards for her work including the 2011 California Legislative Black Caucus Civil Rights Leadership Award.
The Special Needs Network that Areva co-founded provides resources to families including the largest free annual conference in Los Angeles about autism and learning disabilities, Tools for Transformation. This conference includes a legislative breakfast where participants have the opportunity to meet elected officials and to engage in important dialogue on health, education, the California budget, and issues that impact parents. Those in attendance have the opportunity to participate in a movement to improve the lives of children.
At this year's legislative breakfast, Areva referenced a recent Los Angeles Times story that had revealed a significant gap in spending by the state Department of Developmental Services, citing an average of $11,723 per child on whites, $11,063 on Asians, $7,634 on Latinos and $6,593 on blacks. Areva commented:
It revealed a disparity between the funds referenced to help young children with autism, who just happen to have a different skin color. A $5,100 gap in support between African-American and white children, a $3,000 gap between white and Latino children. Clearly, the work of the Special Needs Network is not done. It won't be done until this gap is eliminated.
Besides advocating for change and empowering parents, SNN recognizes and honors those who are working hard to make a difference at an annual A Pink Pump Affair, a high tea event that features a designer fashion show, designer handbag and shoe auction, President's VIP Reception, Women of Distinction awards, and Toyota Advocates awards. One of this year's honorees is DeOndra Dixon, Self-Advocate & Ambassador for the Global Down Syndrome Foundation, and sister of Jamie Foxx. The event will take place on Sunday, May 20 from 1:30 p.m. to 5 p.m. (PST) in Beverly Hills, Calif.
A Pink Pump Affair also raises awareness and money for vital programs that thousands of underserved families depend on, such as SNN's Parent Advocacy Mentor Program (PAM) and Joe Patton Academy Camp (Camp JPAC) -- the only summer inclusion camp in South Los Angeles for kids with autism and related disabilities and their siblings.
Mothers such as Areva Martin are necessary for our society to evolve. The disparity that exists between equal rights and equal opportunities is obvious, and not just to neurotypicals. As my autistic son Jeremy writes in A Full Life with Autism:
Our nation was built on the principle that all people are created equally, yet all Americans are not treated equally. African Americans, women, gay people, and the disabled continue to struggle, even those who have been given equal rights.
Thankfully, Areva Martin is working hard to change the status quo so that all children with special needs, no matter their ethnicity, can have an equal chance for a brighter future.