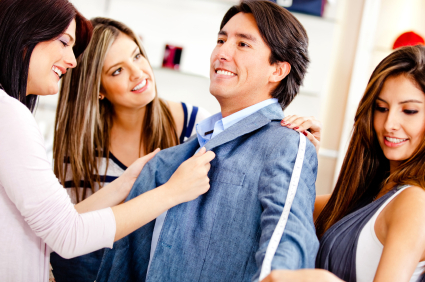 Sadly, I have seen some of the most beautiful people unable to find the right one simply because of their chosen look. In a perfect world, our soulmates would have laser vision into our souls, but this isn't quite the case. Looking date-worthy is the biggest, yet easiest problem to solve. That's why I wanted to share this quick guide to looking more datable, and using non-verbal communication to attract more dates:

Stay True to Size I put this first because it's the number one problem I see amongst my clients. Either their clothes are too big or too small. The latter is worse, but the solution to this problem is a piece of cake. Get measured. Go to a local tailor and have them size you. Ditch the baggy, saggy attire and leave your two sizes too small wardrobe behind, because your buttons popping off on a date just isn't attractive.
Come Alive with Colors Your favorite colors aren't always the ones you should be wearing because they might be accentuating your flaws or hiding your most attractive features. Just like peanut butter goes with jelly, there's a similar science to skin tones and colors- some just work better in tandem. Consult a color style guide to choose your clothing according to your skin tone. Wearing the colors that complement your skin will help you come alive and become more noticeable to potential dates.
Keep a Fresh Face Your face is the first thing people notice, so take GOOD care of it. Whether you're a man or a woman, maintain a proper skin care routine using daily cleansers and moisturizers to keep your skin looking youthful and fresh. And fellas, take care of that scruff- a little bit may give you the Hugo Boss appeal but too much will make you look like you gave up on life. Ladies, before you cake on the makeup, consult a professional or get free advice by visiting the cosmetics department at most major retail stores. I can't tell you how important this is. Wearing too much makeup will communicate that you are insecure about your natural self, and men will run off if they feel you are too insecure.
Get the Right Do You may be hiding your most alluring features like your eyes or cheekbones with the wrong hair-do. See a stylist or use a guide to find the right haircut that will flatter your face shape. If you're nervous about making a drastic change, try on a wig before making the cut.
Dress Well Dressing well has more to do with knowing what your potential date wants to see and less to do with your size, shape, and weight. Most men like to see women in a nice dress and heels, and most women would agree that they like to see men in a well-fitted suit or dress pants with a button up, and dress shoes. Invest in these basics and make sure to get pieces that accentuate your best features. For my clients that are on a budget, you can still find good quality formal wear for discounted prices. I often recommend that my clients shop the sale sections at major department stores or use Express Coupons online to find reasonably-priced suits, ties, dresses, shoes, and accessories.
Walk the Talk Your shoes communicate more than just good style. They are the icing on the cake; the cake being your outfit. If your shoes are on point and in good repair, it will show your potential date that you care about the little things too. Get a good pair of comfortable classics: for men I recommend a classic pair of black loafers and for women, either nude pumps or comfortable black slingbacks.
Accessorize to Personalize If you've read my book, How to Find the Right One and Make it Last!, you'll recognize this quote "I believe accessories complement a nice outfit like a beautiful frame compliments a great painting." When you want to stand out in a crowd full of people, wearing a nice scarf, hat, watch or statement jewelry will get you noticed, even if you are pairing it with casual attire. Remember that accessorizing your outfit says a lot about your personality too; it shows that you've taken an extra step to perfect your look. This will show your date that you are capable of going the extra mile in a relationship too.