When it comes to literacy, the list of failing cities is as long as we are tall and they include Los Angeles, Detroit and Atlanta. That we combat such mammoth levels of illiteracy seems so miniscule, the battle so overwhelming and seemingly fruitless. I'm embarrassed that we're failing our children so miserably.
In South Central Los Angeles at A Place Called Home, a dynamic youth center, I've been using fantasy as a catalyst to instill academic excellence in urban children. Through a series of interactive reading, writing, and public speaking exercises, my newest fantasy trilogy, The Magic Coin Novels, serves as a foundation to motivate children of all ages and in all socioeconomic conditions.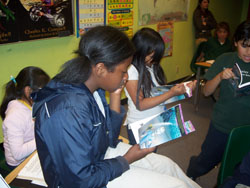 All children fantasize. But until now, 'children of color' have seen minimal action in children's fantasy stories. That includes short stories, novels, and films. Consider the following: from ET to Star Wars, Lord of the Rings to the Chronicles of Narnia, Harry Potter to The Spiderwick Chronicles and beyond, we've rarely if ever seen an African-American or Hispanic boy (never a girl) as the central protagonist in a fantasy film or novel.
Imagine what such an omission does to thwart a child's self-confidence. I can't say why 'characters of color' take a backseat in fantasy, but it doesn't really matter.
Among the millions of books ever written, that are being written, and of those that will be written, yes The Magic Coin series does deserve public awareness. Not because I wrote it, but because there are a gazillion kids, all across this globe of ours, who lack self-esteem and the resulting, oh-so-necessary, fruits of motivation. The Magic Coin is my offering to begin fixing the deep-seated problems of worthlessness that afflict so many children regardless of gender and ethnicity
In this series, six abused Savannah, Georgia, foster children, all in elementary school, overcome insurmountable odds and personal issues on their way to becoming superheroes.

Illustration by: Mary Sullivan
Our child posse travels into outer space and beyond in order to save America from evil alien forces. Along the way to adulthood, leader Walter Jones and his child posse of friends all become model citizens.
Last week, two members from A Place Called Home finished the book and wrote short, one page reviews. There is no, not one, greater reward than reading "Thank you Charles. The Magic Coin is a great book. I can't wait to get my hands on another." This from my young friend, a fifth grader, a hispanic male foster kid who doesn't read novels.
I wrote The Magic Coin series to assist children in becoming better readers, writers, thinkers, and ultimately, to be on their way to becoming more responsible citizens. The books motivate our children to be analytical and to think outside the box.
The fantasy genre ignites a spark in children that strikes a passion for the joy of literacy resulting in a child who reads with confidence, writes with purpose, and speaks with authority.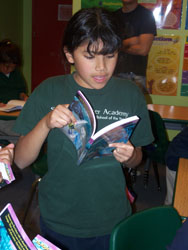 I write and I hope and I dream of the day that scholarly series of diversity and fantasy will gain public awareness. And that so many kids who only see an out through soaring on a b-ball court or in a hip-hop video, might soar through a love for reading and writing and through literary development.
I'm just one grain of sand with dreams of being a beach with and for urban kids and suburban kids all feeling the warmth of the sun and the cool ocean breeze on their tormented faces.
------
You can order The Magic Coin here or wherever books are sold. Coin 2 will be made available by September.
All illustrations by the dedicated, wonderfully talented, educated and young illustrators, Patrick McWhorter and Mary Sullivan.
Patrick McWhorter holds a BA in art from Savannah College of Art & Design and Mary Sullivan holds an MFA degree from Savannah College of Art & Design in photography and art.

These two individuals have been with me for four years and will one day be recognized as two of the best illustrators and animators in the business. I'm honored to have them as teammates as their dedication to helping urban kids is as passionate as is mine.
The Magic Coin has been performed as a stage play by the Savannah State University Players, and has successfully been used as a tool to increase fifth-grade writing scores in the Savannah school system. The novel is in libraries across south Georgia and is being enjoyed by students of all ages.