"I had no idea," my dinner date for the evening stated. "This is so exciting. I know half the people in this room, and the other half I know their songs, the actual people behind the music, the real hit makers."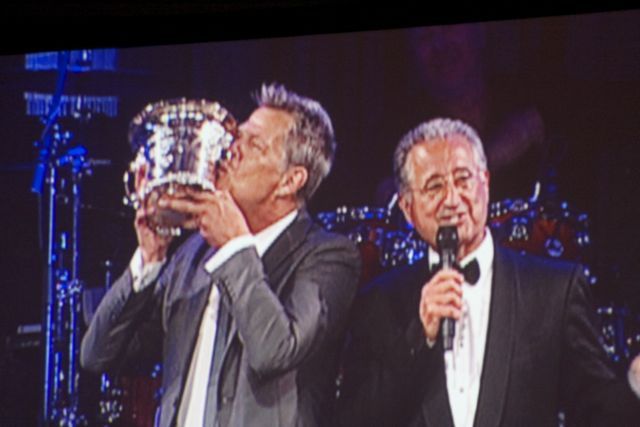 David Foster (Left) receives the Icon Award
It's true. The BMI Pop Music Awards, while star studded, may not be handing out awards to household names unless you're one of the people that hit the "Get Info" button on the track or are an aspiring singer/songwriter. The night is to celebrate the success of the year's most successful songwriters and composers, a reason for the writers to come out of the studios, have appetizers and cocktails and a lovely dinner, see a show and pick up a certificate. It's the Grammy's for songwriters, complete with red carpet and tributes.
The 2011 BMI Pop Music Awards took place this year, as always, at the Beverly Wilshire Hotel in Beverly Hills, CA. Given the inclement weather and the $5 a gallon gas I opted to take the Blue Line Train from Long Beach to the #20 Westwood Bus from downtown Los Angeles over to Wilshire and Rodeo where the hotel is located. I am lucky enough to have a friend that lives on El Camino in Beverly HIlls, a block from the hotel and the William Morris/Endeavor agency. My dinner date and I were meeting there.
As I sat on the bus and train I couldn't help but listen to so many. iPad 2.0 in hand, I feigned reading the news while eavesdropping. It's what I do as a talk show host, an entertainer, a writer, I listen, I observe and then create. Poverty, that's what I observed. In every form. From the woman being consoled by her daughter that her new apartment isn't so bad, that taking the train won't be so horrible, and even though she's lived in Long Beach, CA for 30 years, moving to an apartment in Lynwood will be OK since they lost the house, to the very tired minimum wage workers or the African-American couple talking about how "they" expect me to go out and find a job like there are any for me out there, "they" just don't get it... Oh, the conversations.
The surrealness of it was not lost on me. Here I sat, the same kid that took the bus to L.A. in 1980 to buy designer jeans (I no longer wanted the word "Husky" across my ass when I could save up $100 over the summer and buy one pair of Calvin Klein's), back on the bus, heading back to Rodeo Drive, this time to hob knob with elite songwriters. Meeting my friend who works as a commercial diver strictly because of the pay but even so can't afford the gas for his truck to get to and from any more so he uses a motorcycle when he can to save, meeting him at another friend's house in Beverly Hills that have their two 35+-year-old children living back at home because of no jobs, me not doing any better and yet, the show goes on. For all of us.
Because also on that train and on that bus I heard optimism. I heard laughter. I heard people that want to escape, want to be entertained. That need it. I realize on that bus and that train that we need the arts more than ever now, to get us through, to distract us, to comfort us, to entertain us; we need music in our world to make it better.
So I schlep from bus stop to house, meet, change in to my formal dinner drag and we hit the red carpet. What a night this always is. The Beverly Wilshire is a grand hotel, plush, elegant, appointed with gorgeous orchids and flower arrangements. The ballroom is decked out beautifully -- think Golden Globes with dinner tables, large stage, cocktail area for mixing and milling about.
Celebrity writers begin to arrive. Carol Bayer Sager, whose hits with Burt Bacharach are too many to mention (not to mention her solo hits that she's written) looks incredible, Kara DioGuardi who continues to turn out hit records and has written for almost every pop star imaginable as well as authoring a book and being a judge on Idol for a few years makes her way in. Honoree David Foster, hit maker for Celine, Streisand, Chaka, Loggins, Earth Wind and Fire, and so many more gets the media going as he works his way in to the ballroom. Colbie Caillat starts flashes bursting as does Charles Kelley from Lady Antebellum and Joel Madden and Good Charlotte members; rumors are Chaka's in the house as well.
Each are here because in 2010/2011 they wrote songs that charted and achieved sales and acclaim for the artists and writers. BMI Music is one of three performance rights agencies setup to collect royalties on behalf of the writers they represent, to help the writers exploit their music through all areas of entertainment and to make sure agreements are made to protect the artists and their catalogs. In the last year they've paid out almost a billion dollars to music industry writers, publishers, labels, putting money in the pockets of both superstar, hot writers and more established writers that have come to rely on the checks and royalties for basic needs. They showcase up and coming writers and artists, hold seminars and informative workshops, and keep corporate interests from taking too much from the creative engines of the music industry.
After a delicious dinner the awards begin. This is where writers of pop songs get acknowledged. Some highlights were Pop Songwriters of the year Jason Derulo for his hits, "In My Head," "Replay," "Ridin' Solo" and "Whatcha Say"; Lady Gaga (Forbes #1 Most Powerful Person in Entertainment) for "Alejandro," "Bad Romance," "Paparazzi" and "Telephone" and JR Rotem for "In My Head," "Replay," "Ridin' Solo" and "Whatcha Say."
Pop Song of the Year was "Need You Now," Dave Haywood, Charles Kelley, DWHaywood Music, Lady Antebellum and Pop Publisher of the Year was Sony ATV Songs LLC.
A complete list of winners can be found here.
There can be no doubt the night belonged to David Foster. Foster is one of the more familiar composers thanks in part to his high profile hits and his TV presence. His two specials on PBS as part of their pledge drives have been the most watched specials of the pledge drives. With people like Celine Dion, Barbra Streisand, Chaka Khan, Josh Groban and a host of others singing your music or working with you as a producer, getting the moniker of "legendary" becomes easier. Foster is also known for discovering talent, showcasing new talent (like Groban) and also as a philanthropist. R&B's Brian McKnight opened the tribute singing hits by Foster from Earth, Wind and Fire and the hits kept coming from various performers right up until Chaka came out looking and sounding great to sing a classic for her and Foster, "Through the Fire."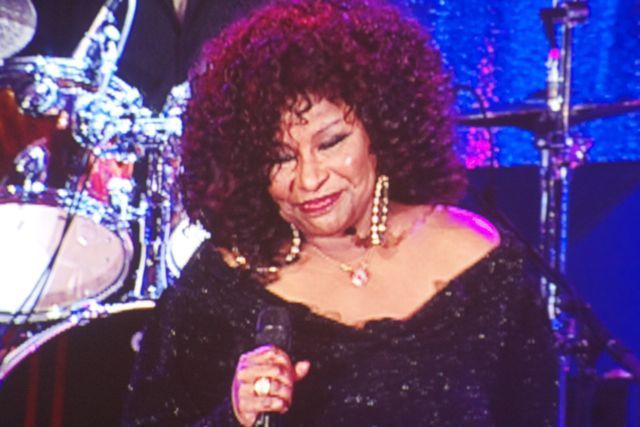 Chaka Khan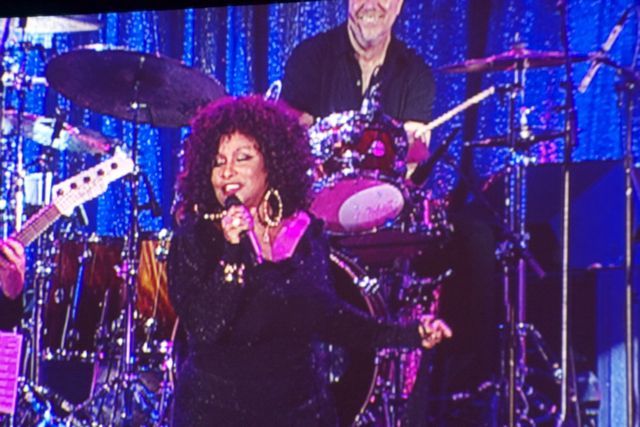 Foster, who is not new to the game, had some sage words of advice for people in the room. The first and last, "Save your money!" Sound advice, since many may initially see publishing royalties that are substantial if the song is a hit, but when the hits end, and they always do, there's always a dry spot. Foster knows how important it is to have enough stashed away to keep working, keep writing. "Always take the time to personally reach out to people, not your 'people' but you, never keep someone waiting no matter how big or small you perceive them, everyone's time is valuable..." He went on in a top 10 type fashion with some sage wisdom acquired over years in a sometimes thankless industry. The video can be seen here.
The food, as always, delicious, the beverages flowed, including coffee and tea with lavish chocolate-covered strawberries, and the people behind the scenes and in the studios got to come out and show off a little, have a little fun, network, and pay tribute to one of their own. It's BMI's way of honoring those that defy the odds, that defy the talk of a shrinking business, that don't listen to people who say, "a songwriter? Really? Maybe you should also have a day job..." The people that stick with it over the years or have just found themselves in the forefront because a song or artist they worked with actually hit.
BMI, ASCAP and others ensure that the writers, producers and publishers get theirs and each year they honor those that continue to entertain and inspire through their work. To find out more about BMI go to www.bmi.com