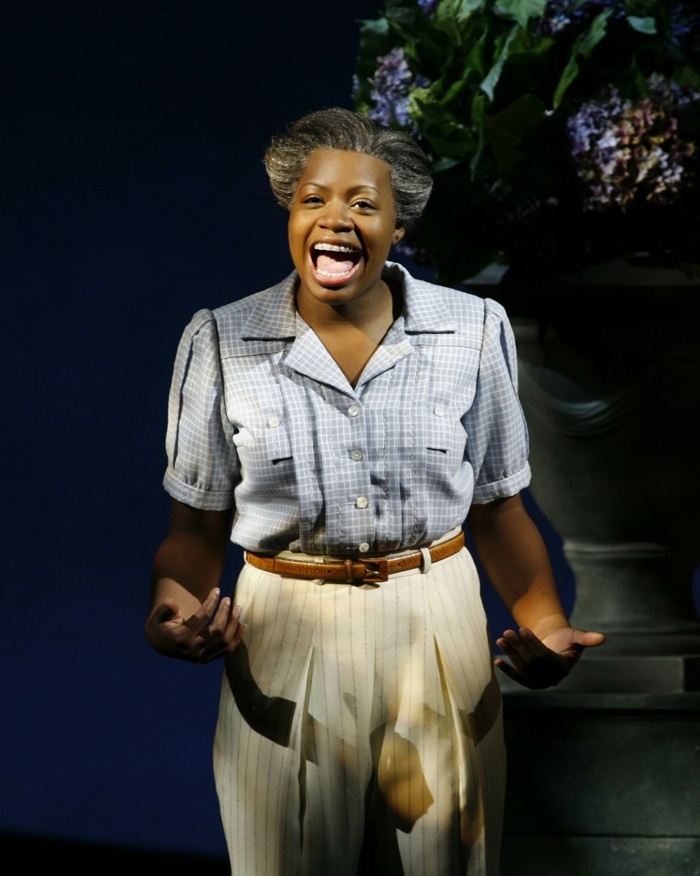 In 2005 Oprah Winfrey presented "The Color Purple" on Broadway starring Fantasia, from American Idol fame. It was a rousing success, nominated for 11 Tony Awards, but really, how could it miss with Oprah's money, a Pulitzer-Prize winning book by Alice Walker, the foundation of a movie by Spielberg on which to build and an ensemble of singers that could raise any roof, any where, any time? Oh, and did I mention lyrics by Brenda Russell, one of the most respected R&B song writers around (think "Get Here" or "Piano in the Dark").
31 years ago I first stepped in to the Pantages theatre, a wide-eyed high school kid, reviewing plays for his school paper for free by taking the words "high school" out of the paper's masthead and getting on all the PR lists. I was a broke young gay kid who needed to see theatre, so that was a way. Thursday February 11th, opening night for "The Color Purple" I found myself not driving up in my parent's blue Oldsmobile Cutlass SS with Long Beach Poly High School writing partner Emily Johnson, but with my 26 year old niece on the back of an Aprilia Mana 850, my best friend James and his girlfriend Amy on the Moto Guzzi Griso roaring through Hollywood traffic on our way to the bright lights, red carpets and limos on Hollywood Blvd. Had you told me then...
The Pantages was filled with the regular glitteratti at a play opening. We chatted with Arsenio Hall out front, I have met him several times because of our mutual friend R&B diva Vesta Williams and Amy works for Hal Sparks, and met him through him. Play lyricist Brenda Russell was there looking much better than the last time I saw her at the BMI Music Awards (she was thinner and on a cane then, now, she looks great and seemed to be walking fine). Various celebs from current Hollywood life or past worked the red carpet, as the four of us realized the Pantages is one of the grandest theatres in Los Angeles (having been renovated for Disney's "Lion King" return in the 1990s) but it is not made for motorcyclists. The seats are small as it is, and no place for helmets, jackets...so while they mingled, we compressed and stored.
This touring company is no second rate, almost on Broadway group. No, the sheer excitement and joy of the Broadway stage was reflected from the first note of the overture to the 11'oclock song (the big number at the end of every musical). Gary Griffin is directing, just as he did on Broadway. Fantasia is there as Celie, but it's not a one woman show; on the contrary, this is an ensemble. Broadway cast mate Felicia P. Fields stops the show several times with her portrayal of Sofia, the role made famous by the money behind the play, Oprah. Sofia's no-nonsense attitude and amazing agility for her size bring to life the stage each time she's on, be it uttering a "Hell no!" in song, or vamping in one of the funniest "sex" scenes on Broadway
But the heart of the play is Fantasia's Celie, and this woman again proves that when the right actor is matched to the role, they are inseparable. As Whoopi is to the movie, Fantasia is to the play, unexpected, wondrous and fearless. Her voice soars and yet has the grit and soul of a woman well beyond her years. She's done everything she could to be a train wreck, including a reality show on VH-1. But the reality is, in spite of every quirk we may know about off stage, on stage, she's untouchable in power, range and emotion.
Another Idol alumni LaToya London from season three, plays Nettie, the sister from which Celie is torn as a child, a separation from which she never recovers, a hole in her life that is never filled until they are reunited. Another Broadway cast member, Angela Robinson portrays the vixen of the production, Shug Avery. Shug is by chance the most disappointing character, but for all the right reasons. We wanted more, I wanted more. In the film, the Shug character has a great reconciliation in song with her pastor father, the convergence of good and perceived evil, of sinner and holy man during a song originally sung in the film by former disco sensation Tata Vega. I waited for Shug's triumph, for her character to get a bit more. She is one of the major protagonist in the story, the woman that actually caused most of Celie's torment; because Celie's husband can't have Shug, he beats other women who aren't her. And Celie loves her, too. The lesbian component of the movie is heavily exhibited in the play, a risk since homosexuality is frowned upon still in the African American community, the plays target demo. But by the end, the love between Celie and Shug is shown as pure, as a needed step to help the character reach her full potential, to realize, she, like everything under the sky, has worth and beauty.
If it pisses off God when you walk through a field and don't notice the color purple, it would certainly upset the Theatre Gods if any lover of incredible, moving theatre didn't see this play on tour. It is not a watered down version, but a full blown soulful experience. Once, in Paris, my then-14-year-old nephew Jake turned to me at 11pm and said, "Uncle Charles, I don't care if we ever go to bed or ever go home, this place is incredible..." and I had never felt more proud or happy to be Uncle Charles (which is Auntie Mame in the real world). After the Color Purple at the Pantages, my niece Heather turned to me and said, "that was possibly the most moving and exciting theatre experience I've ever had." Since I, and her late uncle Andrew Howard, started taking the kids to plays as soon as they could walk, that's saying something. And in both cases, I was so happy to be the one making it happen.
In the five years since Fantasia, Fields and others under Oprah's umbrella and Griffin's direction took Broadway by storm, the play has only matured and ripened. Now, it's ready for the entire country to see and, more importantly, feel.
"The Color Purple" is at the Pantages Theatre, Hollywood, CA until February 28th. It will be going on to Baltimore, Nashville, Grand Rapids, Miami and more. Find out here.
To hear Karel review the play, please go to the podcast at www.radiokrl.com or in iTunes or listen live daily 3pm to 6pm PST on KKGN Green960 San Francisco, KRXA Monterey, KUDO Anchorage or online.