CKB II: Wanna go see Linda Eder tonight?
Jon Patton: Hmm... wait, who is that again?
That was the scene on my iPhone 5 on Thursday, February 14th, Valentine's Day. I was going to see a singer I adore, and over the years been lucky enough to become acquainted with professionally (bias noted, but I can't but wonder if Van Gogh's friends also adored his work), Linda Eder. She was performing at The Grove of Anaheim on the 14th, went on to Yoshi"s in Oakland and then finished Feb. 17th at the McAllum Theatre in Palm Desert. I caught up with her prior to leaving the East Coast for my radio show and then again at The Grove.
You see, she's not a household name like Aguilera, Celine or Streisand. She has all of the notes, power and perfect pitch of any of them, and those who seek out and find incredible vocalists have known of her for years. But my texting friend wasn't alone in having to ask to be reminded. It's ironic, her Christmas Album, Christmas Stays the Same brings her to Top 40 and Adult AC radio every November/December.
"That's a tough club to break in to, the Christmas club of songs and artists that are played every year," she told me from her Connecticut home. "I'm very honored that each year more and more of that album makes it on to radio, we wanted to do something new with the songs, and people love the classics and discover new ones each year."
I first discovered Eder like so many in Jekyll & Hyde. She was a revelation. I have always wanted that theater moment, the moment when you know the performer on stage is going to be a lasting star. It's what they felt when Streisand was in Funny Girl or when Jennifer Holliday took the stage in Dreamgirls and then Jennifer Hudson in the movie of the same name; when Carol Channing first played Dolly Levi in Hello Dolly or Stephanie Mills belted out Home at the end of the original production of The Wiz. Well I had that moment in Orange County in the late 1990s.
That play was the child of her then-husband Frank Wildhorn and book/lyricist Leslie Brucusse and would make her a Broadway star.
"I always wonder why I'm thought of such a theater person, you know, a Broadway star," she reflects both on and off stage. "I mean, I've done one big play, that's all, yet, there's this image of me," she commented.
Well, when it's a role that good in a play that big, it's not hard to get that reputation.
But Eder is a recording artist first and foremost. She started singing at 19 professionally, she reminisced at The Grove, it's been her only job and "I really like my job" she laughed. She's now had 14 solo albums, a major play soundtrack, another 20 or so album appearances and multiple singles. She's had Dance hits with remixes of early hits like Vienna and pure tribute albums like By Myself: The Songs of Judy Garland. And she has Now an album to show where her taste are in present, from Pop/Country to the title track that is almost operatic with a haunting sound or a song like Good Bye which sounds like what I believe dancing at the Rainbow Room to a live artist would feel like (having never done it).
Seeing Eder live harkens back to a classic singer's stage show. There's not pyrotechnics, 50 dancers per song, gymnast flying about or 15 monitors with images flashing a mile a minute. Nope, it's her, a band, and a microphone. Her voice fills the stage and the room; clear, strong, soaring.
And it isn't a cavalcade of past hits and material from a repertoire that spans almost three decades.
"I never want to be board, musically, on stage, in life," she reflected. "I like all kinds of music, Pop, Country. Standards... from Pink to Adele to Garland to Emma Calvé. And I don't just want to go and do a show of the same songs over and over. I need to change it up, to have fun, to keep it interesting."
Audiences are demanding. There were more than few shouts for Vienna at the show I attended, but alas, it wasn't in the set. Instead, songs from pop artists from today like Adele (I've always said, don't sing Someone Like You unless you can sang it, and child, she did), classics by artists like Patsy Cline and even Bryan Adams (Everything I Do).
But there's no doubt, she excels when she belts, or holds notes almost impossibly long and perfect. And yes, on show tunes.
I shared the Valentine's evening with three other single friends; Steve Cabral, Bert Critchfield and R&B Dance artist Thea Austin. none of them own one Eder album, but know her through being around me. That's changed now.
"I wanted to cry out loud," Critchfield laughed when Eder sang Anthem from Chess. "That's one of my favorite songs in the world, and she did it so beautifully I simply could not believe it."
Eder laughs about the big songs like that or her two from Jekyll & Hyde, A New Life and Someone Like You that she has put back in the set.
"Why is it you love it when I do the songs that you can see all my teeth?" referring to her belting out the notes.
She speaks of the world today when she does More than Heaven from her latest album. How overwhelming the times can be.
And she knows first hand. Her 13-year-old-son lost a friend in Hurricane Sandy, and she lives very near Newton and Sandy Hook. She even performed at a benefit for the families of the massacre.
"I went out and spoke to the families," she recalled. "How do you even fathom what they've gone through? As a mother, as an American, I just feel so deeply for them. And I'm a big cry baby, so it was tough getting through that song."
She is very connected to New York and after 9/11 did another song entitled If I Had My Way about that day as well. "Sometimes, the only way I can cope is musically," she recalled.
An hour-and-a-half at The Grove flies by and the show is over. My friends were in love as I first was, She graciously greeted us backstage and then went over to the fence where fans had lined up and spent time in 49 degree weather talking, signing autographs, laughing. She really does love her job and all those that show up for her; her fans, her base.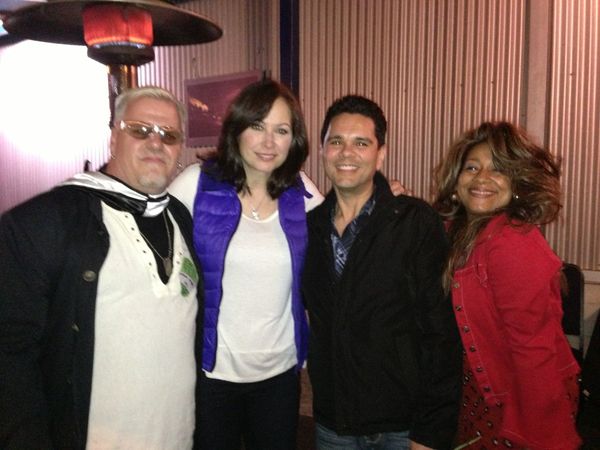 (L-R) Karel, Linda Eder, Steve Cabral and Thea Austin at The Grove of Anaheim
So what's next?
"I really am learning Jazz, which is something you really have to understand, as well as exploring writing more Pop/Country. My record deal lasted five albums after I thought it would, and now I'm really exploring all the ways artists can reach an audience. I've got the website back from the label and we're really ramping it up with the help of friend and colleague Maureen Smith (former head of FoxFamily, Discovery/Animal Planet executive), I'm tweeting now (@LindaEderTweets), Facebook, really connecting. When we're ready to release a new project maybe I'll do it on a label, or maybe I'll start one, or... who can say. First, I need to get it written and that's happening."
In my life, as in yours I'm sure, you discover artists and realize how wonderful they are and then wonder out loud, why hasn't everyone heard this? Why do some artists hit and hit huge like Adele, and others go without a Grammy or multi-platinum status? The now late (and that still hurts) Vesta Williams was one. She was also my friend, and from the moment I heard her sing Sweet, Sweet Love live to her biggest hit Congratulations, hell, when I would sit outside her bathroom door on Cloverdale in Los Angeles chatting as she was getting ready to go do a show and she'd begin belting away in that bathroom powerhouse vocals like Aretha, Patti, any R&B artist, why? Why doesn't every fan of R&B, or Pop, know of her? When I would play Teena Marie, the also departed Ivory Queen of Soul and people around me would say "Who's that?" I would wonder, how can you not know?
Don't be one of those people. Discover Linda Eder live, in iTunes, Spotify, online, but discover her if you haven't. If you love vocalists who can truly sing the phone book without you being a bit board, listen. Be one of the one's to know, to see, to hear a vocal instrument that not many possess.
To hear the podcast of the Linda Eder show or to listen to The Karel Show live daily go to the website, or get the App for iOS or Android