In the entertainment area of Pine Avenue, Long Beach, CA from the ocean (Gladstones, PF Chang's, Outback, Boston's and five other eateries) up to Fourth Street (sorry those of you beyond, the revitalization of Pine Street has visually stalled) there's a variety of food and entertainment options. But there's always been anchors, bigger restaurants that draw the diners, and revelers, in.
Two have taken center stage as they try to establish a solid row of dining and entertainment options on Pine.
The first, on First and Pine, is The Federal. It inhabits the old Madison restaurant, keeping most of the luxurious interior. The decor doesn't fit with their desire to be a neighborhood bar; one says upscale eatery, the menu and the vibe sought says hipster hangout. The food is excellent, but in the four times I've been there the service has been so poor (and let's not talk about how we were literally puked upon before our lunch) that unless major changes are made in that department I simply can't recommend it. As for the Federal Underground, the bank vault that is now a venue run by the Knitting Factory folks, I recently attended a show from the band Karl there. Whiskey was $8 a shot for Jameson's and they tried to serve it to me in a dixie cup. When I asked for a rocks glass and they said plastic dixie cups only, I politely declined. It just seemed insulting to the whiskey and juvenile.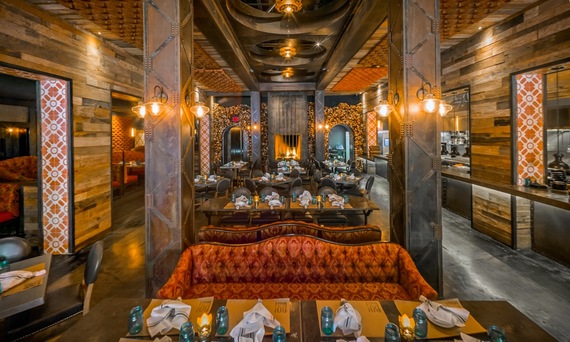 Photo of Bo Beau by Andrew Jorgensen
Luckily, right up the street is Bo-beau at 144 Pine Ave., Long Beach, CA. Like the Federal, it is not the only one. The Federal has one on Lankershim in the Hollywood area and Bo-beau is owned by Cohn Restaurants which run others in the San Diego area.
Again, like the Federal, but with much better execution, Bo-Beau is two venues in one. Downstairs is a restaurant with a warm decor, welcoming fireplace, cozy surroundings. Upstairs is Roof Tap, a roof top space complete with ping-pong table, a long bar that serves as many variety of beers as it is long, seating overlooking Pine and tables for diners. There's a slightly different menu upstairs, and a slightly different vibe. Party upstairs, dine downstairs. Casual lunch or dinner upstairs, finer experience below.
And again, like the Federal, I was first invited in as media and at both places those trips went swimmingly. And, like the Federal, I have since gone back to each place three or four times as a patron with friends; and that's where the comparison ends because all four times at Bo-beau have been extraordinary enjoyable evenings or afternoons, the now four return to the Federal or Federal Underground, not so much.
And while I maintain the food at the Federal is good, some of it great even, I have grown partial to Chef Katherine Humphus creations at Bo-Beau.
"I wasn't even supposed to be the Executive Chef when we first started," she laughed as she brought crispy Brussel sprouts out. "But when opening this restaurant the way it worked out they one day simply offered it to me and I said, 'Why not!'" she continued.
Humphus trained in Paris and that experience permeates her dishes. She manages to mix Mediterranean flavors with the decadence of French cooking and has created a menu priced extremely comparatively for the area and quite reasonable for the food and experience.
Over the course of a few experiences there favorites have become the Crispy Brussel Sprout appetizer, Almond Crusted Portabella or Heirloom Tomato + Burrata with duck fat crostini. The Burger Royale with Cheese is everything John Travolta could have hoped for in Pulp Fiction. The Corn + Crab chowder is a meal in and of itself (and yes, there's cream and butter), Pistachio crusted Salmon not to be missed and a flat bread with goat cheese and roasted beets is great for sharing.
After dinner tea is served in proper cups, steeping pots, even proper sized spoons (a rarity in the U.S.) and a desert decision could take hours due to all the delights (they change, so ask).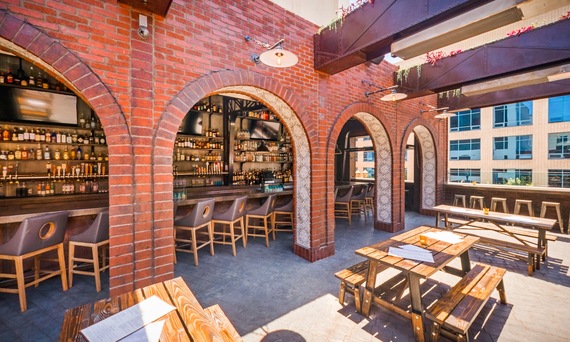 roof + tap Photo by Andrew Jorgensen
The contrast in The Federal and Bo-beau is due in part to vision. There can be no doubt what James Stephenson, Operations Manager, and Michelle Sitic, General Manager along with Chef Humphus want the dining and social experience to be a Bo-Beau and roof + tap; great food, great atmosphere, reasonable price to value wrapped in excellent service and attention to detail. The Federal has all the ingredients for success; great food, a wonderful location with lots of possible uses but suffers an identity crisis and a service dilemma.
In order for Pine to prosper and grow, and who doesn't want that for their city, it needs these anchors to survive and prosper as well. I predict Bo-beau will last for some time in the area so long as the economy holds at least where it is now but unless the Federal solves the service problems and other identity issues it could be in trouble in the years to come.
To hear Karel get the Karel Cast App, subscribe in iTunes to the Podcast or simply go to the most incredible website on all the planet, save this one, iamkarel.com