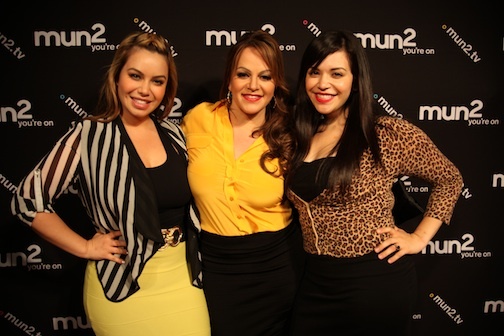 Pictured Left to Right at the Chiquis N Control Launch Party are Chiquis Marin; Jenni Rivera; Jacqie Marin. Chiquis and Jacqie are Jenni's daughters
She's one of the biggest stars I didn't know.
How could someone have sold over 20 million albums, be the most successful reality show for the network, have perfume, jeans and now serve as Executive Producer to a series of other hit (and soon-to-be hit) shows and be a virtual unknown to my friends and me? A strong female running an entertainment empire that's from my hood (the LBC, Long Beach, CA) and graduated from my high school (Long Beach Poly) and I don't know her?
Blame the perceived cultural divide -- perceived because once bridged, most find there is no divide at all.
And Jenni Rivera is bridging that gap constantly with everything she does. Her Mun2 show I Love Jenni is a runaway success, becoming the most successful reality TV show of the network. Not content to have musical success in just the Latin America world, she is recording an English album this year and given her track record, she should have major market success.
Rivera and host network Mun2 recently threw a party to launch yet another of her endeavors, Chiquis N Control, a spinoff of her show starring her daughter, Chiquis RIvera. But this was not your typical afternoon industry gathering, with snooty hor d'oeuvres and mediocre wine. Nope, this was more like a gathering of family and friends to celebrate, well, joy.
"To be standing here, on this stage, right now with my daughter about to launch a show is... well, remember when we slept in that garage in Long Beach, mija?" she began.
"You mean the cold one?" Chiquis replies.
"Yes, that one. Who would have thought we would go from there to here, and in such a short time, I'm so blessed, I can't thank you all enough," mamma Rivera continued. "I remember watching, standing with Chiquis, as we watched our 1980s Toyota Celica be stolen. It's pretty simple really. You take a screwdriver, jam it in the back of the hatch back, then, you crawl through the car, get to the driver's seat, and use the screwdriver to punch the ignition. With a quick bit of work, you're driving away, at least that's what we watched happen to us, so now you know how to steal a car," she laughed. "But to go from there, watching that, to watching all of you here, it's beyond words."
As her tears welled, so did ours. Rivera can touch the heart. She's the sister you want, the mom figure, the playful wife, the business woman; she's many things. And she's Latina. And that's why so many in my world haven't heard of her.
My world. While Rivera has moved her family to Encino, I still live in the LBC. Her story of robbery hits home, as I've been robbed nine times in 13 years here in some way shape or form. The ghetto bird is over head almost nightly, two nights ago looking for an armed felon in our backyard who had escaped a murder scene. Life in the hood stays the same, even in Rose Part in Long Beach.
And, I live in a minority majority state, California, where the Latinos (and other minorities) now outnumber non-Hispanics. The country is going the same direction within decades. In other words, Hispanic culture is my culture, too. It's a vibrant part of where I (and probably you) live. The food, the music, the color is all integrated into the fabric that is America now, and Latin Pop Stars are simply becoming Stars.
After talking with her for just a few minutes, it's easy to see why Jenni feels Chiquis would make for good reality TV. She's funny, bright, motivated, grounded, young, impulsive, creative, surrounded by fun friends and interesting situations. If Chiquis N Control manages to capture her spirit in full, it will be a hit. This is not the entitled daughter of a celebrity. This is a young woman with a lot going on and lot on her mind.
Wearing the EP hat for the show can have its moments when the talent is your daughter.
"Our mother/daughter relationship has been tested through this process," the elder Rivera started. "But it's come out stronger than ever. I believe in Chiquis and her ability to succeed. I have such pride in her. To think the world finds my children, children I bore from my body, interesting enough to watch on TV is such a blessing. We won't let them down," she added.
"I really want to please my mom most of all, through all of this," Chiquis added. "Yes, I want to do a great show and please the fans and network, but I need my mom to see me do this, to know I have this and that she's such a vibrant part of it all," she said.
Both Riveras gushed praise on everyone from manager Pete Salgado (who seems to be a rare find in the industry: a manager that is dedicated enough to stand through thick and thin) to Mun2, and all the friends and media in attendance. And that's what this launch party was; an afternoon that easily could have been hosted at Rivera's house, a back yard full of friends and family. Never have more hugs been given at an industry function and never have I felt more welcomed; as if we were simply joining a family gathering.
Because that is the core of Jenni, Chiquis and all the Rivera clan and support staff: family. It is one of the core values of the Hispanic culture where abuelitas and tias or tios abound, where everyone's a cousin of some sort and friends quickly become more.
"This will all go away one day," Jenni added. "The most important thing is that my family is taken care of, is happy, is thriving. TV, music, fame, it really doesn't mean anything if you don't have a strong family, a family that knows who they are and that takes care of each other," she continued.
Well Jenni should relax. From the looks of things, not one part of this ride she and her family are on will be over soon; on the contrary, it appears her empire will be expanding exponentially with new shows, new music and even a new grandchild (who was in attendance working the red carpet at two-years-old). Chiquis N Control has the makings of a reality hit. It's got a Kardashian feel, famous parent, famous step-dad (Jenni remarried two years ago to Major League Baseball's Esteban Loaiza), siblings stepping out on their own, zany family antics... the stuff reality TV excels at.
And Mun2 is doing a great job of branding both this show and the network as one of the ones to make that cultural divide disappear. With programs in both Inglés and Español, the network is quickly building a stable of shows that could easily cross over to success. Of course, they don't need to since there's plenty of audience out there already. It's those that don't know about Mun2 or the Riveras that are missing out and should come to the table. Instead of flying by the network on the cable box because of a lack of bilingualism or a belief that there won't be any programming for mainstream America, stop and take a look.
You'll find that Rivera, Chiquis and the rest of Mun2 is mainstream America and has the same lives, problems and concerns of anyone else.