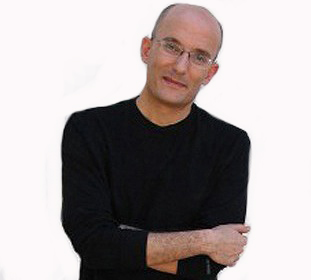 This week I talked with Gil Hovav, Israel's leading culinary journalist and a television personality. Gil was recently in Boston in celebration of "Out in Israel Month," a program to educate people about the status of civil rights for LGBT Israeli citizens and exchange ideas about our LGBT community in both Israel and Massachusetts. I talked with Hovav about this topic, LGBT issues, his newest cookbook Confessions of a Kitchen Rebbetzin and his spin on the current Gaza conflict.
When asked about his personal commitment to LGBT civil rights, Hovav stated:
To tell you the truth, I'm not a very political person, so I usually do not lead Pride. Sometimes, because I'm known in Israel, they ask me to join this fight or another, and I always do it gladly, but I'm not a picket-sign holder. I think that the most important thing when you reach a certain level of celebrity is to be out, because otherwise it's a bad example for youngsters. Of course, I am against outing, but I think that it's my moral duty to be as out as I can, to speak to people, to talk to people about my loving family, of my relationship with my boyfriend and our relationship with our daughter. The fact is our life is no different than the lives of straight couples that live around us, with us, and the fact that life can be really good and full and happy when you are gay.
LISTEN:
Gil began his career as a restaurant critic, became an editor at Israel's leading newspaper, and was involved in the creation of some of Israel's most popular television cooking and food shows. These shows include the classic Pepper, Garlic and Olive Oil, Captain Cook and Going to the Market. The series were later turned into bestselling cookbooks. Currently Hovav is busy with his publishing and production company Toad Communications and lecturing worldwide. Gil lives with his partner of 24 years, whom he met during their army service. Together they raise their 9-year-old daughter Naomi.
Listen to more interviews with LGBTQ leaders, allies, and celebrities at OUTTAKE VOICES™.
Download interviews on iTunes.