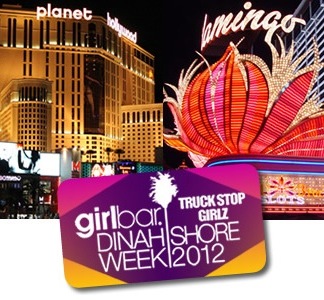 I talked with one of the most successful lesbian club entrepreneurs, Dr. Robin Gans, who founded Girl Bar in Los Angeles with Sandy Sachs in 1990. Girl Bar is the largest dance and entertainment group for lesbians in the United States. After moving to L.A. from New York in the late '80s, Sachs and Gans recognized the need for an upscale nightclub catering to the lesbian community. "We wanted to do something to help make the lesbian community more visible and create a place for women to come together," says Sachs. "Girl Bar is a place where our patrons can come and feel safe, feel comfortable, and most of all feel empowered," adds Robin. Now the duo is producing Dinah Shore Weekend Las Vegas, April 27 to 29, with Linda Fusco and Michele Agnew of Truck Stop Girlz. We talked about the move to Las Vegas and Robin's spin on crucial issues facing our LGBT community.
When asked about her personal commitment to LGBT civil rights, Dr. Gans stated:
Well, first of all, I'm a licensed clinical psychologist in the state of California, and certainly I know what it's like to be coming out. Actually, when I was in college and having those feelings when I was in high school (I went to private school back east), one of the things that I always wanted to do was work with the gay community to help fellow gays and lesbians to not only come out but to have clearly a much better understanding of themselves and a much more integrated self. So I have several patients that are within the gay and lesbian community, and I've worked with couples. When I was training, I worked with the L.A. Gay and Lesbian Center for a year, and I worked with troubled teens. I actually did an internship with them for a year, some who were definitely gay at the ages of 15 and 16. Certainly I feel a commitment within my community, and I feel a personal commitment in general, just being involved with HRC and with any fundraiser, and anything that really contributes to awareness and obviously political rights in the LGBTQ community. But personally, I would say absolutely working as a therapist. I do my best to help raise awareness and help people lead more integrated and happier lives.
LISTEN:
Since last year, Girl Bar and Fuse Events have been working exclusively with Caesars Entertainment to create the ultimate women's weekend experience. Official events and hotels for Dinah Shore Weekend will be situated within walking distance, across a variety of Caesars-owned properties, including Planet Hollywood and Flamingo hotels. "Our sophisticated ladies wanted 'bigger, better, and more' in a city that never sleeps, with the finest in entertainment and accommodations, with non-stop flights both domestically and internationally," said Sachs and Gans. "We listened, and Caesars Entertainment delivered, recognizing our global potential and wooing us with full sponsorship and a 24/7 package of perks, food, beverage, and entertainment where there are no last calls!"
For more information on the Dinah Shore Weekend in Las Vegas, click here.
Listen to more interviews with LGBTQ leaders, allies, and celebrities at OUTTAKE VOICES™.
Download interviews on iTunes.