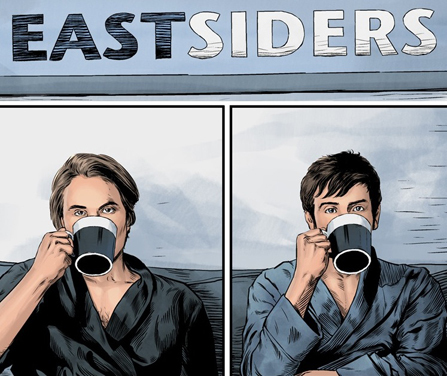 This week I talked with actor/producers Kit Williamson and John Halbach about the second season of their Web series EastSiders, which appears on LogoTV.com. Last season their critically acclaimed dark comedy starred Van Hansis (As the World Turns) and Kit Williamson (Mad Men) as a gay couple struggling through staying together in the aftermath of infidelity. The new season will have exciting new storylines and additions to the cast, including Willam Belli (Drag Race, Nip/Tuck) and Satya Bhabha (New Girl, Scott Pilgrim vs. the World), as well as Brea Grant (Heroes, Dexter) and Vera Miao (Best Friends Forever) as a lesbian couple. EastSiders' first season was successfully funded via Kickstarter after reaching their goal within four days. They are now raising funds for their second season.
I also talked with Kit and John about their spin on LGBT issues. When asked about their personal commitment to LGBT civil rights, John stated:
My personal commitment is living a life as an openly gay person. I think that it's really important that we are visible in the community and to the world and to our family and friends and people who we work with on a day-to-day basis. I think that is ultimately how we can progress our cause.
Kit added:
And also through the storytelling traditions of getting our stories out there online. And for me personally, I am from the state of Mississippi, and recently Mississippi -- somewhat quietly, in comparison to contention in Arizona -- passed an anti-gay discrimination law. They legalized discrimination against gay people on the grounds of religious belief, and there's a huge campaign going on right now within the state where people are working to promote anti-discrimination with a new business coalition of people started in Fondren, which is a really cool neighborhood where I'm from. People are getting stickers and flyers out to businesses to show their support for anti-discrimination. Unlike Arizona, this bill was signed into law by the governor, Phil Byrant, and we really need to do our best to get the word out nationally about this, because Mississippi should experience the same backlash that Arizona experienced when it put this out there. I feel there's this perception Mississippi is a lost cause that I reject, and I really think that we should be focusing on and caring about the LGBT people in Mississippi as much as we cared about them in Arizona.
LISTEN:
EastSiders experienced a whirlwind year that included making its cable broadcast debut as a feature film on Logo TV. EastSiders won the award for Best Ensemble (Drama) at the 2014 Indie Series Awards, and three awards from LAWEBFEST 2014. They secured DVD and international video-on-demand distribution by Wolfe Video and released a new Web comic illustrated by Aman Chaudhary. Provided that it meets its fundraising goals, the second season of EastSiders will begin shooting this summer.
For more information on EastSiders, visit the official website or the Kickstarter page.
Listen to more interviews with LGBTQ leaders, allies, and celebrities at OUTTAKE VOICES™.
Download interviews on iTunes.