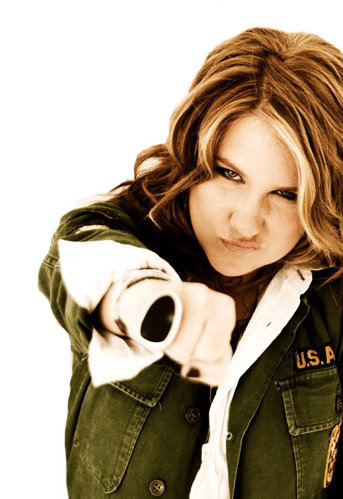 This week I talked with singer/songwriter Jen Foster about the "SHE4ME" marriage-equality PSA that is airing on Logo TV. The 30-second spot features clips from "SHE4ME," the superb, award-winning marriage-equality music video set to a remix of Foster's iconic lesbian anthem "She." The song has been a favorite within the lesbian community for over a decade and is often used in commitment ceremonies. Renowned music producer Eve Nelson (Chaka Khan, Nicki Minaj) reworked the song for the new, fabulous video, which was directed and produced by the legendary Nicole Conn (Claire of the Moon, Elena Undone, A Perfect Ending). Foster, who makes a cameo appearance in the video, also served as executive producer along with Marriage Equality USA and Melke Pty Ltd.
I talked with Foster about what she hopes to accomplish with "SHE4ME," and about her spin on LGBT issues. When asked about her personal commitment to LGBT civil rights, she stated:
My personal commitment is on a personal level. When I first started writing songs in high school, I was feeling like an outcast, and I was always drawn to the kids that also felt like outcasts. So my personal commitment has always been just to put out music that's honest about these subjects. I've written about bullying. I've written about equality, but from a very personal level, because I don't think you can preach to people in a very clinical way about that; you have to come from personal experience. So that's sort of my contribution, but I'm definitely committed to it, and committed to standing up for the right for everyone to be themselves and to love who they naturally love.
LISTEN:
Jen Foster has a list of musical accomplishments that should leave most artists satisfied, but after years of owning her own record label (Fosterchild Records), writing and recording four solo projects, touring and playing festivals across the country, writing music for film and television and growing an ardent fan base, she strives for more. Besides the ShE4ME project, Fosterchild Records has spearheaded several other projects that align music with charitable causes. Foster is passionate about The Writer's Share, a songwriter series at the Bluebird Café in Nashville, Tennessee, in which she brings together high-profile artists and writers, including Richard Marx and Keb' Mo, to raise money and awareness for the TJ Martell Foundation for Cancer, Leukemia and AIDS. In 2013 her "Christmas Time Is Here" video raised funds for Hope for Paws, the animal-rescue nonprofit organization. Foster also serves on the board of directors of the Nashville Songwriter's Association International. Currently she is working on a new song entitled "Not So Different," which she hopes to align with a cause, and an album to be released in 2014.
For more on Jen Foster, visit jenfoster.com.
Listen to more interviews with LGBTQ leaders, allies, and celebrities at OUTTAKE VOICES™.
Download interviews on iTunes.