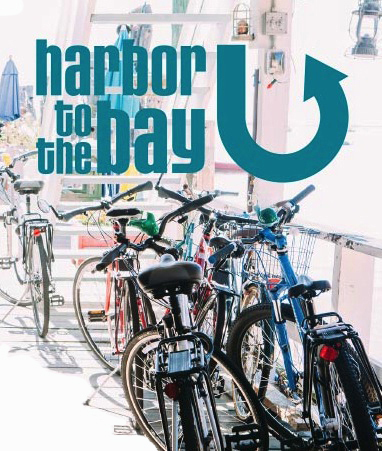 This week I talked with Jim Morgrage, President of Harbor to the Bay, a one-day bike ride from Boston to Provincetown, which takes place this year on Sept. 20, with 100-percent of all pledges going directly to fight HIV/AIDS. Harbor to the Bay began in 2003 with an idea by the late Michael Tye, a group of Boston's Club Café staff and dedicated friends who shared the dream of launching the 126-mile AIDS bike ride. Their idea was simple: a one-day ride from Boston (Harbor) to Provincetown (Bay), staffed completely by volunteers, with a commitment that all rider pledges go directly toward defeating HIV/AIDS. With millions of dollars raised over the last 11 years, this year their goal is $500,000. So far over 300 riders have signed up, with over 170 volunteer crewmembers. Riders also have the unique option of riding the complete, 126-mile route or any part of it.
I talked with Jim about his commitment to ending HIV/AIDS and his spin on LGBT issues. When asked about his personal commitment to LGBT civil rights, he stated:
My personal commitment is that I will work in any capacity that I can to help ensure that marriage equality and equal rights are something that are afforded every LGBT individual across the country. I won't rest until marriage equality is recognized in all 50 states and all the same benefits and protections afforded our heterosexual counterparts are afforded to all of us.
LISTEN:
Jim Morgrage has been working with AIDS organizations since 1990. He began as a volunteer at AIDS Response Seacoast in Portsmouth, New Hampshire, answering phones and working with fundraising and client services. His life was forever changed from then on, whether he was providing comfort and support to someone about to die or organizing an event that brings people together for a common goal. He believes that we are all here to make a difference. For the last 20 years he has managed Boston's Club Café. All proceeds from the Harbor to the Bay AIDS ride goes to support Fenway Health, AIDS Support Group of Cape Cod, Community Research Initiative and AIDS Action Committee.
For more information on Harbor to the Bay, visit harbortothebay.org.
Listen to more interviews with LGBTQ leaders, allies, and celebrities at OUTTAKE VOICES™.
Download interviews on iTunes.